If you are in the mood for a cookie that doesn't have chocolate chips in the mix, you are in the right place. I have 12 cookies that aren't Chocolate Chip recipes to share with you.
From meltaway cookies, to macadamia and mango cookies. There is something on this list for everyone, no matter what you are craving!
12 Cookies that Aren't Chocolate Chip
Frosted Meltaway Cookies
Make these frosted meltaway cookies for Valentine's day, or anytime you crave a soft, sweet cookie. These remind me of a lofthouse sugar cookie, and are so easy to recreate at home. If you plan to share these, make a double batch as everyone will want to grab a second meltaway cookie.
Get the recipe: Frosted meltaway cookies.
Valentine Whoopie Pies
Make these adorable heart shaped whoopie pies for Valentine's day. They are pretty, fairly easy and are sure to spread some love on a special day. These would also be perfect for an anniversary, or as a mother's day sweet if you wanted to treat mom to something special.
Get the recipe: Valentine whoopie pies.
Banana Oatmeal Cookies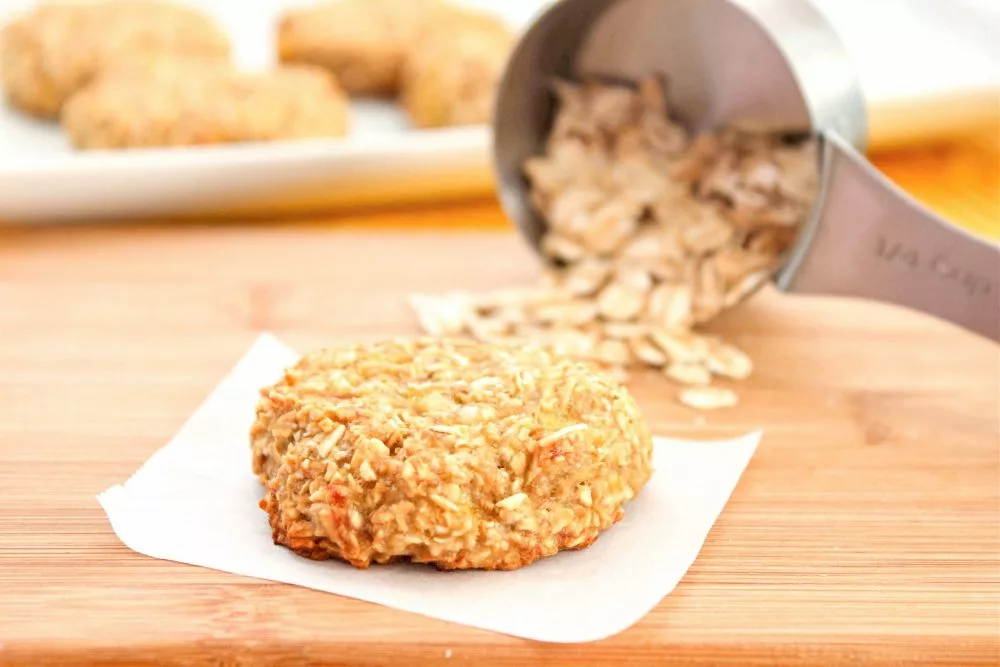 This easy cookie recipe is perfect for a quick and easy snack that is healthy but so yummy. You only need 2 wholesome ingredients to make these oatmeal banana cookies. You can enjoy them for breakfast, or as an afternoon pick me up.
Get the recipe: Oatmeal banana cookies.
Angel Food Cake Cookies
If you like angel food cake, then you have to make these cookies! They are the perfect size for a wonderful treat! They are also incredibly easy to make, as the recipe starts with a cake mix, and turns out to be the perfect cookie, even if you aren't much of a baker.
Get the recipe: Angel food cake cookies.
Junior Mint Cookies
Give a minty fresh kiss to your next batch of cookies. This recipe uses seasonal heart shaped junior mints, or you can use the regular version for a cookie that hits the spot anytime of year.
Get the recipe: Junior mint cookies.
Fruity Pebbles Cookies
If you love Fruity Pebbles cereal, you are going to want to make this cookie recipe! It naturally pairs perfectly with a cold glass of milk. Not only are these colorful, but also tasty too.
Get the recipe: Fruity pebbles cookies.
Cinnamon Toast Crunch Cookies
Cereal lovers are going to want to make this recipe ASAP.
It brings sweet and spicy cinnamon toast crunch to cookie form! These are perfect for pairing with a cup of coffee or a glass of milk.
Get the recipe: Cinnamon toast crunch cookies.
Mango Cookies
Have you ever considered adding mango to your cookies?
This flavorful cookie is as unique as it is delicious. I know you are going to love these when you are in the mood for a tropical treat. Mango paired with macadamia nuts is just so good together!
Get the recipe: Mango cookies.
Chocolate Butterscotch Chip Cookies
If you like the combination of chocolate and butterscotch, then this cookie recipe is sure to be a favorite.
It is easy, and has the best texture of soft cookies with melty butterscotch chips! It uses pudding mix to make an easy way to bring so much flavor to homemade cookies.
Get the recipe: Chocolate butterscotch chip cookies.
Berry Cream Cheese Cups
This cookie recipe is the definition of luscious!
Cookie cups are filled with cream cheese and topped with juicy berries for the ultimate summer dessert. These are great for an event, or as an after dinner treat to share with your favorite people.
Get the recipe: Berry cream cheese cookie cups.
Copycat Calypso Cookies
If you have been daydreaming about the calypso cookies from Publix since they discontinued them, then click over to this recipe right away!
You are going to love this homemade dupe. Make with, or without the dried pineapple depending on your preference.
Get the recipe: Copycat calypso cookies.
Lemon Cake Mix Cookies
Make these cake mix cookies for an easy sweet worthy of sharing!
This recipe is so easy, as it starts with cake mix. The results are bright, beautiful and perfect with a cup of tea on a summer afternoon.
Get the recipe: Lemon cake mix cookies.
ARE YOU CRAVING MORE DELICIOUS RECIPES AND TRAVEL INSPIRATION? Sign up below to receive my newsletter filled with delicious recipes, fun crafts, and family adventures straight into your inbox:
Share these Cookies that aren't Chocolate Chip Recipes with your friends and family on social media!
If you love these Cookies that aren't Chocolate Chip Recipes as much as we do, please leave me a 5-star review below and help me share this recipe on Facebook, Twitter and Pinterest!
If you do make any of the recipes, I hope you'll share that you tried it on Pinterest! I love it SO MUCH when readers share their feedback!