Looking for a delicious Italian meal that doesn't involve pasta? Look no further! This blog post features a collection of mouth-watering Recipes With Italian Flavor have all of the flavors of Italy!
There is something for everyone on this list. So gather your ingredients and get ready to enjoy a taste of Italy in your own kitchen.
This post may contain affiliate links which means we receive a small commission at no cost to you when you make a purchase. As an Amazon Associate I earn from qualifying purchases. Please see my disclosure and privacy policy for more information.
A Collection of Mouth-Watering Recipes With Italian Flavor
Antipasti Appetizer Cups
Offer these bite sized Antipasti Appetizer Cups as a starter before dinner, or as a savory finger food for cocktail hour.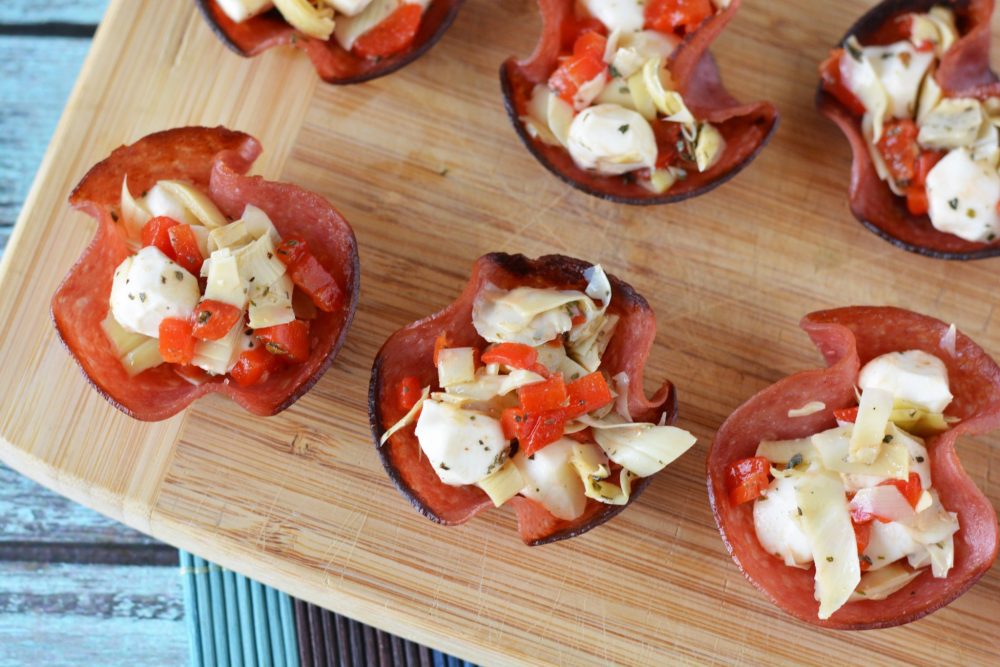 These are so easy, and so delicious, that you might want to make a double batch, as this recipe makes 16, and everyone will hope to grab a second one!
Salami cups filled with cheese and artichoke.
Get the recipe: Antipasti appetizer cups.
Pepperoni Pockets
Do you love Hot Pockets? These Pepperoni Pockets are even better and so easy to make!
Tuck pepperoni and mozzarella cheese into flaky pastry dough for a delicious pocket that works for an easy meal, or slice it in quarters and offer these simple pepperoni pockets as an appetizer. You could also add tomato slices and basil to bring extra Italian flavors to the table.
Get the recipe: Pepperoni pockets.
Pizza Roll Casserole
This pizza roll casserole is perfect for a family meal and a great alternative to ordering pricey pizza delivery.
Add sausage, loads of cheese and pepperoni slices, and roll it all in pizza dough then bake for a fast and filling alternative to ordering a pie on the weekend.
Get the recipe: Pizza roll casserole.
Slow Cooker Garlic Chicken with Beans
Pop some bone in chicken into the slow cooker with beans and garlic and you are going to come home to a hearty, comforting meal!
This is a budget friendly dish as it uses cheaper bone in chicken, but the results are so tender and tasty. You will find the meat is literally falling off the bone. Serve this to your family, or when you have guests coming by, but don't want to spend all afternoon cooking.
Get the recipe: Slow cooker garlic chicken with beans.
Easy Lasagna Pasta Bake
This Easy lasagna pasta bake recipe makes short work of lasagna!
Long gone are the days of working for hours to make a layered lasagna. This recipe comes together in a fraction of the time, but has all of the classic comfort flavor you expect. Serve with salad and bread for a complete meal that the whole family will love.
Get the recipe: Easy lasagna pasta bake.
Instant Pot Chicken Gnocchi Soup
This Instant pot chicken gnocchi soup is perfect for a fast and filling dinner any night of the week.
Thanks to the instant pot, you can get this on the table in no time for a meal that tastes so much like the Olive Garden version that you might skip the soup, salad and breadstick lunch option and make this at home, every time you have a craving.
Get the recipe: Instant pot chicken gnocchi soup.
Instant Pot Pork Pizzaiola
Cook pork chops in the instant pot for a tender treat in this Instant pot pork pizzaiola recipe.
This recipe is topped with marinara, melty cheese and just the right amount of spices to make a meal that might have your family saying Mama Mia over! This easy meal is always loved by kids, who can't get enough of the pizza flavor!
Get the recipe: Instant pot pork pizzaiola.
Sausage Tortellini Skillet
There is nothing like a one pot meal for busy weeknights, and this Sausage tortellini skillet fits the bill perfectly!
This recipe is hearty, wholesome and best of all easy! With tortellini, smoked sausage, cheese and a great quality sauce, this dish can feed a crowd and reheats well if you have leftovers.
Get the recipe: Sausage tortellini skillet.
Sausage Stuffed Mushrooms
These mushroom caps are stuffed with sausage for a hearty appetizer. This Sausage stuffed mushrooms is simply delicious!
Pop these in the air fryer for a fuss free starter. They are so good you can make a meal of them if you feel like you can't stop after just one.
Get the recipe: Sausage stuffed mushrooms.
Grilled Chicken Parmesan Sandwiches
Skip the breading and frying and get a healthier chicken parm sandwich on the table with this easy and tasty Grilled chicken parmesan sandwiches recipe.
Use a ciabatta roll, plenty of sauce and don't forget the pesto! You will agree this is a great alternative for when you are looking for a lighter version of a favorite.
Get the recipe: Grilled chicken parmesan sandwiches.
Roasted Garlic Focaccia
This Roasted garlic focaccia bread looks like it came from the finest Italian bakery in town, but it is so easy to make at home!
Impress your dinner guests with this flavorful and gorgeous focaccia bread that is bursting with garlic and tomato flavors. Serve this along side of your next pasta dinner for an instant upgrade.
Get the recipe: Roasted garlic focaccia.
Air Fryer Eggplant Parmesan
Air fryer eggplant parmesan is always a great meal idea, but this recipe makes it so easy you can make it any night of the week.
Cooking eggplant parm in the air fryer is a delicious and fuss free way to prepare a classic dish.
Get the recipe: Air fryer eggplant parmesan.
Are you looking for more Recipe Ideas?
If you have enjoyed this collection of Mouth-Watering Recipes with Italian Flavor, check out some of our other easy dinner recipes!
Share these Recipes With Italian Flavor with your friends and family on social media!
If you love these Recipes With Italian Flavor as much as we do, please leave me a 5-star review below and help me share this recipe on Facebook, Twitter and Pinterest!
If you do make the recipe, I hope you'll share that you tried it on Pinterest! I love it SO MUCH when readers share their feedback!