This delicious recipe for Pizzaiolo Pasta is really good and I love that you can make it in just one pot!
We are all about making easy recipes that allow us to feed our families something delicious WITHOUT a ton of prep work OR clean up afterwards!
Our pizzaiola pasta is just so easy to make, as everything get thrown into one pot, and the clean up is a bare minimum...I mean, it just could not get any easier than this pizzaiola recipe!
This post may contain affiliate links which means we receive a small commission at no cost to you when you make a purchase. As an Amazon Associate I earn from qualifying purchases. Please see my disclosure for more information.
Check out this recipe for One Pot Pizzaiolo Pasta
Heck, you do not even have to wash the dishes on the evening that you cook this for dinner if you really do not want to. This pasta pizzaiola recipe is makes quite a bit, so you will likely have leftovers.
That is, unless you are feeding a large family! You can just throw the entire pot of this Pizzaiolo Pasta with the lid into the fridge and just worry about it once you finish eating all of the leftovers!
Have you ever heard of Pasta alla pizzaiola before? While this may not be the most common type of pasta recipes, it is so delicious and can be made in a variety of ways. Just think of a basic spaghetti alla marinara but kicked up a notch!
Pizzaiola is a simple and recipe that was created from the most basic - and delicious - ingredients of Italian cuisine: pasta, tomato, mozzarella and basil!
Some will make a chicken alla pizzaiola, or make a type of ribeye pasta, as in a steak pizzaiola. I might try making skirt steak pasta recipes soon, as I love the idea of skirt steak pasta sauce! YUM!
Why you're going to love our Pizzaiolo Pasta
Because it is quite simple, Pizzaiola sauce pasta only requires a few easy steps and the ingredients are pretty basic and affordable. We are using a homemade italian pizzaiola sauce recipe, so you can really
There are all kinds of pastas that you can use to make this dish, like rigatoni, elbow noodles or even penne. We opted to use small pasta shells in our Pizzaiolo Pasta, as they really do a great job of holding the marinara sauce and if you are using fresh basil, it really pops!
Usually when you are making some kind of pasta dish, you would cook the pasta and then add it into your final dish once the sauce was ready, but this is all going to bake right in one pot from the very beginning.
This Pizzaiolo Pasta Recipe is just perfect for everyone!
Not only is this a great meal idea for a big family, this Pizzaiolo Pasta is a great dish to cook for a single person who doesn't need a big, elaborate dinner.
Our pasta pizzailoa is perfect for someone who works a ton and doesn't have a lot of time to cook, and needs to make easy recipes that they can meal prep for their work week.
With the rising cost of groceries, it's also a great meal for those on tight budgets, as it is a very affordable meal to make.
I guarantee that it will appease even the pickiest of eaters too! Do you hear that, kids? You are all going to love this when your parents make it for dinner!
This easy One Pot Dinner Recipe was loosely inspired by our Cheesy Pepperoni Pizza Dip Recipe, because we love pizza recipes! To make this a well-rounded meal, simply add a side salad and a nice crusty bread. Drizzle your bread with a little extra virgin olive oil and you are good to go!
Are you looking for more One Pot Meals like this Pizzaiolo Pasta?
Are you looking for other one pot recipes? You might want to try our Chicken and Black Beans Skillet meal; it is super filling and simple to make in a cast iron skillet!
I remember when I spent all of my time watching the Cooking Channel and Food Network to get recipe ideas. Now I have my own arsenal of go to meals for any occasion, and we are always coming up with new dinner ideas!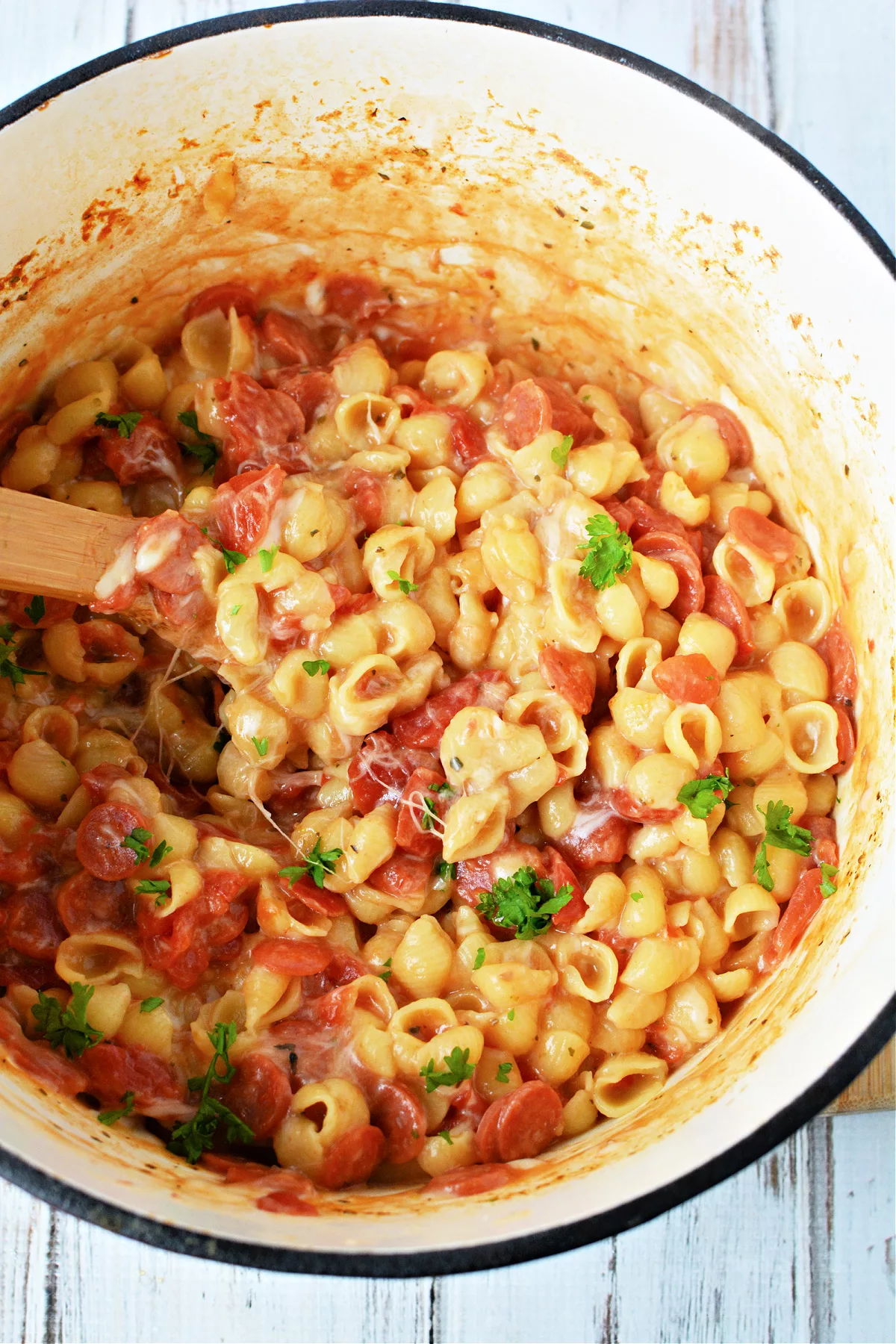 How to make our Recipe for Pizzaiolo Pasta in One Pot
Here are all of the ingredients that you will need to gather to make our recipe for Pizzaiolo Pasta
The next time you are grocery shopping, add these pantry staples to your list so that you can make this dish anytime you like!
Keep in mind that the printable recipe card at the end of this post has the exact quantities.
Hint: I like to use mini pepperoni slices in this recipe, but you can definitely use the regular sized pepperoni slices.
Get all of your cooking and baking supplies on Amazon.com!
If you are struggling to find some of these supplies, check out all of the item available to you with Amazon Prime Fresh! They have most household supplies and groceries fully in stock and you can get free delivery with your Amazon Prime membership! Sign up for Amazon Prime Fresh here!
Directions for how to make our Pizzaiolo Pasta
In a large pot, add together the uncooked pasta, chicken broth, the Italian style diced tomatoes, garlic powder, oregano and the milk.
Mix all of these ingredients together very well and cover the pot with the lid.
Cook your Pizzaiolo Pasta on medium heat, making sure to frequently stir everything together so that they cook evenly.
You are going to cook it for about 10 minutes, until the mixture begins to boil. Most of the liquid should be gone by the time that the pasta is al dente.
That is how you know that your Pizzaiolo Pasta is almost done!
If it is not completely cooked, then remove the lid and let the ingredients cook for a few additional minutes - until most of the liquid is gone.
Your Pizzaiolo Pasta should look like the photo above - with very little liquid left.
Then you are going to stir in the mini pepperoni slices and your mozzarella cheese. Mix them in thoroughly, and then allow it to continue cooking until all of the mozzarella cheese is melted.
You can serve this Pizzaiolo Pasta topped with fresh chopped parsley if your little heart desires. If nothing else, it adds a little pop of color and it looks pretty!
Our recipe for tis easy to make Pizzaiolo Pasta serves 4 people. You can double it for a larger crowd - just make sure that it all fits in whatever pot you have at home!
Variations and Substitutions for our easy One Pot Meal
You could certainly add other ingredients that you might like to make this simple pasta bake a more complex dish. However, the reason we love our pizza pasta recipe is because it is so easy to make and doesn't require a lot of thought.
Meatball pizzaiola pasta - You can add precooked meatballs to make this a more filling meal. We actually like the idea of using mini meatballs! You can just get a bag of precooked Italian style beef meatballs and allow them to thaw before adding them.
Add vegetables - You can add all sorts of vegetables, such as mushrooms and red or green bell peppers. Think of it like you are adding pizza toppings to pizza sauce. What goes good with pepperoni pizza?
Extra tomatoes - While you add in the diced tomatoes, you can add 1 cup of halved cherry tomatoes.
Try one of our easy dessert recipes!
These are a few of my most recent dessert dishes that you can serve with this Pizzaiolo Pasta recipe:
Share this Pizzaiolo Pasta with your friends and family on social media!
If you love this Pizzaiolo Pasta recipe as much as we do, please leave me a 5-star review below and help me share this recipe on Facebook, Twitter and Pinterest!
If you do make the recipe for our easy one pot Pizzaiolo Pasta, I hope that you will share that you tried it on Pinterest! I love it SO MUCH when readers share their feedback!
ARE YOU CRAVING MORE DELICIOUS RECIPES AND TRAVEL INSPIRATION? Sign up below to receive my newsletter filled with delicious recipes, fun crafts, and family adventures straight into your inbox:
To print this Pizzaiolo Pasta recipe, click the printable recipe card below!
I know that many people still like to print out recipes and keep them in a recipe binder, or simply have the printed recipe sitting in front of them when it comes time to cook! 
Sometimes it is just easier to go off a recipe when it is printed right in front of you. Who wants to swipe their screen on their phone or tablet when their hands are greasy? So I love offering this option as well!
Pizzaiolo Pasta
This delicious recipe for Pizzaiolo Pasta is a really cheap and easy meal idea and I love that you can make it in just one pot!
Instructions
In a large pot, add pasta, broth, tomatoes, garlic, oregano and milk.

Mix well and heat, covered, on medium heat stirring frequently.

Continue to heat for about 10 minutes as mixture begins to boil. Most of the liquid should be gone when the pasta is al dente. If not, remove the lid and let cook for a few minutes until most of the liquid is gone.

Stir in pepperoni and cheese and mix well until all cheese is melted.

Serve topped with fresh chopped parsley if desired.
Nutrition
Calories:
195
kcal
Carbohydrates:
4
g
Protein:
14
g
Fat:
14
g
Saturated Fat:
8
g
Polyunsaturated Fat:
0.5
g
Monounsaturated Fat:
4
g
Cholesterol:
50
mg
Sodium:
799
mg
Potassium:
117
mg
Fiber:
0.1
g
Sugar:
3
g
Vitamin A:
435
IU
Vitamin C:
0.01
mg
Calcium:
329
mg
Iron:
0.4
mg