Step into the tantalizing world of Crack Corn Dip, where your taste buds will dance with joy!
Whether you're hosting a gathering, planning a laid-back get together, or are just craving a mouthwatering appetizer, our Crack Dip is an absolute must have in your recipe book.
Get ready to indulge with this Creamy Corn Dip!
This post may contain affiliate links which means we receive a small commission at no cost to you when you make a purchase. As an Amazon Associate I earn from qualifying purchases. Please see my disclosure and privacy policy for more information.
Easy Creamy Corn Dip aka Crack Corn Dip
Get ready to fall in love with the irresistible charm of our easy crack corn dip. This creamy and flavorful appetizer will captivate your taste buds with a little twist on Mexican Street Corn.
Our easy corn dip has the perfect blend of crunchy sweet corn, savory bacon, tangy mayonnaise, and melty cheese and will taste amazing on tortilla chips or corn chips! You can even make this as a topping for baked chicken for a little something different.
Whether you're a fan of smoky and crispy textures or love a little kick from jalapenos or green chilies, our Cowboy Crack Corn Dip is here to satisfy your taste buds with endless customizable options.
Our Cracked Out Corn Dip is so versatile!
Our Cheese Corn Dip is really versatile, making it the perfect choice for any gathering! It is also a great little snack to make for when you're taking a day off from work OR LIFE IN GENERAL and settling down to watch a movie or read a book.
So get ready to dive in, savor every bite, and experience pure culinary bliss with this crowd pleasing creamy corn dip!
This Crack Corn Dip was inspired by our Elotes Mexicanos, and goes really well as a side with our Chicken Wing Charcuterie Board for a family movie might or game night with friends!
Where can I find the recipe card?
If you'd rather skip all of my cooking tips, important information for this recipe, and similar recipe ideas – and get straight to the recipe card, just scroll right on down to the bottom, where I have a printable recipe card just for you!
I know that a lot of people are old fashioned - like me! - and like to have a printed out recipe card.
Are recipe books still a thing in your household? Check out these cool recipe books (blank so that you can fill them up with your own recipes!) on Amazon!
Are you looking for more appetizer recipes like our Crack Corn Dip?
Check out these delicious Easy Appetizer Recipes that I have shared over the years, like our Hot Ham and Cheese Dip!
I think you will love them all!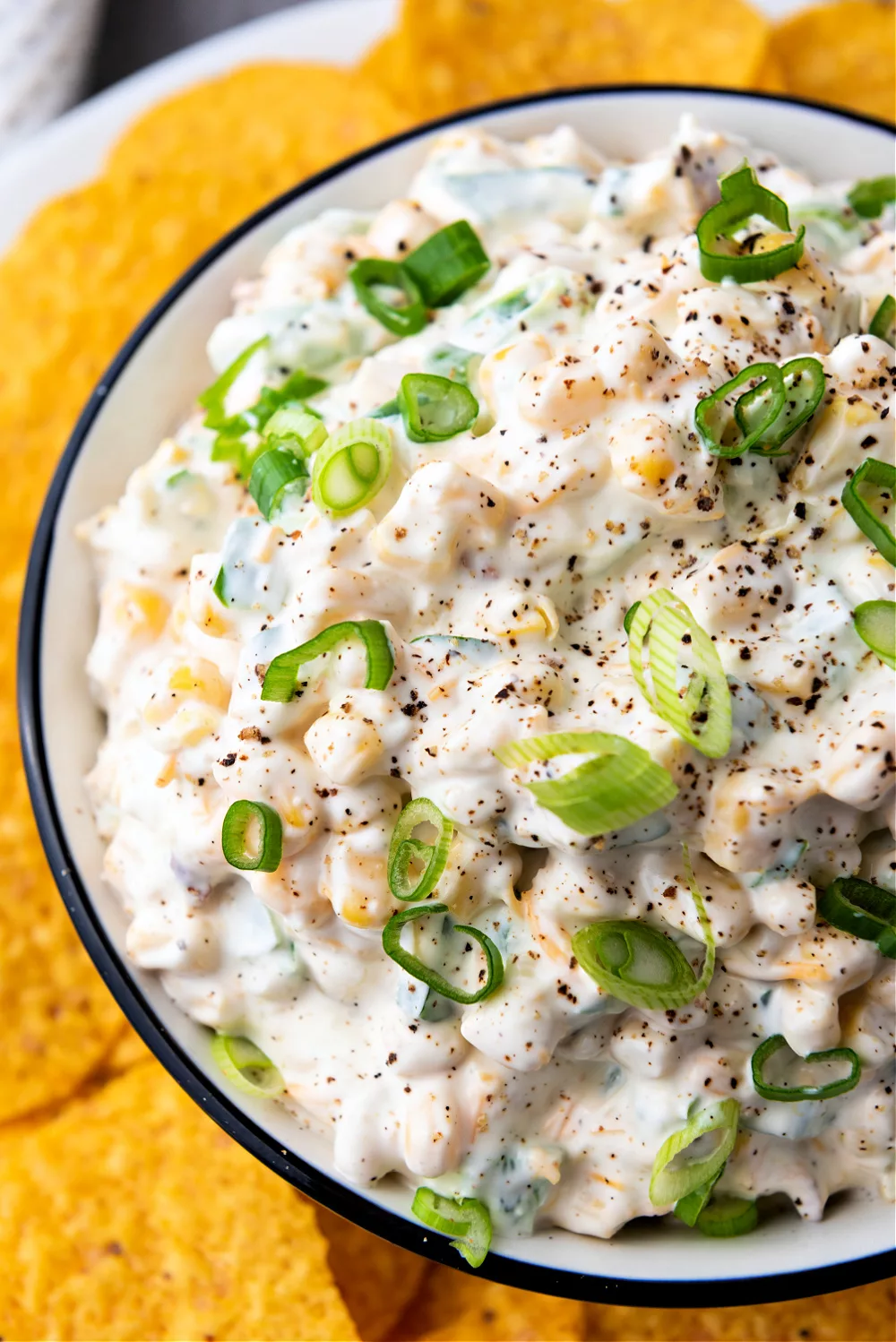 What Makes Our Crack Corn Dip Recipe so much fun
Easy Corn dip recipes are thought to have sprung up in the Southwestern United States, where corn is a must-have in countless traditional recipes. Since then, Corn Cheese Dip have won over the taste buds of folks just about everywhere!
You have probably seen a recipe for corn dip served as an appetizer for all sorts of occasions throughout your life. With its sweet corn kernels, creamy goodness, and tasty seasonings, our cracked out corn dip is an absolute winner for snack enthusiasts!
It is such a quick and easy appetizer recipe to throw together for holiday parties, family gatherings and just about any time you want a little crunch, savory snack!
Unlike other appetizers, our simple crack corn dip boasts a creamy and luscious texture that perfectly complements the crispiness of tortilla chips. The sweet and savory combination of corn, bacon, cheese, and spices creates an explosion of flavors!
Our Cold Corn Dip Recipe lends itself to endless variations and creative twists, allowing you to customize the recipe to suit your taste preferences or dietary restrictions.
Tips For Making The Best Crack Corn Dip
How to Make Crack Corn Dip
Let your creativity shine in this corn dipcrack corn recipe!
Ingredients In Crack Corn Dip
Opt for fresh or frozen corn kernels for the best flavor. If using canned corn, be sure to drain it thoroughly before incorporating it into the dip.
To create the perfect corn dip, it's essential to gather the right ingredients that will bring out the flavors and textures we love. Here are the key components that make up this delectable dish.
2 (15 oz) cans of sweet corn kernels - These golden nuggets serve as the foundation of the corn dip, providing a burst of sweetness and satisfying crunch. Be sure to drain them thoroughly before using to avoid excess liquid in your dip.
4 slices of bacon - The addition of bacon takes this corn dip to new heights, infusing it with a smoky and crispy element that tantalizes the taste buds. Cook the bacon until it reaches your desired level of crispiness, then chop it into small pieces to disperse its savory goodness throughout the dip.
1 cup mayonnaise - Mayonnaise brings creaminess and tanginess to the corn dip, lending it a velvety texture and a delightful zing. Incorporate about a cup of mayonnaise into the mixture, adjusting the amount according to your preference for richness and creaminess.
1 cup sour cream - Sour cream is another crucial ingredient that contributes to the lusciousness and smoothness of the dip. Add a cup of sour cream to the mixture, balancing the richness of the mayonnaise with its tangy undertones.
1 cups shredded cheddar cheese or Mexican Cheese - This cheese variety adds a savory and melty touch to the corn dip, making it irresistibly cheesy and comforting. Use about a cup of Mexican shredded cheese or a blend that includes cheddar, Monterey Jack, or queso quesadilla for an authentic taste.
3 scallions - Scallions, also known as green onions, provide a fresh and onion-like flavor that complements the sweetness of the corn. Chop the scallions into small pieces and sprinkle them throughout the dip, adding bursts of freshness and color.
1 jalapeno - For those who enjoy a bit of heat and spice, the jalapeno pepper is a perfect addition. Finely chop the jalapeno, removing the seeds if you prefer a milder heat, and incorporate it into the dip to give it a pleasant kick.
½ teaspoon black pepper, or to taste
¼ teaspoon garlic powder
¼ teaspoon onion powder
Get all of your cooking and baking supplies on Amazon.com!
If you are struggling to find some of these supplies, check out all of the item available to you with Amazon Prime Fresh! They have most household supplies and groceries fully in stock and you can get free delivery with your Amazon Prime membership! Sign up for Amazon Prime Fresh here!
Variations for different spicy peppers
While traditional Mexican corn includes diced green peppers, we are using jalapenos in our crack corn dip ingredients. And instead of the usual crack corn recipe with cream cheese, we are using only sour cream and mayonnaise.
Some folks like to make their crack corn dip with Rotel, but we like to shake things up in our cold corn crack dip!
Tips For Making The Best Crack Corn Dip
Opt for fresh or frozen corn kernels for the best flavor. If using canned corn, be sure to drain it thoroughly before incorporating it into the dip.
Go ahead and tweak the seasonings to suit your taste buds. Sprinkle a dash of cayenne pepper for a hint of spiciness or get adventurous with an array of herbs and spices to craft your very own unique flavor concoction.
How to make Our Easy Crack Corn Dip Recipe
This is such an easy appetizer recipe to make!
First we are going to drain the canned sweet corn. Make sure that all of the liquid is drained so that your Crack Corn Dip isn't too soupy.
Second, we are going to cook the bacon in a large skillet. Cook over medium high high heat until it has reached your desired crispiness. Alternately, you can also make this quicker by using precooked bacon!
Then chop the green onions, the jalapeno, and of course, the cooked bacon. Set these aside.
In a medium large bowl, add the canned sweet corn, sour cream, mayonnaise, shredded cheese, chopped bacon, chopped scallions, chopped jalapeno and seasoning.
Mix until well combined.
Keep refrigerated until ready for serving, and serve with tortilla chips!
How To Store Crack Corn Dip
When refrigerating the crack corn dip, cover it tightly with plastic wrap or transfer it to an airtight container to prevent any flavor absorption from other foods in the refrigerator.
Share this Crack Corn Dip with your friends and family on social media!
If you love this Crack Corn Dip as much as we do, please leave me a 5-star review below and help me share this recipe on Facebook, Twitter and Pinterest!
If you do make the recipe, I hope you will share that you tried it on Pinterest! I love it SO MUCH when readers share their feedback!
ARE YOU CRAVING MORE DELICIOUS RECIPES AND TRAVEL INSPIRATION? Sign up below to receive my newsletter filled with delicious recipes, fun crafts, and family adventures straight into your inbox:
Are you looking for Easy Dinner Recipes to serve with our Crack Corn Dip?
If you are looking for something to cook for dinner after this mouth watering Crack Corn Dip, check out some of our amazingly simple dinner recipes! If you are looking for finger foods for an easy family meal, this Tomato Basil Sliders recipe is quick and easy to make!
We love cooking One Pot Meals and Instant Pot and Slow Cooker Recipes, so there is something for everyone! This Sausage and Tortellini Skillet Meal is one of our favorites!
To print this Chocolate Wafer Mummy Cookies Recipe For Halloween, simply click the recipe card below!
I know that many people still like to print out recipes and keep them in a recipe binder, or simply have the printed recipe sitting in front of them when it comes time to cook!
Sometimes it is just easier to go off a recipe when it is printed right in front of you. Who wants to swipe their screen on their phone or tablet when their hands are greasy? So I love offering this option as well!
Crack Corn Dip
Indulge in the irresistible combination of sweet corn, savory bacon, and melted cheese in our mouthwatering Crack Corn Dip recipe.
Ingredients
2

15 oz cans of sweet corn kernels

4

slices

of bacon

1

cup

mayonnaise

1

cup

sour cream

1

cup

Mexican shredded cheese

3

scallions

1

jalapeno

½

teaspoon

black pepper

or to taste

¼

teaspoon

garlic powder

¼

teaspoon

onion powder
Instructions
Drain the corn. Make sure all liquid is drained.

Start by cooking your bacon in a pan, until it has reached your desired crispiness.

Chop the scallions, jalapeno, and cooked bacon. Set aside.

In a medium-large bowl, add the corn, sour cream, mayonnaise, shredded cheese, chopped bacon, chopped scallions, chopped jalapeno and seasoning. Mix until well combined.
Recipe Notes
Serve with tortilla chips