Not only the best, but the simplest Spinach and Artichoke Dip recipe you'll ever make! Toss everything into the slow cooker and magic happens!
Slow Cooker Cheesy Spinach And Artichoke Dip Recipe
Ok, so let's talk dip for a minute. We all have our favorite, go-to's right? Maybe it's a mish mash of some cheese and hot sauce you nuke until warm? (I totally do this) Maybe it's just that good old fashioned ranch dressing? But, that's the kind of stuff you eat alone. When you're curled up on the couch, binge watching Netflix and still in your jammies. All.Day.Long. (don't judge me) What if I said you could make a crowd pleasing, party rockin', mother of all dips? This Spinach and Artichoke Dip recipe is seriously, THE best I've ever thrown together. Simply toss everything into the slow cooker, set it and forget it. Watch...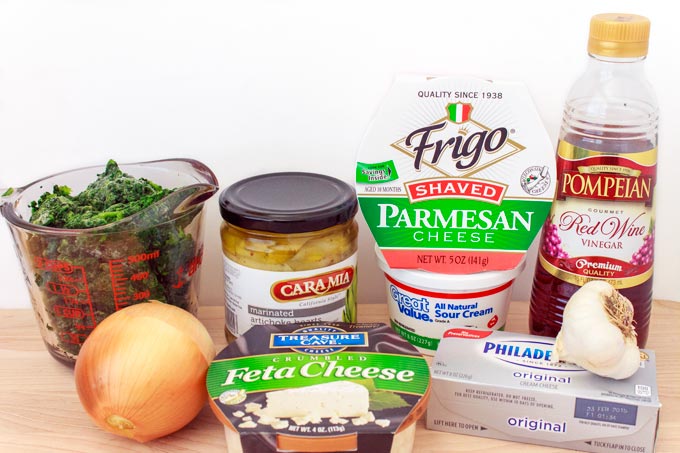 Cheesy Spinach and Artichoke Dip Recipe
Slow Cooker Cheesy Spinach And Artichoke Dip
Ingredients
1 8

oz

Package of Cream Cheese

cubed

2

Cups

Frozen Spinach

thawed, drained

2

Jars of Marinated Artichoke Hearts

drain and chop

1

Cup

Sour Cream

½

Cup

Milk

⅓

Cup

Mayo

½

Cup

Feta Cheese

crumbled

¾

Cup

Parmesan Cheese

shaved

2

Garlic Gloves

smashed

1

Small Onion

diced fine

1

TBS

Red Wine Vinegar

Salt & Pepper

to taste
Instructions
Set slow cooker on low heat. Set aside the cubed cream cheese for just a second.

Place all other ingredients in the slow cooker and combined thoroughly.

Evenly distribute the cubed cream cheese on top of mixture.

Cover and cook for just about 2 hours.

Uncover and stir that pot of awesome sauce around.

Turn heat to high and allow to bubble for 10 minutes.
Serve warm with a good quality crusty bread.
ENJOY!
Now, I know what you're thinking. Can't I just nuke all that and have the same in 10 minutes? Nope. You can't. Allowing the spinach artichoke dip to slowly melt and combine in the slow cooker gets the flavors melded together in a way that no microwave could even come close. You're just going to have to trust me on this!
Just look at how cheesy it is! And so chunky with artichoke hearts gives it a nice bite. Really, we're talking grown-up dip here. No cold veggie tray with ranch dressing for your guests! We're serving warm spinach and artichoke dip because even if your favorite team losses the Super Bowl, your guests will go home happy talking about the winning food! And besides, my beloved Bears aren't playing this year. So I'm all about that dip, 'bout that dip, 'bout that dip. No cheese balls.... (what???)
Have you tried spinach artichoke dip yet?