If you are looking to reduce your grocery budget while still eating filling and flavorful dishes, you are in the right place. I have gathered 15 Favorite Vegetarian Dishes to share with you.
From grilled veggie pasta primavera to a tasty veggie bean dip that can feed a large crowd. I know you will find a few options to try from this collection.
Vegetarian Pasta Primavera
This vegetarian pasta primavera makes a perfect weeknight meal.
It is loaded with healthy veggies and is sure to satisfy your pasta cravings! This vegetarian dish will be a fast favorite with anyone who has a bite.
Get the recipe: Vegetarian pasta primavera.
One Pot Black Bean Chili
You only need one pot to make this meatless chili. It is perfectly spicy, sure to fill your family up and best of all, this dish is ready in just 30 minutes!
This is perfect for a fall family meal. It has plenty of black beans and corn included to make a hearty dinner.
Get the recipe: One pot black bean chili.
Pesto Quinoa Bake
If you like pesto, you are going to love this 25 minute meal.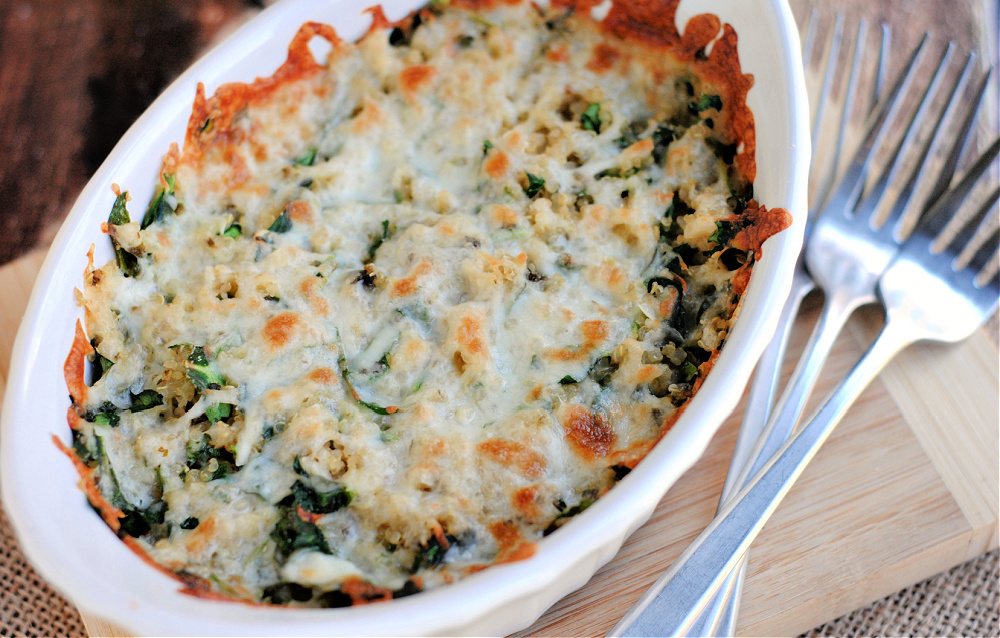 It is packed with quinoa, spinach and cheese for a super flavorful meatless meal. Who knew eating healthier could be so flavorful and easy!
Get the recipe: Pesto quinoa bake.
Vegetarian Stuffed Green Bell Peppers
Meatless stuffed peppers are so yummy and healthy.
Instead of ground beef or sausage, use quinoa and plenty of cheese to get a hearty dinner on the table that the whole family is going to enjoy. Feel free to cheese it up and add a little extra if you like.
Get the recipe: Vegetarian stuffed peppers.
Mexican Quinoa Skillet
Get an easy and healthy meal on the table in no time with this hearty and healthy Mexican quinoa skillet.
It has a little bit of everything except for meat. With corn, tomatoes, chiles, and black beans with quinoa, you are going to leave the table satisfied.
Get the recipe: Mexican quinoa skillet.
Quinoa Pizza Bites
Technically, this yummy recipe isn't vegetarian, but you can leave the pepperoni out of the mix to adapt this recipe to your lifestyle.
It has plenty of cheese, veggies and quinoa to make a healthy dish that has pizza flavor. Make a batch of these pizza bites to serve for lunch or dinner. Add a small side salad for a completely delicious meal.
Get the recipe: Quinoa pizza bites.
Roasted Green Beans and Tomatoes with Garlic
Roasted green beans are just the place to pop some diced tomatoes for a fresh and flavorful vegetarian addition to dinner.
This dish is so simple, but tastes amazing and has plenty of nutrients in every bite.
Get the recipe: Roasted green beans with tomatoes.
Air Fryer Eggplant Pizza
Get pizza flavor in a healthy and easy manner with this air fryer recipe.
It uses slices of fresh eggplant, plenty of cheese and a yummy sauce to make a yummy version of vegetarian pizza. Pop these little pizzas in the air fryer for fast homemade food.
Get the recipe: Air fryer eggplant pizza.
Elotes Mexicanos
Make this tasty Mexican version of corn on the cob for all of your summer parties and meals.
It has a creamy, smoky layer of crema, topped with lime juice, cotija cheese and spices. You are going to love this combination of flavors with grilled corn.
Get the recipe: Elotes Mexicanos.
Accordion Potatoes
Sometimes the simplest ingredients make the best sides, like with these accordion potatoes!
While cutting these just right does take a moment, you are going to agree the results are well worth the effort. With a crispy exterior, your family won't be able to resist these slinky taters on the side of so many meals.
Get the recipe: Accordion potatoes.
Berry Granola Cups
Make these simple berry granola cups for breakfast, brunch or to munch on midday. These are easy and so tasty.
A cup of granola is assembled and filled with creamy yogurt, and topped with fresh berries. Make them in mini muffin tins for a pop-able snack, or use jumbo muffin tins and grab a spoon, and dig into these tasty goodies.
Get the recipe: Berry granola cups.
Bell Pepper Bruschetta
Slices of chewy bread topped with diced bell peppers, onions and bail makes for a yummy appetizer.
Serve these with drinks, or as a starter at a dinner party. With so many fresh flavors mixed together you are going to love this colorful, vegetarian option for any event or occasion.
Get the recipe: Bell pepper bruschetta.
Corn and Feta Cheese Salad
Bring a salad filled with fresh flavors to your table with this ultra easy corn salad.
It has onions, tomatoes, corn and plenty of tangy feta cheese. This dish is perfect to take to a bbq or potluck, or make it for a side dish to complement a variety of main courses.
Get the recipe: Corn and feta salad.
Easy Zucchini Casserole
This vegetarian zucchini casserole is so easy and so flavorful. With zoodles, tomato sauce and loads of cheese, you will get spaghetti vibes from this simple casserole.
Serve it as the main course for a fresh family meal, or take this along to a potluck to offer a healthy, low carb dish to share.
Get the recipe: Easy zucchini casserole.
Corn and Zucchini Pie Recipe
This Corn and Zucchini Pie Recipe is just so good! It doesn't have a crust, but when you let it set, it will cut just like a pie would, as the ingredients firm up nice and solid.
Share these 15 Favorite Vegetarian Dishes with your friends and family on social media!
If you love these 15 Favorite Vegetarian Dishes as much as we do, please leave me a 5-star review below and help me share this recipe on Facebook, Twitter and Pinterest!
If you do make any of our recipes, I hope that you'll share that you tried it on Pinterest! I love it SO MUCH when readers share their feedback!