I think this Easy Zucchini Casserole Recipe is really good, and I love the zucchini and pasta sauce combo together. Lately, I have been on a low carb diet and was asked to bring a dish to a family gathering.
After searching different recipes trying to find something quick and healthy to bring along (so I wouldn't fall off my diet) yet my family would also enjoy, I came up with this recipe.
This Easy Zucchini Casserole was a perfect choice! I mean, who doesn't like eating healthy? This recipe has all the right ingredients and I love all of that cheese!
Easy Zucchini Casserole Recipe
I wanted to introduce healthier eating to family and friends and even better, it didn't break the bank. I spent under ten dollars making this and it was a real hit! As I am usually crunched for time as many usually are, this recipe didn't take very long to prepare and bake.
I have found that I could prepare it earlier in the day and then later on in the evening I could just pop it into the oven (days when my schedule is super tight). It is ideal for last minute gatherings and even business meetings.
The zucchini really adds a lot of flavor and texture, while delivering key nutrients. I also like the fact that it in't very spicy as some have allergies to spices. Since we are not using pasta, we are avoiding all those carbohydrates that ultimately turn into sugar and it's lighter.
I felt full after eating it but I wasn't bloated or sluggish. It is a much healthier choice all around and still satisfies the palate.
After enjoying this dish with friends and family, I cannot begin to tell you how many people asked me for this recipe! Honestly, out of all the dishes, this dish was the very first to be gone.
I wanted to share this recipe with you as well and hope you will too will share it with your family and friends. Believe me, they will thank you later. Guests were scraping their plates longing for just one more bite.
I think next time I will have to make a double batch! Long gone are the days of traditional spaghetti dinners as more and more people are looking for something different and something healthier. It is also easier to transport as it is a casserole dish.
No sauce spilling all over your car with this delicious recipe! It also stays warm, no more cold, wet noodles (we all know warming pasta noodles could result in a total disaster).
Notes about creating this Easy Zucchini Casserole Recipe:
I used the Briefton's 5 blade spiralizer for this recipe. You can find it on Amazon here. I use the FS blade to cut this zucchini. If you don't have the spiralizer, you can shred your zucchini with a food processor. Or, you can find a selections of spirazilers on Amazon.com!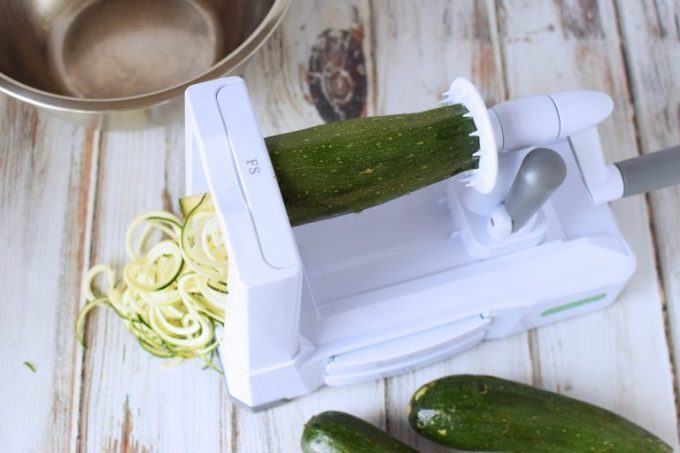 I use a very simple one for most recipes and it was very inexpensive. If you don't use a spiralizer very often, or have limited storage space in your kitchen, you may want to get a simpler one for your needs.
This Easy Zucchini Casserole Recipe may be considered a low carb dish, as all of the ingredients are very low in carbohydrates! I use a lot of zucchini in my diet, as it is so versatile and I just love it as a replacement for spaghetti noodles.
You can check out this Low Carb Creamy Chicken and Zucchini Pasta Recipe for an idea of a low carb dish using Zucchini in the place of pasta noodles!
Easy Zucchini Casserole Recipe
Easy Zucchini Casserole Recipe Ingredients:
3 medium zucchinis, cut using a spiralizer
1/2 cup diced onion
1 teaspoon salt
1/4 teaspoon pepper
1 cup pasta sauce
2 eggs, beaten
1 cup mozzarella cheese
1/2 cup Asiago cheese
Easy Zucchini Casserole Recipe Directions:
Preheat oven to 400 and grease a square baking can with nonstick cooking spray. Spirazlize your zucchinis.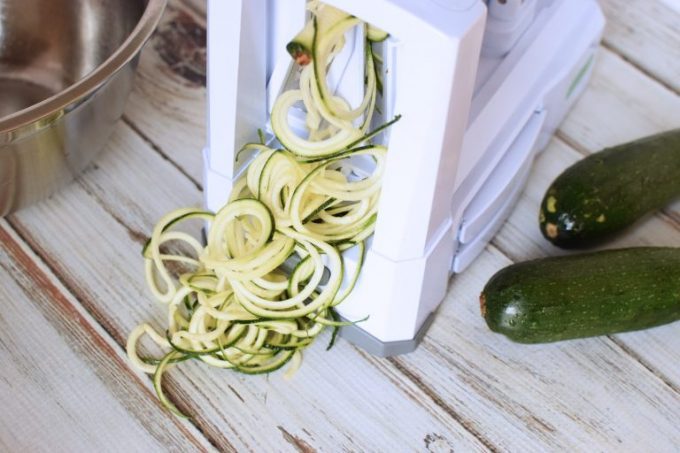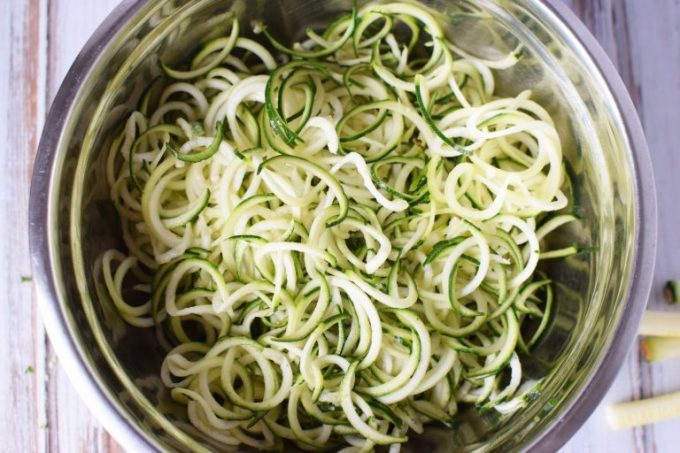 Once zucchini is spiralized, add onions, salt and pepper and pasta sauce.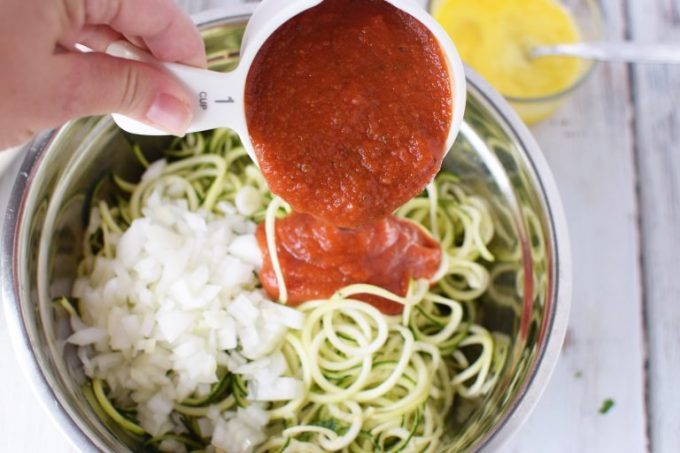 Stir in eggs and cheese and mix well.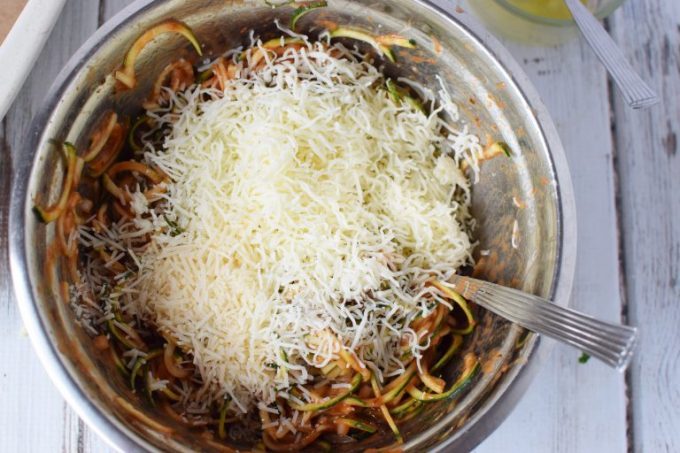 Spread in prepared pan.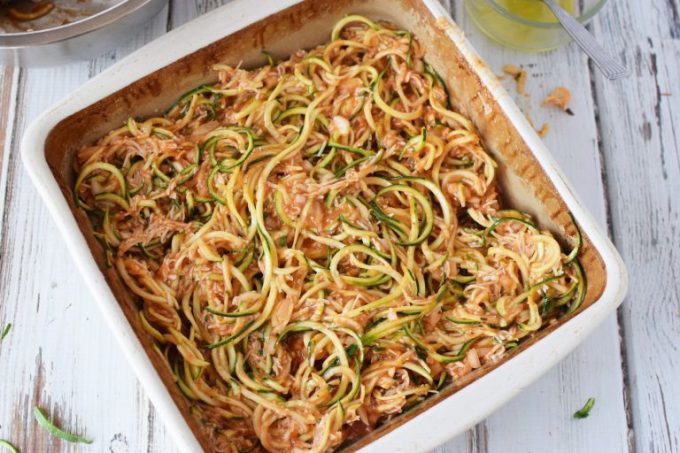 Bake for 30 minutes. If desired, add a little cheese on top and let set for 5 minutes before serving.
This Easy Zucchini Casserole Recipe serves six people.
To print this Easy Zucchini Casserole Recipe, simply click the recipe card below! I know that many people still like to print out recipes and keep them in a binder, or simply have the printed recipe sitting in front of them when it comes time to cook!
Easy Zucchini Casserole Recipe
Ingredients
3

medium zucchinis

cut using a spiralizer

1/2

cup

diced onion

1

teaspoon

salt

1/4

teaspoon

pepper

1

cup

pasta sauce

2

eggs

beaten

1

cup

mozzarella cheese

1/2

cup

Asiago cheese
Instructions
First, preheat your oven to 400 degrees and lightly grease a square baking pan with your choice of nonstick cooking spray.

Next, once the zucchini is spiralized, add the diced onions, salt, pepper and your favorite pasta sauce.

Then, stir in the eggs and cheese and mix together very well. Spread the mixture evenly in the prepared pan.

Place the dish in the preheated oven and bake for 30 minutes.

If desired, add a little more cheese on top and let set for 5 minutes before serving.
Do you need a little visual guidance for when it comes time to make this fun recipe? I know that sometimes people just love watching recipe videos, and while I am not a pro at shooting videos, I did find a really easy to make videos out of my still photos! Check out this little video, what do you think? Are these helpful, or just entertaining? Should I continue to make them for upcoming recipes? Let me know!
If you enjoyed this Easy Zucchini Casserole recipe, I would so appreciate it if you were to take a moment to share it on Pinterest for me! Whenever any of my recipes get shared on Pinterest, it really helps to spread the word about The Rebel Chick and gain me new readers, which of course I love!