Now that it is officially fall, it is officially casserole season! I love a cozy meal that requires very little effort at the end of a long day, like these 10 Favorite Fall Casserole Recipes!
With so much yard work, decorating and holiday planning to tackle, I don't want to spend all day in the kitchen. If you feel the same, then check out this collection of favorite casserole recipes.
10 Favorite Fall Casserole Recipes
From tasty side dish options to classic main courses, there is something on this list for everyone.
Paula Deen Corn Casserole
This creamy Paula Deen Corn Casserole makes a perfect side dish for a variety of meals.
It is made with cornbread topping and plenty of butter and cheese to make a fast favorite meal. Take this to a potluck, or add it to your holiday menu to get rave reviews from your loved ones.
Get the recipe: Paula Deen corn casserole.
Tuna Noodle Casserole
You can't go wrong with a classic like tuna noodle casserole.
This easy and delicious comfort food dinner is perfect for a hectic weeknight. Add a simple veggie like peas or a salad to the side for fast, homemade food.
Get the recipe: Tuna noodle casserole.
Broccoli Ham Casserole
Bring a few simple ingredients together to make a rich and satisfying Broccoli ham casserole dinner.
Ham, cheese and broccoli are perfect partners for a filling family meal that uses common pantry staples. This is a recipe to keep on hand for putting holiday ham leftovers to work.
Get the recipe: Broccoli ham casserole.
Chicken and Brussels Sprouts Casserole
Grab some healthy and hearty ingredients like brussels sprouts, chicken, chopped veggies and a can of soup to make the best Chicken brussels sprouts casserole.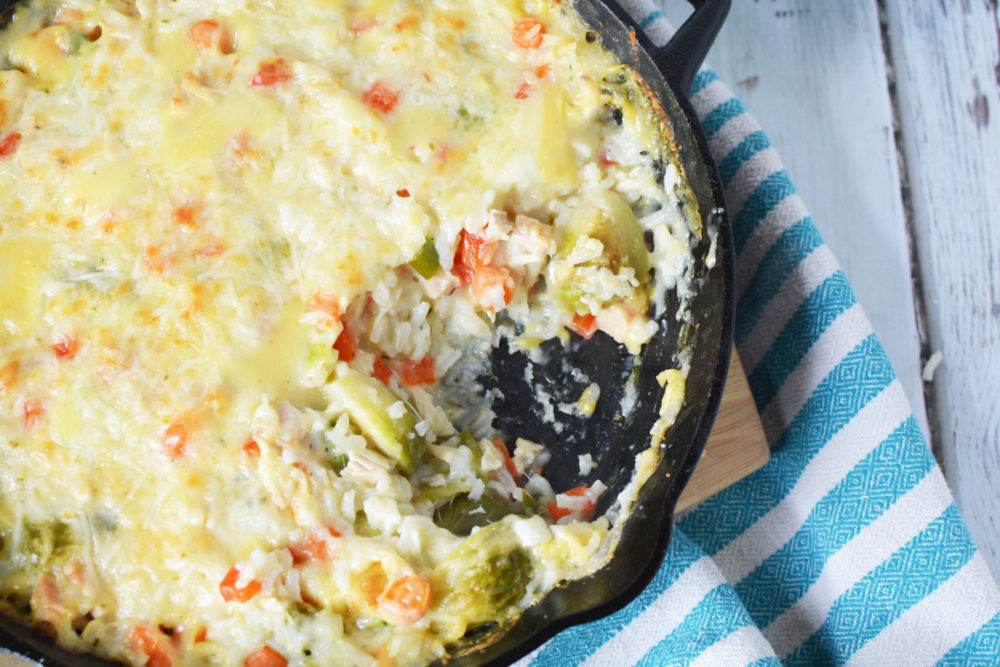 Make this for a cozy and easy fall meal that the entire family will love. It also reheats well for leftovers for lunch.
Get the recipe: Chicken brussels sprouts casserole.
Easy Cheesy Zucchini Casserole
Grab some garden fresh zucchini to make this delicious and healthy low carb casserole.
This recipe has all of the flavor of pasta, complete with cheese and sauce. It is awesome for dinner, or take a dish to a potluck to give an option to your low carb friends and family.
Get the recipe: Zucchini casserole.
Everyone's Favorite Pizza Roll Casserole
Skip delivery this weekend and make a homemade take on pizza rolls.
This casserole is loaded with pepperoni, cheese and sauce. Add your favorite toppings and bake to perfection for a yummy dinner that is just so easy to make!
Get the recipe: Pizza roll casserole.
Butternut Squash Casserole
After one taste of this easy casserole, you are going to agree it is absolutely scrumptious!
Serve this on the side of any fall meal, and consider making it for the holidays. Everyone will love this buttery, nutty casserole that is loaded with healthy ingredients.
Get the recipe: Butternut squash casserole.
Velveeta and Chicken Broccoli Casserole
Chicken, broccoli, rice and Velveeta cheese are all you need to get this easy casserole together for a filling family meal.
This recipe is so easy, and I know you will agree the Velveeta cheese makes this dish so creamy and cheesy!
Get the recipe: Velveeta chicken broccoli casserole.
Broccoli Cheese Casserole
This easy and cheesy casserole is friendly for even low carb dieting diners.
This recipe is perfect for a meatless dish, or serve it on the side of a grilled meat for a simple yet satisfying supper at home.
Get the recipe: Broccoli Cheese Bake.
Easiest Ever Shepherd's Pie
I love one dish dinners and this easy shepherd's pie is no exception!
Make this for a fuss free weeknight option on a chilly evening to warm your family up with great flavors. This dish has everything you need to make a great meal; potatoes, meat and loads of veggies.
Get the recipe: Easiest ever shepherd's pie.
Share these Favorite Fall Casserole Recipes with your friends and family on social media!
If you love these Favorite Fall Casserole Recipes as much as we do, please leave me a 5-star review below and help me share this recipe on Facebook, Twitter and Pinterest!
If you do make the recipe, I hope you'll share that you tried it on Pinterest! I love it SO MUCH when readers share their feedback!