Check out these awesome 15 Pumpkin Recipes for the Fall Holidays, featuring some of my favorite pumpkin recipes!
This post may contain affiliate links which means we receive a small commission at no cost to you when you make a purchase. As an Amazon Associate I earn from qualifying purchases.
15 Pumpkin Recipes for the Fall Holidays
Well, the temperatures are finally beginning to drop in Miami…so it must be our little version of fall! Anytime it drops below 90 in Miami, people break out the hoodies and sweatshirts…and so many people are carrying around pumpkin spice lattes from Starbucks, it is actually quite comical.
What is it about Pumpkin Spice that drives basic bitches crazy? I mean, sure, Pumpkin Spice is tasty. I like it. But why does it have to be SUCH A THING?! Sometimes I am tempted to swear off pumpkin-flavored anything, just out of spite…but well, I like pumpkin, so I can't really do that, now can I?
Take this Mini Pumpkin Spice Muffins Recipe, for instance. It's DELICIOUS! I love pumpkin – not just Pumpkin Spice, but actual pumpkin. I love cooking with it, especially baking with it because of it's nutritional benefits.
This Pumpkin Spice Cookie Bars Recipe is amazing and delicious, and even if you're not completely in love with Pumpkin Spice, you'll be missing out if you don't bake up a batch immediately!
WHERE CAN I FIND THE Recipe Cards For These 15 Pumpkin Recipes for the Fall Holidays?
I have a printable recipe card just for you in each and every post, just scroll down to the bottom of the posts to find it! I know that a lot of people are old fashioned – like me! – and like to have a printed out recipe card.
Are recipe books still a thing in your household? Check out these cool recipe books (blank so that you can fill them up with your own recipes!) on Amazon!
It's time to PUMPKIN SPICE ALL THE THINGS. Like with this Pumpkin Spice Pancakes Recipe. It's full of pumpkin. And spice. And deliciousness.
Because what is fall without a little pumpkin? It's nothing, guys. NADA. We don't really have fall in Miami. It's summer 362 days a year – we do get a few days here and there where we can wear boots and scarves, but mostly it's so hot that you break into a sweat checking the mail.
When the rest of the country is posting pictures of the changing of the leaves in their hometowns, we are on the beach. Sweating. So we need things like Pumpkin Spice in all forms to make us feel like we have a fall too.
I don't really know what to call this, so I am calling it a Cream Cheese Pumpkin Spice Cake Recipe. As shown it's served as a cake, on a plate. BUT after I cut the entire pan and packaged it up, I realized these are really good as bars, finger foods! Also, you can easily top with caramel and nuts while in the pan and then cut and serve in the pan – potluck style.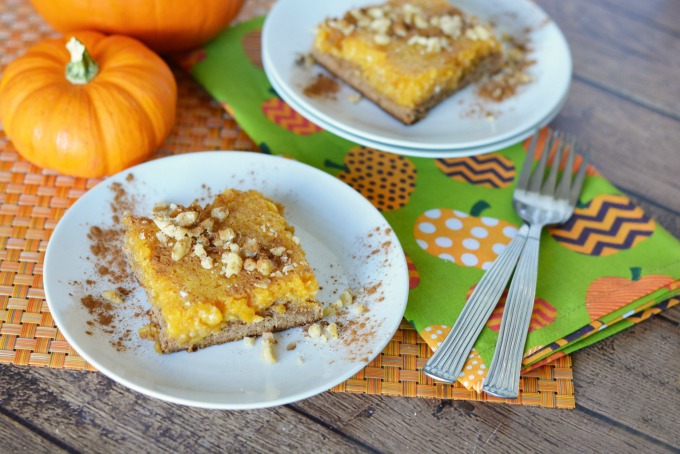 Fall is here in most parts of the country – at least according to the coffee shops…So here's a super fun and delicious Pumpkin Spice Crumble Recipe to bring everyone's favorite flavor or fall into their own kitchens! This recipe is perfect for your holiday entertaining, but it's not just for parties!
It's The Season For All Things Pumpkin Spice Right? How About Adding this super easy and delicious Pumpkin Spice Frozen Yogurt Popsicles Recipe To The Mix?
It's everyone's guilty pleasure this time of year. We have our fancy coffee drinks, baked goods, even room sprays. Seems like everywhere you look there's a new *thing* made into our favorite fall flavor. I'm not ashamed to admit that I've taken a selfie or eight with my yummy coffee drink. Don't judge.
But for those of us living in warm weather climates wouldn't it be awesome to have a cold treat that feeds our need? This cool new twist combines all things pumpkin spice and our favorite frozen yogurt popsicles in to one amazing fall treat. We really can have it all now! Who says you can't have the best of both worlds? Check out what I've got for ya!
It's officially fall, guys! Now, before you start putting up your Christmas decorations, just take a moment and savor all that the fall season has to offer, will you? Take for instance…pumpkin spice, as you'll find front and center in this Pumpkin Patch Martini Recipe! Even though we never see a changing of the colors, or a real winter, we do experience a bit of fall in Miami, and it begins with a nice cold front that sends us all searching for our boots and scarves.
My friend Kari and I weren't really sure what to call this. It's very pumpkin-ie. Or is it pumpkin-y? She suggested Cream Cheese Pumpkin Dessert, Pumpkin Dessert for a Crowd, and Pumpkin Delight…I settled on Cream Cheese Pumpkin Dessert Recipe because it's so creamy and delicious, it's just the perfect name!
This Chocolate Pumpkin No Bake Cookies Recipe is a great way to make a quick treat for a church social, a family gathering, or even to give as a hostess gift for that holiday get together you were invited to at the last minute!
it's the perfect time of year for Pumpkin Pie Cupcakes With Cinnamon Whipped Frosting, because HELLO FALL! With all the baking going on, our tummies are gobbling up everything Pumpkin. These babies give you everything you love about pumpkin pie, in one perfect bite! Let's get baking!
I must admit, I didn't grow up liking pumpkin very much. My family wasn't really into cooking with pumpkin, so the only exposure I had was to store-bought pumpkin pies on Thanksgiving.
The only way I found them tolerable was by piling on the whipped cream! As I began experimenting with different recipes as an adult, I found that I actually REALLY like pumpkin. I've used it in everything from pumpkin waffles to chocolate chip pumpkin blondie bars to pumpkin and lamb chili!
My latest favorite pumpkin recipe? This easy and delicious PUMPKIN PIE YOGURT RECIPE!
I did a little experimenting with this recipe and came up with a delicious, healthy SAVORY PUMPKIN AND LAMB CHILI RECIPE that you can make in either the slow cooker or right on the stove top!
House Foods asked me to share this TOFU PUMPKIN BREAD RECIPE with you guys and I figured, why not? It sounds delicious, even if I don't usually use Tofu in my own baking.
Why not try this Pumpkin Chocolate Brownies Recipe at your next holiday gathering, or bake up a batch for a friend?
Share These 15 Pumpkin Recipes for the Fall Holidays with your friends on social media!
If you enjoyed this post, please take a moment to share it on social media for me! I would love the exposure to new readers!