If you are looking for a dessert that is delicious, easy to make, and perfect for summer, then Peach Cobbler With Cake Mix is a must-try recipe.
This easy Cake Mix dessert is a classic Southern dessert that combines juicy peaches and a sweet cake mix topping.
This post may contain affiliate links which means we receive a small commission at no cost to you when you make a purchase. As an Amazon Associate I earn from qualifying purchases. Please see my disclosure for more information.
Peach Cobbler With Cake Mix
Peach cobbler is a classic dish all across the country. It might have started in the south, but it's not part and parcel of just about every party or gathering.
This version takes that classic flavor and gives its texture a twist with cake mix.
This easy Peach Cobbler with Cake Mix recipe was inspired by these cake mix cookies!
Where can I find the recipe card?
If you'd rather skip all of my cooking tips, important information for this recipe, and similar recipe ideas – and get straight to the recipe card, just scroll right on down to the bottom, where I have a printable recipe card just for you!
I know that a lot of people are old fashioned - like me! - and like to have a printed out recipe card.
Are recipe books still a thing in your household? Check out these cool recipe books (blank so that you can fill them up with your own recipes!) on Amazon!
Are you looking for more easy dessert recipes like our Peach Cobbler with Cake Mix?
If you love the idea of our Peach Cobbler with Cake Mix, check out some of our other cake mix recipes!
How to Make Peach Cobbler with Cake Mix
Ingredients
It only takes a few simple ingredients to make this delicious peach cobbler with cake mix, and you'll find them all in just a few minutes at your local grocery store.
I love yellow cake mix for this recipe, but you could use vanilla or butter cake mix instead.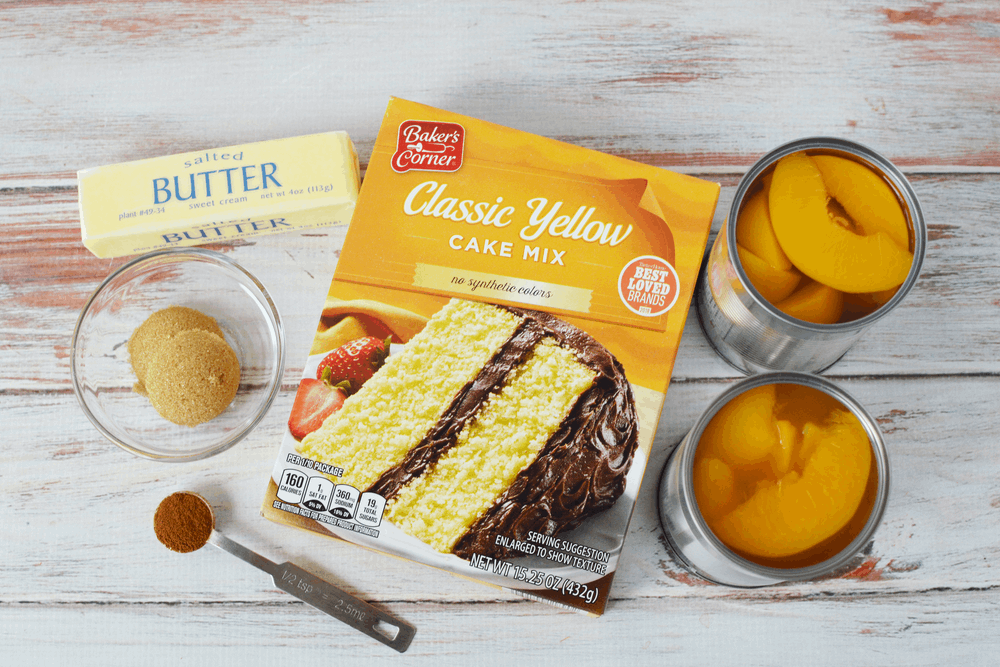 Canned sliced peaches in light syrup
Yellow cake mix
Brown sugar
Ground cinnamon
Butter - melted
See the recipe card for quantities.
Get all of your cooking and baking supplies on Amazon.com!
If you are struggling to find some of these supplies, check out all of the item available to you with Amazon Prime Fresh! They have most household supplies and groceries fully in stock and you can get free delivery with your Amazon Prime membership! Sign up for Amazon Prime Fresh here!
Instructions
This peach cobbler with cake mix recipe is super easy to make and only takes a few minutes and a few simple steps. The entire process only takes about 40 minutes from start to finish.
The recipe highlights are right here, but you'll find the complete instructions in the recipe card at the end of the post.
Hint: Mix your topping thoroughly until it's a crumbly consistency.
Add the peaches and their juice to the bottom of a baking dish.
Combine the remaining ingredients and top the peaches with the mixture.
Bake until golden brown and the edges are bubbly.
Substitutions and Variations of this Peach Cobbler With Cake Mix
Cake Mix - Use vanilla, butter, yellow, or white cake mix for this recipe.
Nuts - Try adding chopped walnuts, pecans, or almonds to the topping.
Fruits - Use berries, apples, pears, or your other favorite fruits for different cobblers.
See this Chocolate Cherry Dump Cake Recipe on my website! It is very similar to our Peach Cobbler with Cake Mix and a really fun way to eat chocolate cake!
Equipment
If you do not have one of the pieces of kitchen equipment that this Peach Cobbler with Cake Mix recipe requires, you can find inexpensive baking supplies on Amazon!
Here are a few of my favorite options. Simply click the links to purchase them on Amazon.
Mixing Bowls with Pour Spout - Nesting mixing bowls include 3 different sizes for a variety of cooking and baking needs.
Measuring Cup Set - This versatile measuring cup set includes ¼ cup, ⅓ cup, ½ cup, and 1 cup sizes. It can be used for both wet and dry ingredients. The clearly marked measurements help you quickly find sizes. BPA-free plastic construction holds up to everyday use ad the cups nest together and attach to a ring for easy access in drawers and cabinets.
Storage
Store this Peach Cobbler with Cake Mix in the refrigerator for up to 4 days in an air-tight container. For longer storage, you can freeze it for up to 3 months in an air-tight, freezer-safe container.
Top tip
It's important to let the cobbler cool until it's warm, not hot. This allows it to thicken up a bit.
FAQ
Is peach cobbler supposed to be soupy?
Runny cobbler is usually the result of extra juicy fruit or not letting it cool long enough. Let your cobbler sit after baking to thicken up.
Does fruit go on the top or bottom of a cobbler?
Traditionally, the fruit is added to the top of the batter. However, in cobblers like this one made with cake mix, the topping goes on top.
Do you serve peach cobbler hot or cold?
The temperature at which you serve your cobbler is totally up to your preference. Peach cobbler is delicious hot, warm, or cold.
Share this Peach Cobbler with Cake Mix with your friends and family on social media!
If you love this Peach Cobbler with Cake Mix recipe as much as we do, please leave me a 5-star review below and help me share this recipe on Facebook, Twitter and Pinterest!
If you do make the recipe, I hope you'll share that you tried it on Pinterest! I love it SO MUCH when readers share their feedback!
Pairing
These are my favorite dishes to serve with Peach Cobbler with Cake Mix:
To print this Peach Cobbler with Cake Mix, click the recipe card below!
I know that many people still like to print out recipes and keep them in a recipe binder, or simply have the printed recipe sitting in front of them when it comes time to cook!
Sometimes it is just easier to go off a recipe when it is printed right in front of you. Who wants to swipe their screen on their phone or tablet when their hands are greasy? So I love offering this option as well!
Peach Cobbler With Cake Mix
Peach Cobbler with Cake Mix is an easy Cake Mix dessert, a classic Southern dessert that combines juicy peaches and a sweet cake mix topping
Ingredients
2

cans

14.75 oz each, sliced peaches in light syrup

1

box

15.25 oz, yellow cake mix

2

tablespoons

brown sugar

1

teaspoon

ground cinnamon

½

cup

1 stick, butter, melted

vanilla ice cream for serving
Instructions
Preheat oven to 375 and grease an 11" round baking dish with nonstick cooking spray.

Add peaches to the pan, including juice and spread into a single layer.

In a mixing bowl, combine cake mix, brown sugar, and cinnamon and mix well. Add melted butter and mix well until crumbly. Crumble topping on peaches and bake for 35-40 minutes until top is browned and edges are bubbly.

Remove from oven and cool until warm. Serve warm with vanilla ice cream.
Recipe Video
Recipe Notes
Serves 10-12