Appetizers are the perfect way to start a party, and they can be just as delicious as the main course.
Whether you are hosting a casual get-together or a formal event, there are plenty of Perfect Bite Appetizers that will fit the bill and leave your guests with full tummies.
This post may contain affiliate links which means we receive a small commission at no cost to you when you make a purchase. As an Amazon Associate I earn from qualifying purchases. Please see my disclosure and privacy policy for more information.
Perfect Bite Appetizers
I have gathered some of my favorite appetizer recipes to share with you, from elotes Mexicanos to garlic bacon crostini, I know you will find a few appetizer ideas to try in this collection.
Elotes Mexicanos
If you like street corn, then you have to try this recipe for Elotes Mexicanos.
It is sweet, smoky, and so good! Your guests are sure to flock to the grill for an ear of this creamy, smoky grilled corn. While this appetizer brings big flavors to the table, you will appreciate how easy this is to prepare.
Get the recipe: elotes mexicanos.
Pickled Veggie Charcuterie Board
If you are planning a cocktail party or a cook out, then this pickle charcuterie board is a must make.
With pickles, pickled beets, pickled artichokes, and olives, this option has something for everyone.
It is also quite affordable to create, making it ideal for offering a healthier snack to a large group of people.
Get the recipe: pickle charcuterie.
Roasted Garlic Focaccia
Who knew homemade focaccia bread could be so easy to make or so delicious?
This recipe uses plenty of roasted garlic for the ultimate flavor, but it also adds fragrant rosemary and juicy fresh tomatoes to make a bread that pairs well with pasta, steak and everything in between.
Get the recipe: roasted garlic focaccia.
Chicken Wing Charcuterie Board
A platter of wings is always a good idea for a starter, or a snack to share. This idea makes it into an epic assortment.
Use a variety of wings, plenty of carrots and celery and add bowls of assorted dips for an appetizer that is truly unforgettable for any wing enthusiast.
Get the recipe: chicken wing charcuterie.
Greek Inspired Charcuterie Board
Offer a spread of little snacks that bring big bold Greek flavors to your appetizer course.
With olives, peppers, feta, and plenty of crackers, to name a few, I am positive your guests will find a few goodies to munch on before the main course.
Get the recipe: greek charcuterie.
Don't Tell The Doctor Dip
This dip only takes 5 ingredients to make and is perfect for a party, or an at home snack. Serve this with crackers or toasted bread rounds.
You can also keep it a little lighter by offering veggies like carrots and celery, or even pork rinds.
Get the recipe: don't tell the doctor dip.
Sausage Stuffed Mushrooms
Pop these hearty stuffed mushrooms into the air fryer for a fuss free appetizer.
They have plenty of savory sausage and cheese inside for a satisfying starter. Plus, they reheat well if you are lucky enough to have leftovers!
Get the recipe: sausage stuffed mushrooms.
Easy Bean Dip
Bean dip makes a great appetizer or snack for any occasion. It has plenty of healthy veggies like tomatoes and onions, paired with corn kernels and beans.
Serve this with frito scoops, or tortilla chips for a delicious way to start a party!
Get the recipe: easy bean dip.
Pepperoni Hand Pies
Fresh mozzarella, spicy pepperoni and flaky crust come together to make such a yummy appetizer!
These are easy as can be and can also be served for lunch, or as football food during the big game. Regardless of when you offer a pepperoni hand pie to your guests, I know they will enjoy them.
Get the recipe: pepperoni hand pie.
Cranberry Crack Chicken on Crackers
This seasonal spin on crack chicken is perfect for your fall and winter parties. It adds cranberries into the mix for a special zing that no one can resist.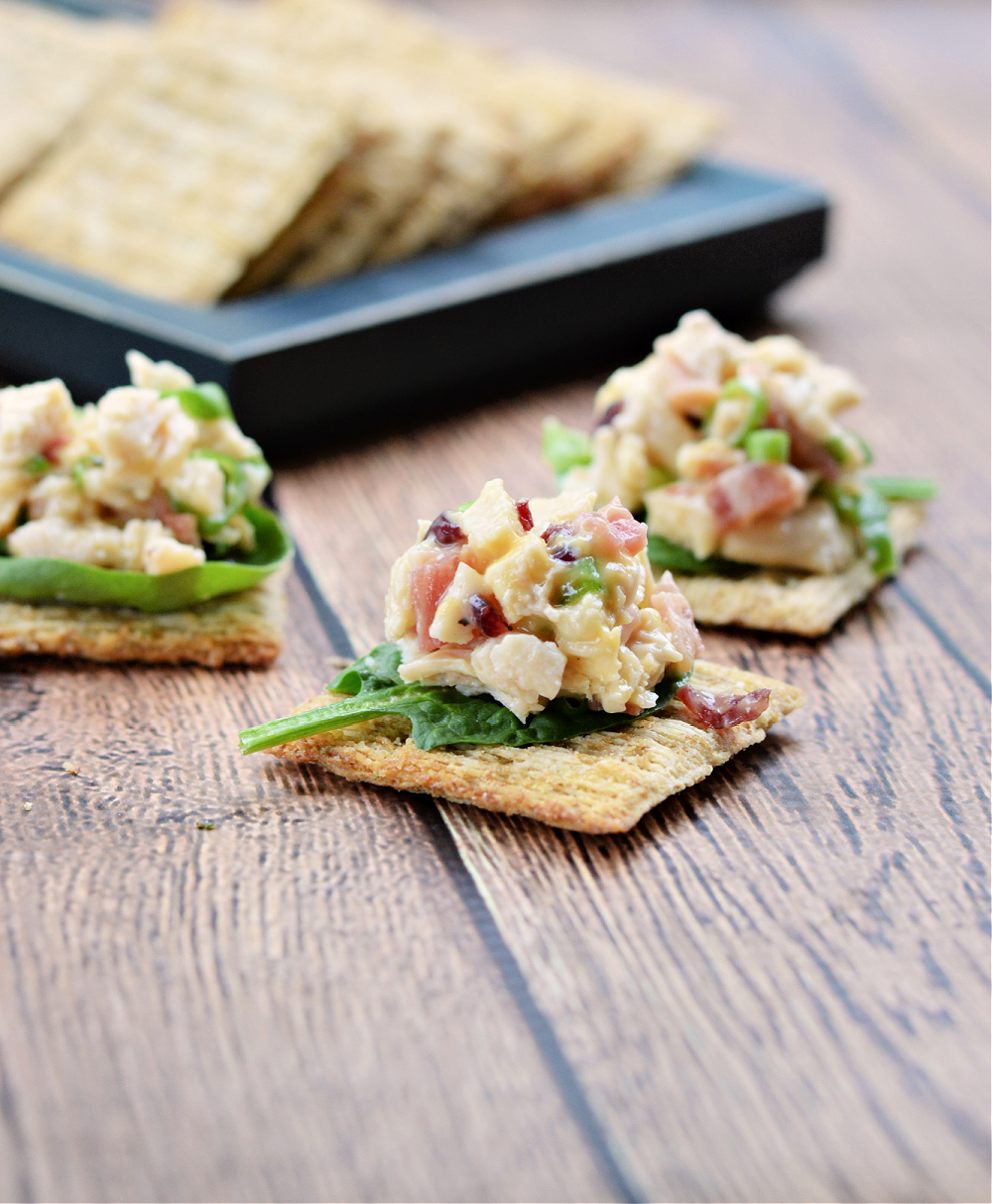 Serve this on crackers or on toasted bread rounds for a hearty and delicious snack worthy of sharing.
Get the recipe: cranberry crack chicken.
Garlic Turkey Cheddar Tomato Basil Sliders
These little sliders are a total mouthful! They have a medley of great flavors like turkey and cheese with tomatoes.
Garlic turkey cheddar tomato basil sliders make a great starter to share at a cocktail party, or serve them for dinner to your family, who will agree good things come in small packages!
Get the recipe: garlic turkey cheddar tomato basil sliders.
Sriracha Shrimp Nachos
Nachos are a classic appetizer option that everyone loves.
This recipe spices things up by using shrimp as the protein, and these nachos have so much delicious sriracha flavor! Make a big tray of these for a party, or a smaller platter just for your own spicy snack!
Get the recipe: sriracha shrimp nachos.
Pepperoni Pizza Dip
Bring pizza flavors to the first course with this easy and so cheesy pizza dip! Scoop this up with breadsticks or crackers for a starter that is sure to be loved by anyone who tries it.
While this is a perfect party food, it is so yummy you might be tempted to serve it for dinner one night. I say, add a salad and go for it!
Get the recipe: pepperoni pizza dip.
Asparagus Mini Pies
These little pies are so good! They are filled with cheese, cream of mushroom sauce and asparagus.
Top them with fried onions. They offer the perfect crunch to these bite sized savory pies.
Get the recipe: asparagus mini pies.
Garlic Bacon Crostini
Black olives, loads of garlic, and bacon come together to make these easiest and most flavorful appetizers yet. This recipe makes 36 crostini, so you can offer a bite to all of your guests.
You only need about 15 minutes to prepare this, so you won't be stuck in the kitchen for too long, allowing more time to mingle with guests!
Get the recipe: garlic bacon crostini.
Share these Perfect Bite Appetizers with your friends and family on social media!
If you love these Perfect Bite Appetizers recipes as much as we do, please leave me a 5-star review below and help me share this recipe on Facebook, Twitter and Pinterest!
If you do make the recipe, I hope you'll share that you tried it on Pinterest! I love it SO MUCH when readers share their feedback!