This post contains affiliate links. 
One of my favorite things do for family functions is bake a dessert. However, I don't always have time to bake, and let's face it, sometimes it's just too hot in Miami to slave away over a hot oven before dinner or a family gathering! So during the summer, I tend to look for desserts that require less cooking. Ice cream, puddings, gelatins and things of that sort are a great way to still have a treat after dinner without overheating!
Ever since I was a little girl, my family has used COOL WHIP Whipped Topping to make desserts more special. My mom used to add COOL WHIP to our pudding and gelatin to give them a little something extra, and that evolved into one of our favorite family desserts…
Chocolate pudding pie!
This is one of the easiest desserts ever! After coming home from a crazy weekend in Orlando with the kids, I wanted a really nice dessert to surprise my sister with as a thank you for house sitting for me.
House sitting for me isn't an easy feat – I have three very needy dogs and three cats…plus I am currently fostering three foster kittens. She really had her hands full! Of course there are other ways I thank her for house sitting, but nothing says THANK YOU quite like a chocolate pudding pie for dessert, don't you think?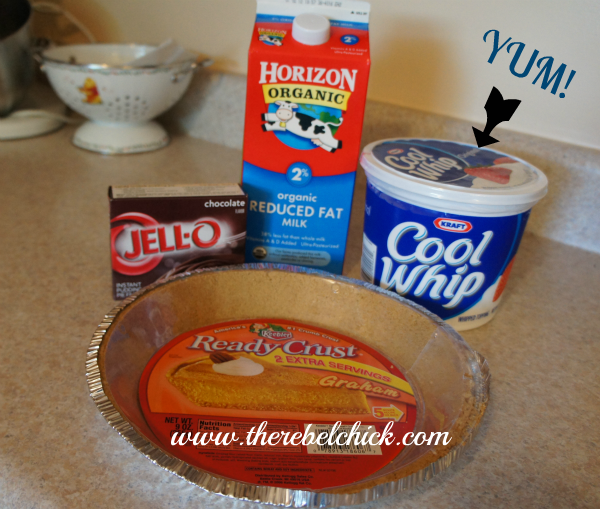 Ingredients
2.5 cups milk
5 heaping tablespoons COOL WHIP Whipped Topping, thawed
I large package instant chocolate pudding
1 (9 oz) graham crust pie crust
Directions
Mix pudding with 2.5 cups milk in large bowl until it begins to thicken. Spoon a small amount of pudding into the graham crust until there is about a one inch thick layer covering the bottom.
Add 5 heaping tablespoons COOL WHIP Whipped Topping to the remaining pudding mixture, and blend well.
Then add it to your pie crust.
Top with an additional layer of COOL WHIP Whipped Topping!
Do you see how easy that is?!
Do you have a special dessert you'd like to share? Enter COOL WHIP's Fan Dessert of the Month Contest for a chance to win $500! Simply make a COOL WHIP dessert, take a photo, and upload it here. Enter now!
Sponsored posts are purely editorial content that we are pleased to have presented by a participating sponsor. Advertisers do not produce the content. I was compensated for this post as a member of Clever Girls Collective, but the content is all my own.