This Oatmeal Pumpkin Breakfast Squares Recipe delivers a baked square that is soft and chewy! This easy Fall Breakfast Recipe has a really good flavor and are so easy to make that you will want to serve them up a few times a month for brunch!
This Fall Breakfast Recipe post may contain affiliate links which means we receive a small commission at no cost to you when you make a purchase. As an Amazon Associate I earn from qualifying purchases.
Oatmeal Pumpkin Breakfast Squares Recipe
Now, of course we all know that Pumpkin – and everything Pumpkin Spiced – is insanely popular during the fall holidays, but why limit pumpkin to a seasonal flavor profile?
Pumpkin is not only delicious, but it is a super nutrient-rich food and is so versatile in baking and cooking that you can use it in a ton of every day recipes.
You can find tons of pumpkin recipes on the blog, with everything ranging from my Pumpkin Butter recipe to Pumpkin chili!
This Homemade Pumpkin Butter Recipe is good and it is incredibly tasty whether you warm it or simply serve it at room temperature on bread or toast or bagels! It is just perfectly ever so sweet and simply screams fall flavors!
Where can I find the recipe card for this Simple Oatmeal Pumpkin Breakfast Squares Recipe?
If you'd rather skip all of my cooking tips, important information for this recipe, and similar recipe ideas – and get straight to the Oatmeal Pumpkin Breakfast Squares Recipe, just scroll right on down to the bottom, where I have a printable recipe card just for you!
I know that a lot of people are old fashioned – like me! – and like to have a printed out recipe card.
Are recipe books still a thing in your household? Check out these cool recipe books (of course they are all blank, so that you can fill them up with your own recipes!) on Amazon!
Looking for other Quick & Easy breakfast recipes to serve alongside my Fall Breakfast Recipe?
Check out these delicious breakfast recipes that I have shared over the years. They are all tried and true recipes that I have made over the years, or my trusty food writers have made.
I think you will love them all! Of course, this is just a small selection of breakfast and brunch recipes, but we have LOTS and lots of recipes on the blog that are perfect for breakfast and brunch– just type "breakfast" into the search bar on the right hand side of the screen and they will pop up for you!
Can I make this Oatmeal Pumpkin Breakfast Squares Recipe ahead of time?
You can bake up this easy Fall Breakfast Recipe and store it in your fridge or an air tight sealed container for up to 5 days before they get too stale – and hard!
You can also make them ahead of time and freeze them, just make sure that you take them out to defrost at least 24 hours before you intent to serve them. No one wants a delicious oatmeal pumpkin square that is frozen in the middle! There is no fun in that…
How to Make This Oatmeal Pumpkin Breakfast Squares Recipe
Ingredients needed to make this Oatmeal Pumpkin Breakfast Squares Recipe
3 cups rolled oats (not instant or steel cut oats)

1 teaspoon baking powder

2 teaspoons pumpkin pie spice

1/2 teaspoon salt

1/2 cup brown sugar

1 cup pumpkin puree

1 egg

1-3/4 cups milk

1 teaspoon vanilla
Get all of your baking supplies easily on Amazon.com!
If you are struggling to find some of the specialty supplies required to make this Oatmeal Pumpkin Breakfast Squares Recipe due to the COVID 19 lock down, check out all of the pantry item available to you on Amazon!
They have most household supplies fully in stock in their warehouses and you can even get free delivery on orders of $35 or more with your Amazon Prime membership!
Directions for making this Oatmeal Pumpkin Breakfast Squares Recipe
Preheat your oven to 350 and generously grease a 9×9 baking pan with nonstick cooking spray. Set it aside.
Add together all of your
oatmeal
, baking powder, pumpkin pie spice, salt and brown sugar in a bowl and mix it together well.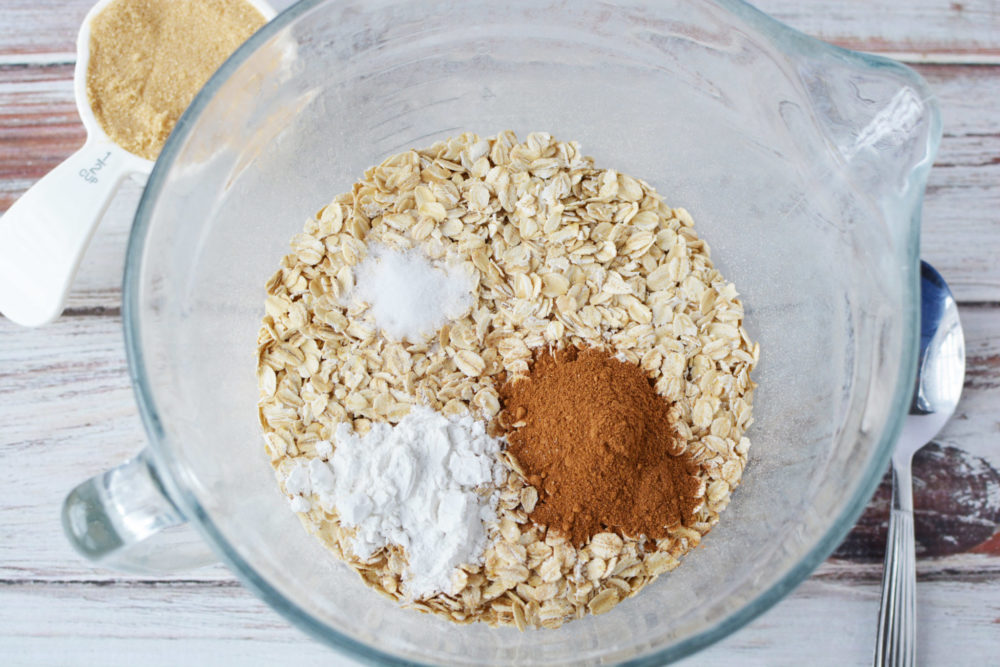 Stir in pumpkin puree, egg, milk and vanilla until mixed well.
Pour into prepared pan and spread evenly. Bake for 40-45 minutes until golden and the center is set. Remove from oven and cool for 5 minutes before slicing and serving.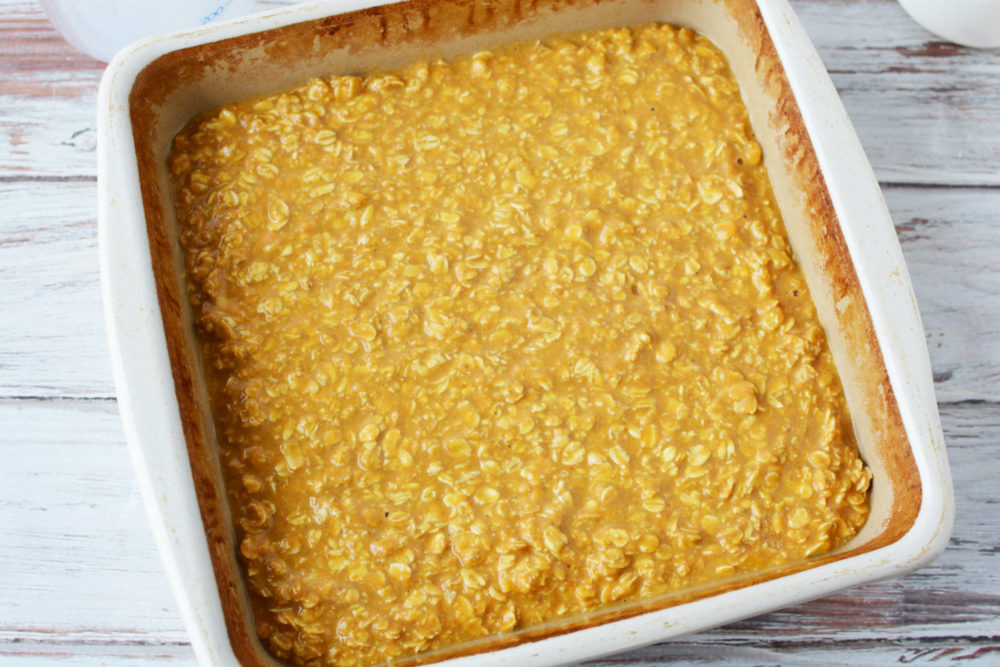 This Oatmeal Pumpkin Breakfast Squares Recipe serves 6 to 8 people.
Share this Oatmeal Pumpkin Breakfast Squares Recipe with your friends and family on social media!
If you love this Oatmeal Pumpkin Breakfast Squares Recipe as much as we do, please leave me a 5-star review below and help me share this recipe on Facebook, Twitter and Pinterest!
If you do make the recipe, I hope you'll share that you tried it on Pinterest! I love it SO MUCH when readers share their feedback!
ARE YOU CRAVING MORE DELICIOUS RECIPES AND TRAVEL INSPIRATION?
Subscribe to my newsletter and follow along on Pinterest, Facebook, YouTube, and Instagram for all the latest updates! Sign up below to receive my newsletter filled with delicious recipes, fun crafts, and family adventures straight into your inbox:
To print this Oatmeal Pumpkin Breakfast Squares Recipe, simply click the recipe card below!
I know that sometimes it is easier to go off a recipe when it is printed right in front of you.
Who wants to swipe their screen on their phone or tablet when their hands are greasy? So I love offering this option as well!
Oatmeal Pumpkin Breakfast Squares Recipe
Ingredients
3

cups

rolled oats

not instant or steel cut oats

1

teaspoon

baking powder

2

teaspoons

pumpkin pie spice

1/2

teaspoon

salt

1/2

cup

brown sugar

1

cup

pumpkin puree

1

egg

1-3/4

cups

milk

1

teaspoon

vanilla
Instructions
Preheat oven to 350 and grease a 9x9 baking pan with nonstick cooking spray. Set aside.

Add oatmeal, baking powder, pumpkin pie spice, salt and brown sugar in a bowl and mix well. Stir in pumpkin puree, egg, milk and vanilla until mixed well.

Pour into prepared pan and spread evenly. Bake for 40-45 minutes until golden and the center is set. Remove from oven and cool for 5 minutes before slicing and serving.

Serves 6-8