Easy Casseroles are the perfect meal for any night of the week! They are easy to make, comforting, and can be customized to your liking.
Easy Casseroles for Any Night of the Week
Whether you're looking for a hearty main dish or a light and refreshing side, there's a casserole out there for you. So gather your ingredients and get ready to enjoy a delicious and satisfying casserole tonight.
Instant Pot Cheeseburger Mac n Cheese
With this easy Instant Pot Cheeseburger Mac n Cheese recipe you can get a hearty and delicious dinner on the table in no time.
Add your favorite burger toppings like pickles, onions, lettuce or tomato to make a complete meal of this one dish dinner. This recipe might remind you of Hamburger helper, but is so much tastier!
Get the recipe: Instant pot cheeseburger mac n cheese.
Low Carb Broccoli and Cheese Bake
This low carb Low carb broccoli and cheese bake dish makes the ultimate side dish for a family gathering.
It is easy, so cheesy and has a delicious fried onion topping that will bring everyone back for a second scoop. Serve this with burgers, brats, or hot dogs for a well balanced side.
Get the recipe: Low carb broccoli and cheese bake.
Ham and Asparagus Skillet
This Ham and asparagus skillet dinner has a little bit of everything.
Tender noodles, chunks of salty ham, and plenty of asparagus! Don't forget to add tomatoes and pepper strips for a variety of textures that pair perfectly together.
Serve this as a side to feed a crowd, or make this a part of your meal plan for the week ahead.
Get the recipe: Ham and asparagus skillet.
Zucchini Casserole
If you need to put your bounty of zucchini to work, then this is the Zucchini casserole recipe for you!
Serve this zucchini casserole as a side, or make it the star of the show and serve it as a meatless main course. This healthy and cheesy dish uses marinara sauce for a filling and flavorful addition to your table.
Get the recipe: Zucchini casserole.
Ham and Rice Skillet
Make this Ham and rice skillet meal with common pantry staples like ham, cheese and rice for an easy and filling meal that the whole family will love.
This dish comes together in just about 25 minutes for a wholesome dish that has plenty of cheese for a great weeknight meal.
Get the recipe: Ham and rice skillet.
Chicken and Brussels Sprouts Casserole
Make this Chicken and brussels sprouts casserole bake for a hearty and wholesome meal.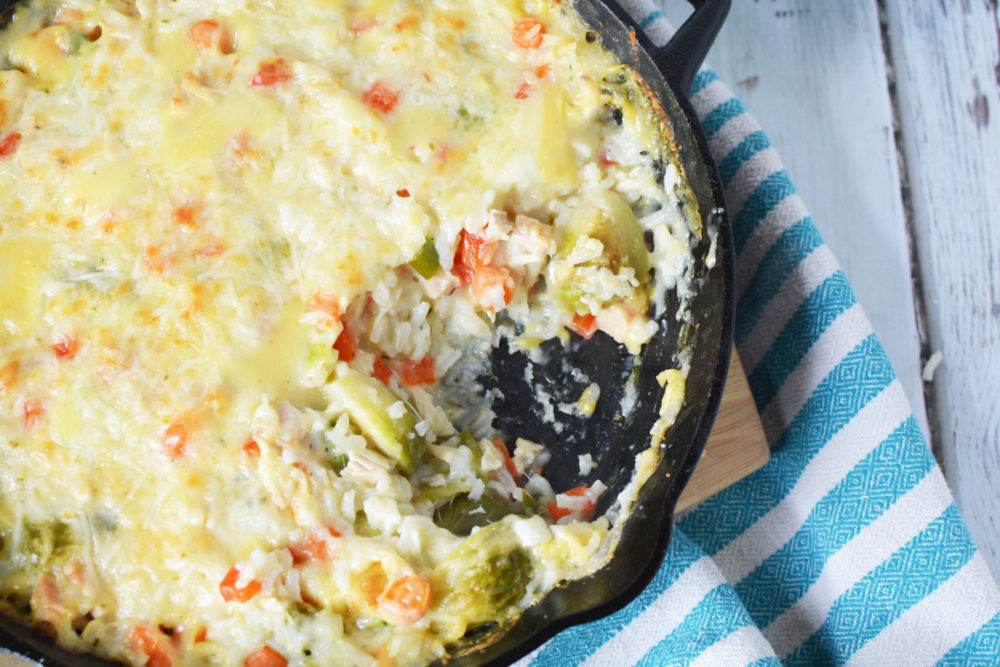 This easy dish only needs one cast iron skillet to make, and it has the creamiest cheese sauce mixed through. After just one bite, you might rethink your position on brussels sprouts. This meal will make anyone a fan!
Get the recipe: Chicken and brussels sprouts casserole.
Tuna Noodle Casserole
Creamy Tuna noodle casserole always hits the spot after a long day at work, when you don't feel like making a fuss for dinner.
If you aren't sure what to make for dinner and need to head to the store, check your pantry first as you likely have most of the ingredients for this classic comfort food dish.
Get the recipe: Tuna noodle casserole.
Gluten Free Chicken Pot Pie
This Gluten free chicken pot pie is such a delicious comfort food dinner, whether you have gluten sensitivities or not!
This take on classic pot pie makes it gluten free so everyone can enjoy a scoop of this cozy family style meal.
Prep this in the morning and bake it when you get home from work for an easy one dish dinner that everyone will enjoy.
Get the recipe: Gluten free chicken pot pie.
Thanksgiving Leftover Pot Pie
Put your leftover turkey, stuffing, potatoes and gravy to work to make this perfect Thanksgiving pot pie.
It is easy to assemble, saves food waste and tastes amazing on a cool fall day.
Get the recipe: Thanksgiving pot pie here.
Easiest Ever Shepherd's Pie
Shepherd's pie is a classic comfort food that tastes amazing on a cold day.
This dish comes together fast so you can make it on a hectic weeknight.
It has loads of creamy mashed potatoes, tasty veggies and of course, browned meat for a hearty dinner that can feed a hungry crowd.
Get the recipe: Easiest ever shepherd's pie.
Cheesy Broccoli Chicken and Rice Casserole
This easy and extra Cheesy broccoli chicken and rice casserole is the ultimate family meal.
It has grains, protein, healthy veggies and plenty of Velveeta cheese.
This can be prepped in the morning to bake after work, or thrown together for a last minute dinner idea.
Get the recipe: Cheesy broccoli chicken and rice casserole.
If you loved these casserole recipes, check out our catalog of Casserole Recipes in our FOOD INDEX for even more ideas!