This recipe for Kiwi Salad is the perfect side dish to any of your spring and summer meals!
If you like a fruit salad with kiwi, then you are going to love this flavorful combination of kiwi, spinach and lettuce.
This post may contain affiliate links which means we receive a small commission at no cost to you when you make a purchase. As an Amazon Associate I earn from qualifying purchases. Please see my disclosure for more information.
Why You Will Love our Kiwi Salad
Our Kiwi Salad is the perfect blend between kiwi fruit salad recipes and your traditional salad. I love this kiwi lettuce salad because it is so light and refreshing!
The salad dressing is the perfect mixture of sweet and tangy due to the lemon juice and honey.
Kiwi salads are wonderful for those hot and humid summer days. It is actually a "real salad," like the kiwi apple salad or that have apples or fancy cucumber kiwi salad dishes you might find at a brunch restaurant.
This recipe was inspired by our Watermelon Feta Salad recipe that we shared a while ago.
It pairs wonderfully with this recipe for Parmesan Chicken Wings for a light lunch if you are wanting to make it as a side dish.
Are you looking for other Salad recipes like our Summer Salad?
Check out some of our other salad recipes!
Jump to Recipe
What makes this Kiwi Salad so unique
With this refreshing take on the traditional summer salad, you will get a lot of good textures. Between the soft kiwi, the crunch of the leafy greens and spinach salad and of course the crunchy pecans!
The kiwi dressing on this salad is very light and has just a hint of lemon. You can always use lime juice to make a kiwi lime dressing if you like!
This Easy Fresh Kiwi Summer Salad is a very light, refreshing salad. It is perfect for serving alongside all of your barbecued chicken, steaks and hot dogs this summer!
It is also a nice alternative to the usual potato salad or macaroni salad. Though of course those are always nice too, it is just great to have some options! This is especially true for those of us who are trying to avoid heavy starches and lots of carbohydrates. Spring salads are a great way to eat healthy and still enjoy a fabulous meal!
I know that most South Florida residents hate the summer, as it usually feels like we are walking on the surface of the sun...but I love it! I don't mind the heat, as long as I have a WORKING air conditioner in both my home and car...
And lots of ice cold water with fresh mint to drink! I like to stay out of the kitchen as much as possible during the hotter months, and food like fresh kiwis are a great way to help us all stay refreshed.
I am that weirdo that actually doesn't mind sweating - I just make sure to wear plenty of deodorant. Ha ha!
Here are the Ingredients you will need to make this Easy Fresh Kiwi Salad Recipe
Make sure that all of your produce is nice and fresh! You can use lemon juice from a bottle if it is easier for you.
2 cups fresh baby spinach, torn
2 cups butter lettuce or boston lettuce, torn
2 kiwi fruits, peeled and sliced thin
2 tablespoons honey
2 tablespoons vanilla yogurt
1 tablespoon olive oil
1 tablespoon lemon juice - you can also substitute lime juice if you prefer the flavor
¼ cup chopped pecans
Get all of your cooking and baking supplies on Amazon.com!
If you are struggling to find some of these supplies, check out all of the item available to you with Amazon Prime Fresh! They have most household supplies and groceries fully in stock and you can get free delivery with your Amazon Prime membership! Sign up for Amazon Prime Fresh here!
Directions for how to make this Summer Salad Recipe
You are going to begin by adding your spinach, lettuce and kiwi to a large bowl and then setting them aside.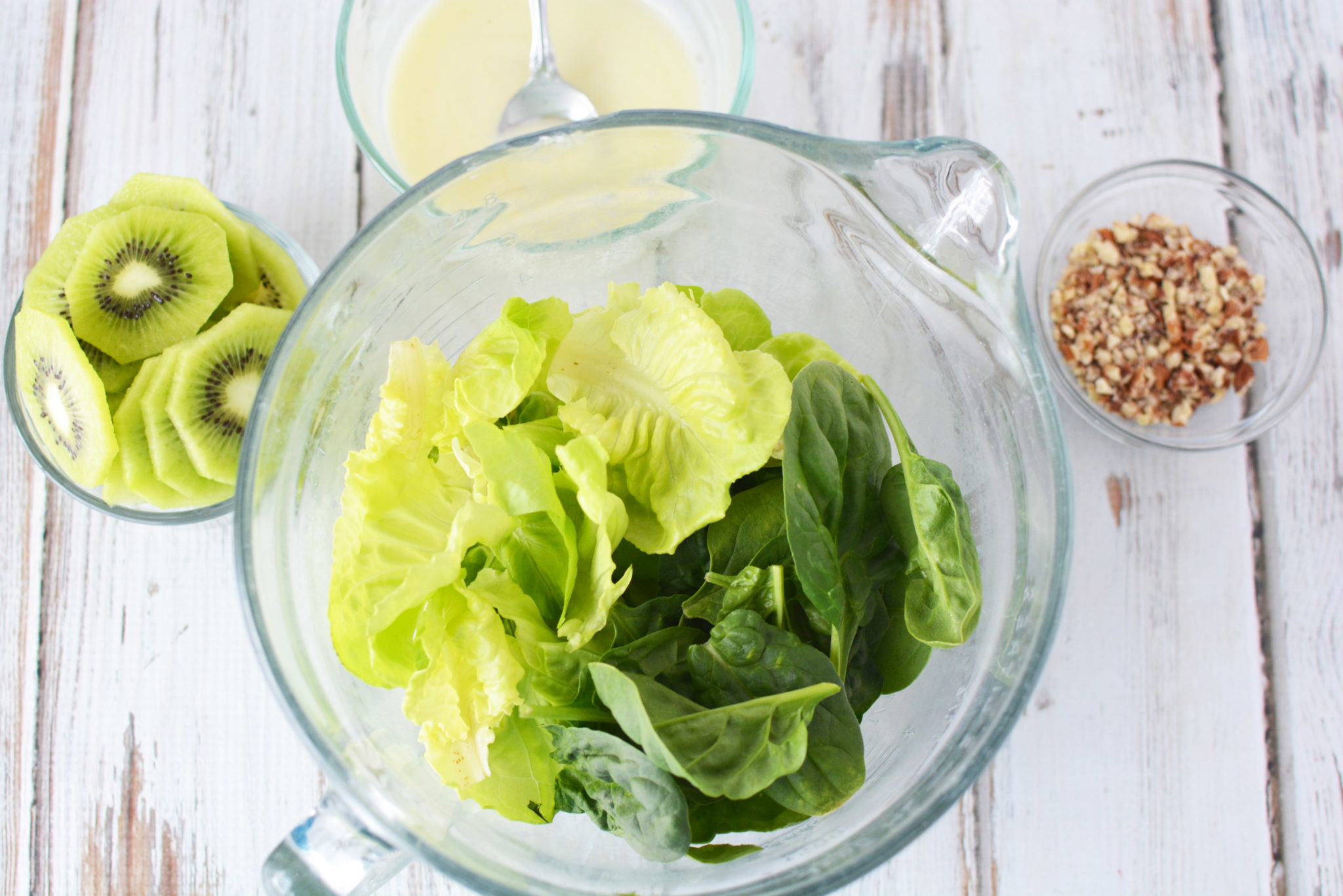 Next, we are going to make our kiwi salad dressing. In a small bowl, mix together the honey, the vanilla yogurt, the olive oil and the fresh lemon juice.
Pour your kiwi dressing over the lettuce and spinach mixture and mix them together well to evenly coat everything in the dressing.
Now sprinkle your pecans on top and you are ready to go!
Variations and Substitutions for our Kiwi Salad
We love our Kiwi Salad recipe exactly as it is, but you are welcome to try making variations and substitutions. Just be advised that if you change any of the ingredients, it will not turn out like ours.
kiwi avocado salad - add slices of avocado for a different spin on this recipe
kiwi feta salad - add chunks of feta cheese to add a little pizzaz
kiwi cucumber salad - add sliced cucumbers for bit more crunch
Share this Kiwi Salad with your friends and family on social media!
If you love this Kiwi Salad recipe as much as we do, please leave me a 5-star review below and help me share this recipe on Facebook, Twitter and Pinterest!
If you do make the recipe, I hope you'll share that you tried it on Pinterest! I love it SO MUCH when readers share their feedback!
Are you looking for Easy Dinner Recipes to serve with our Kiwi salad?
Check out some of our favorite easy dinner recipes that we have shared over the years!
ARE YOU CRAVING MORE DELICIOUS RECIPES AND TRAVEL INSPIRATION? Sign up below to receive my newsletter filled with delicious recipes, fun crafts, and family adventures straight into your inbox:
To print the recipe for our Easy Fresh Kiwi Salad, simply click the recipe card below!
I know that many people still like to print out recipes and keep them in a recipe binder, or simply have the printed recipe sitting in front of them when it comes time to cook!
Sometimes it is just easier to go off a recipe when it is printed right in front of you. Who wants to swipe their screen on their phone or tablet when their hands are greasy? So I love offering this option as well!
Summertime Kiwi Salad
This recipe for Kiwi Salad is the perfect side dish to any of your spring and summer meals!
Ingredients
2

cups

fresh baby spinach

torn

2

cups

butter lettuce or boston lettuce

torn

2

kiwi fruits

peeled and sliced thin

2

tablespoons

honey

2

tablespoons

vanilla yogurt

1

tablespoon

olive oil

1

tablespoon

lemon juice

¼

cup

chopped pecans
Instructions
Add spinach, lettuce and kiwi to a large bowl and set aside.

In a small bowl, mix honey, yogurt, oil and lemon juice. Pour over lettuce mixture and mix well to evenly coat. Sprinkle with pecans.
If you love sharing new recipes on Pinterest, here are a few more graphics for you!