These Leftover Oatmeal Cookies are so easy to make and a great way to use up leftover cooked oatmeal from breakfast! The best leftover oatmeal recipes are versatile and fun, like our easy leftover oatmeal squares!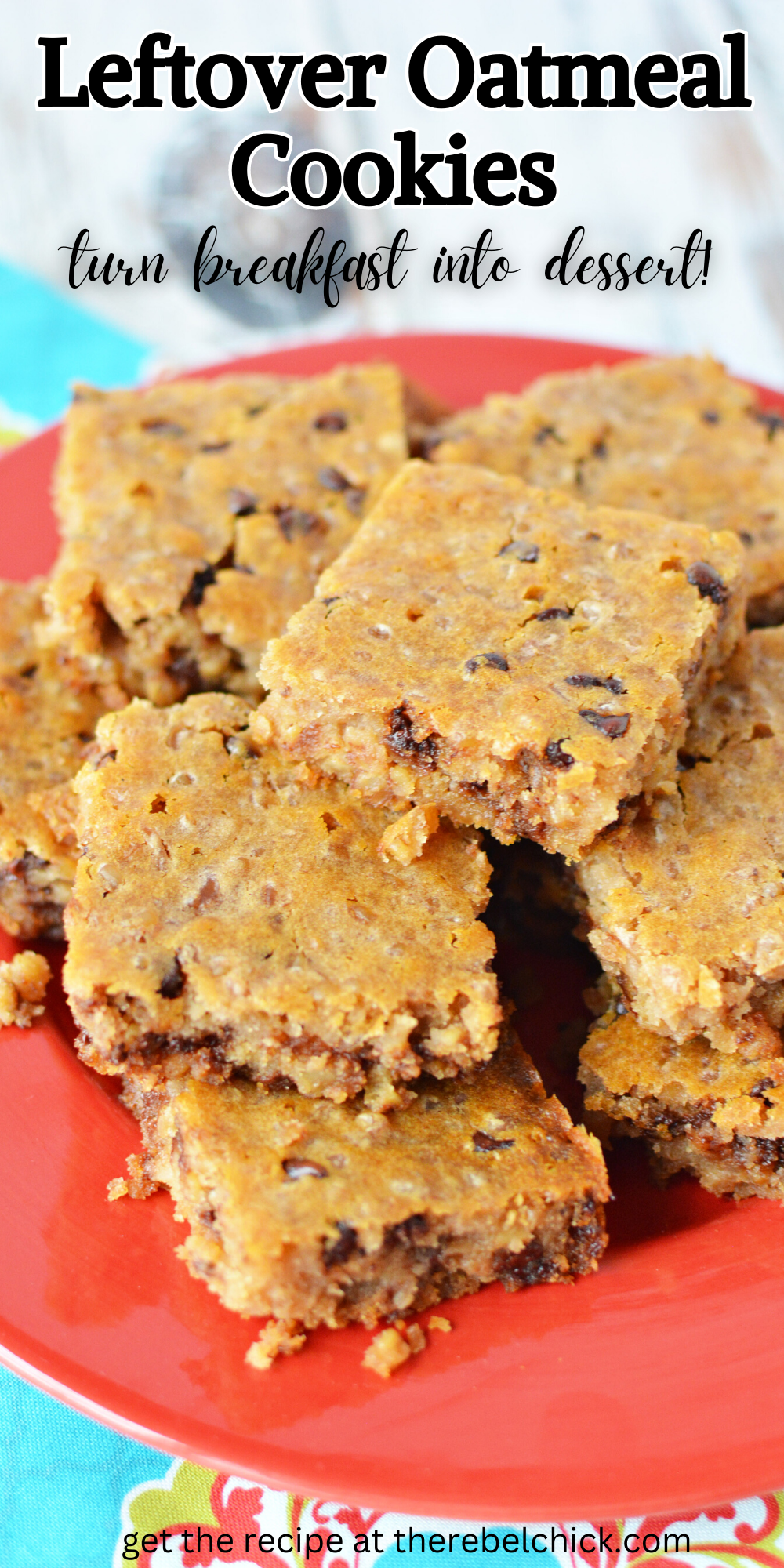 This post may contain affiliate links which means we receive a small commission at no cost to you when you make a purchase. As an Amazon Associate I earn from qualifying purchases. Furthermore, please see my disclosure and privacy policy for more information.
Why you are going to love our Leftover Oatmeal Cookies
I have loved oatmeal ever since I was a little kid. One of the things I love most about leftover oatmeal cookies recipes is that we can enjoy a great breakfast...AND have a little something sweet for dessert too! I mean, hello! Half of the work has already been done for you.
Yes, I know - no one likes Oatmeal Cookies. OR SO THEY CLAIM! I have heard the joke quite often about being tricked into eating an oatmeal raisin cookie because the person thought it was a chocolate chip cookie! I however, am always happy with an oatmeal cookie.
These cookies made with oatmeal were inspired by my Baked Oatmeal recipe that we made for breakfast a while ago! Our leftover oats treat pairs amazingly well with this Chocolate Chip Ice Cream recipe. You do not even need an ice cream maker, because it is a no churn recipe!
Check out some of our other Blondies, Brownies and Bars Recipes!
Are you searching for other recipes like this easy leftover oatmeal cookies? Try these:
Where can I find the recipe card for this Recipe?
If you would rather skip all of my cooking tips, important information for this recipe, and similar recipe ideas – and get straight to the recipe, just hit that jump to recipe button and it will take you down to the printable recipe card! I know that a lot of people are old fashioned - like me! - and like to have a printed out recipe card for their family's recipe book.
Jump to Recipe
Leftover Oatmeal Cookies
The only thing I love more than a bowl of oatmeal with a little sugar, banana and maple syrup on top are oatmeal cookies! This Leftover Oatmeal Cookies definitely does not disappoint!
I love Oatmeal Raisin Cookies, and I absolutely LOVE Oatmeal Chocolate Chip cookies too, like this amazing recipe I am sharing using the leftover oatmeal from my recent Instant Pot Oatmeal Recipe.
It is so easy to make cookies from leftover oatmeal and they are perfect for gift giving around the holidays! I can never get enough of Oatmeal Cookies, but I love that these are actual squares! It makes them so much easier to gift because you can just stack them up evenly in a storage container or gift tin.
How to Make Leftover Oatmeal Cookies
The best thing about using leftover oatmeal in this recipe is that we can skip the hard part of making these cookies!
Here are the Ingredients that you will need to make our Leftover Oatmeal Cookies
The oatmeal combined with the other ingredients will give us somewhat of a standard cookie dough. We can forget all about the cup brown sugar, teaspoon baking powder, coconut oil, etc!
All Purpose flour
Baking soda
Salt
Butter, softened at room temperature
Honey - you can use any type of honey or even maple syrup!
Egg at room temperature
Pure Vanilla Extract
Prepared leftover oatmeal - you can use whatever type of oatmeal your family usually eats, whether it be instant oatmeal packets, steel cut oats, quick cooking oats, etc.
mini chocolate chips - you can also use regular chocolate chips. I just love the mini chocolate chips because they flavor goes farther!
You will find all of the exact ingredient amounts in the printable recipe card at the end of this blog post.
Get all of your cooking and baking supplies on Amazon.com!
If you are struggling to find some of these supplies, check out all of the item available to you with Amazon Prime Fresh! They have most household supplies and groceries fully in stock and you can get free delivery with your Amazon Prime membership! Sign up for Amazon Prime Fresh here!
Directions for making this Leftover Oatmeal Cookies Recipe
Top tip
I always spray my measuring cup with nonstick cooking spray!
Preheat your oven to 350 degrees Fahrenheit and spray a 9 x 13 baking pan with non stick cooking spray. Set your prepared baking pan aside.
In a small mixing bowl, you are going to add all of your dry ingredients. This includes the all purpose flour, the baking soda and the salt. Mix all of the dry ingredients together well and then set the bowl aside.
In a large mixing bowl, you are going to combine your wet ingredients. This includes your melted butter and honey. Mix them together well and then stir in the egg and pure vanilla extract.
Add in your cooked oatmeal and mix everything together well.
Now combined these wet ingredients into the dry ingredients and mix just until combined.
Finally, you are going to fold in the chocolate chips.
Spread your oatmeal cookie dough mixture into your prepared baking pan.
Bake your cookies for 25-30 minutes or they are until golden brown and a toothpick inserted in the center comes out clean.
Remove your baking pan from the oven and set it on a cooling rack to let them cool completely before cutting into squares.
Variations for our recipes using cooked oatmeal
If you want to change the recipe up a bit, go ahead! The only limit is your imagination!
Instant Oatmeal - If you did not make our baked overnight oatmeal recipe or don't have any leftover oatmeal, you can make leftover instant oatmeal packets or find recipes for cooked oatmeal online.
Peanut Butter - You can replace the chocolate chips with peanut butter chips if you like!
Kid friendly - Feel free to add ¼ cup of your favorite dried fruit Or replace the chocolate chips with an equivalent amount of dried fruit.
See this Lemon Cream Cheese Bars Recipe on my website if you love making blondies, brownies and bars!
We Recommend the Following Kitchen Equipment
Equipment can have a big impact on how your recipes turn out. We recommend the following for making these cookies!
How To Store Leftover Oatmeal Cookies
You can store any uneaten leftover oatmeal cookies in an airtight container for up to 3 days before they begin to go stale.
You can also freeze any leftovers for up to a month. Just make sure that they are wrapped tightly in a freezer safe Ziplock bag.
Share our Leftover Oatmeal Cookies with your friends and family on social media!
If you love this Leftover Oatmeal Cookies Recipe as much as we do, please leave me a 5-star review below and help me share this recipe on Facebook, Twitter and Pinterest!
If you do make our super fun dessert recipe, I hope that you will share that you tried it on Pinterest! I love it SO MUCH when readers share their feedback!
Are you looking for Delicious Breakfast Recipes?
Now, while this isn't a breakfast recipe, it was inspired by breakfast! If you are looking for fun breakfast and brunch recipes, check out some of my favorite breakfast dishes:
To print the recipe for our Leftover Oatmeal Cookies, simply click the recipe card below!
I know that many people still like to print out recipes and keep them in a recipe binder, or simply have the printed recipe sitting in front of them when it comes time to cook!
Sometimes it is just easier to go off a recipe when it is printed right in front of you. Who wants to swipe their screen on their phone or tablet when their hands are greasy? So I love offering this option as well!
Leftover Oatmeal Cookies
These Leftover Oatmeal Cookies are so easy to make and a great way to use up leftover cooked oatmeal from breakfast!
Instructions
Preheat oven to 350 and spray a 9x13 baking pan with non stick cooking spray. Set aside.

In a small mixing bowl, add flour, baking soda and salt and mix well. Set aside.

Add melted butter and honey together and mix well. Stir in egg and vanilla. Add oatmeal and mix well. Stir in flour and mix just until combined. Fold in chocolate chips.

Spread mixture into prepared pan and bake for 25-30 minutes or until golden brown and toothpick inserted in the center comes out clean. Remove from oven and let cool completely before cutting into bars.

Makes 24 bars