This Easter Dip Recipe is one of the most perfect easy Easter dips for making with the kids on a lazy afternoon!
I don't know what's taken me so long to discover this Easter Dip Recipe! It is delicious and a lot lighter than I thought it would be, as it is made with cream cheese and whipped topping.
This Easter Dip Recipe is perfect for springtime and Easter brunch or dinner (dessert) and it makes a lot so it is great for all of those large family gatherings. Pairing it with regular and chocolate animal crackers worked well as would graham crackers! Or how about some fresh strawberries?
This post may contain affiliate links which means we receive a small commission at no cost to you when you make a purchase. As an Amazon Associate I earn from qualifying purchases. Please see my disclosure and privacy policy for more information.
Why you are going to love our Easy Easter Dip Recipe
Our Easter dip is one of the easiest easter dip recipes to make because it only requires 4 ingredients. You likely already have all of these necessary ingredients to make it in the kitchen!
I LOVE Easter and all of the fun and quirky little Easter desserts that we get to relish in during this time of year! When we were trying to come up with Easter dip ideas, we decided that this Easter bunny dip would be a crowd pleaser!
Where can I find the recipe card for this Easter Dip?
If you'd rather skip all of my cooking tips, important information for this recipe, and similar recipe ideas – and get straight to the Easter Dip Recipe, just scroll right on down to the bottom, where I have a printable recipe card just for you!
Jump to Recipe
This Easter cookie dip is really fun and incredibly easy to make, making it one of the good dips for Easter that you can have as a snack or a dessert!
You can even have the kids make it while you are getting Easter dinner ready, it really is that much of an easy Easter recipe!
This festive Easter Dip Recipe was inspired by my Valentine's Day Booty Dip Recipe that everyone seems to love, and pairs well with this amazing Easter Cake Roll recipe.
Easter is going to be super tough this year, what with the Corona Virus STAY HOME order in effect...while my parents live only ½ a mile away, and I can easily go see them, we can't gather in crowds larger than 10, and our family is over 10 without even counting all of the grand kids or spouses, let alone cousins or grandparents.
So we will likely all spend Easter alone in our own homes, except maybe for me and one of my sisters who doesn't have any children - we MAY go to my parents. Everything is so uncertain right now, the main priority is for everyone to avoid one another and maintaining our self quarantine and remaining healthy.
It's a really weird year, 2020...
Related Easter Dessert Recipes for you to try
Check out these really fun Easter recipes on The Rebel Chick. I am always adding new recipes, especially during the holiday months!
Take a look and see if there is anything that sounds tasty to you! You can also type "Easter recipe" in the search bar in the top right hand corner of the screen and you will see a listing of ALL of the recipes I've shared over the years for dessert.
Our Easter Cookie Dip Recipe is so festive!
Isn't this Easter Dip just adorable? Is there anything that you might add to it that you think will make it taste even better?
Mix-in ideas could include mini chocolate chips, chunks of edible cookie dough, chopped up candy bars...quite literally anything that your heart desires!
Ingredients you will need for making this Easter Funfetti Dip Recipe:
1 block, 8 oz, cream cheese, softened to room temperature
1 tub, 8 oz, whipped topping, thawed
1 box, 15.25 oz, Funfetti cake mix or any white cake mix with sprinkles
⅓ cup milk
additional sprinkles for serving
regular and chocolate animal crackers or graham crackers for serving
Get all of your baking supplies easily at Amazon.com!
If you are struggling to find some of these specialty supplies, check out all of the pantry item available to you on Amazon! They have most household supplies fully in stock in their warehouses!
You can even get free delivery on orders of $35 or more with your Amazon Prime membership! Click here to enroll in the Amazon Prime Fresh program!
Directions for How to make our Easter Dip Recipe:
This is such an easy no bake dessert recipe, so there isn't a lot of preparation that needs to be done! YAY!
You are going to begin by adding the softened cream cheese to a mixer and beat it until it is smooth and creamy.
Next, you are going to add the whipped topping and beat them together well.
Pour in your Funfetti cake mix and the milk and beat it all together well.
If the mixture is too thick, you can add a bit of additional milk, 2 tablespoons at a time.
I did not need additional milk.
Spoon the finished Easter dip into a pretty serving dish and top it with lots of sprinkles.
Hint: Serve with animal cookies or graham crackers like Teddy Grahams.
Variations and Substitutions for our Easter Dip
As it is, this is one of the most easy Easter appetizers that you could possibly make!
Mini Chocolate Chips - you can add ⅓ cup of mini chocolate chips to this dip to give it a little more pizzaz!
Deluxe - bake a Funfetti cake and chop it up into very small pieces and mix it into this Easter dip!
Kid friendly - Serve this easter dip with fresh strawberries!
Easter eggs - A great mix in idea is to add mini Cadbury easter eggs!
Pink dip recipe - add a single drop of pink food coloring to the dip to make it super Easter-y!
If you are looking for more fun and EASY recipes to make this Easter, check out this Easter Trail Mix recipe on my website!
How to Store our Easy Easter Dip
Serve your Easter Dip immediately or refrigerate it, covered, overnight until you are ready to serve it at your party.
I do not recommend storing any leftovers for more than 2 days.
Share this Easter Dip with your friends and family on social media!
If you love this Easter Dip recipe as much as we do, please leave me a 5-star review below and help me share this recipe on Facebook, Twitter and Pinterest!
If you do make the recipe, I hope you'll share that you tried it on Pinterest! I love it SO MUCH when readers share their feedback!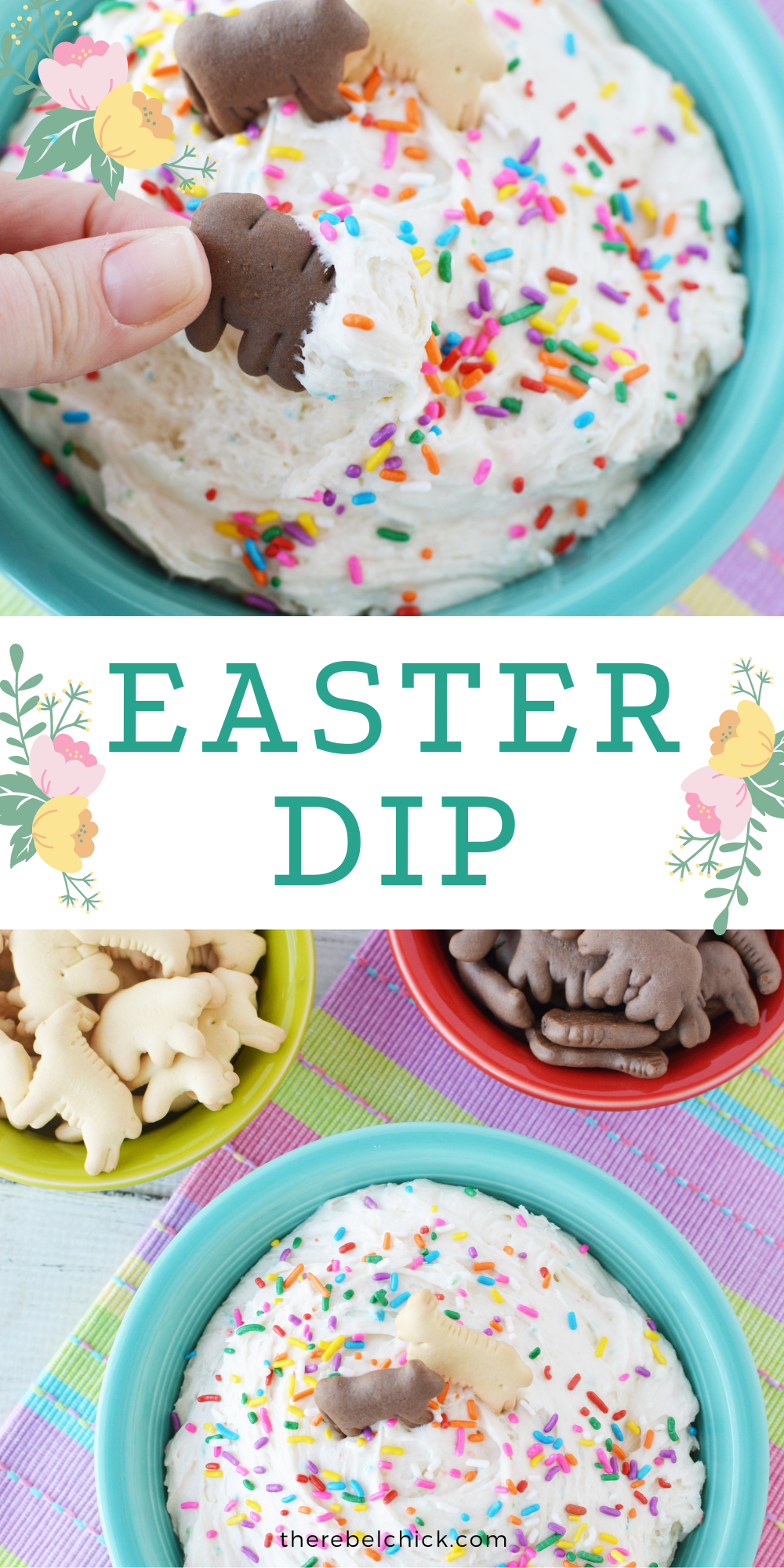 Are you looking for other easy Easter appetizers?
One of my favorite appetizers to make for any holiday is of course, the classic deviled eggs that everyone knows and loves! We also love a good KETO spinach dip recipe, and think that this Hot Ham and Cheese Dip is great for serving your guests too!
To print this Easter Dip Recipe, simply click the recipe card below!
I know that many people still like to print out recipes and keep them in a recipe binder, or simply have the printed recipe sitting in front of them when it comes time to cook!
Sometimes it is just easier to go off a recipe when it is printed right in front of you. Who wants to swipe their screen on their phone or tablet when their hands are greasy? So I love offering this option as well!