This easy Cherry Chip Cake is moist, tender, and loaded with the sweet flavor of maraschino cherries. Even the whipped topping is cherry-flavored!
I love maraschino cherries. They're so sweet, and honestly, they're delicious in just about everything. I love them most in this cherry chip cake. This easy, classic dessert tastes like a dream, and it's so easy to make. You can't beat that!
This post may contain affiliate links which means we receive a small commission at no cost to you when you make a purchase. As an Amazon Associate I earn from qualifying purchases. Please see my disclosure for more information.
Cherry Chip Cake
This easy, delicious cake starts with boxed cake mix. I make it as you would normally make boxed cake mix, except I add maraschino cherry juice and fold in maraschino cherries.
After baking the cake, I make a maraschino cherry whipped topping and spread it over the cake. Finally, I top it with more maraschino cherries. That's all there is to it! It's so simple and so delicious.
Where can I find the recipe card?
If you'd rather skip all of my cooking tips, important information for this recipe, and similar recipe ideas – and get straight to the recipe card, just scroll right on down to the bottom, where I have a printable recipe card just for you!
I know that a lot of people are old fashioned - like me! - and like to have a printed out recipe card.
Are recipe books still a thing in your household? Check out these cool recipe books (blank so that you can fill them up with your own recipes!) on Amazon!
Are you looking for more Cake Recipes like our Cherry Chip Cake?
We just love baking during the holiday season, and we love sharing all of these fun and festive recipes for desserts with you! Like our favorite Orange Crush Cake!
How to Make the BEST Cherry Chip Cake
You'll only need a handful of simple ingredients to make this Cherry Chip Cake recipe. The eggs and vegetable oil will almost certainly be in your kitchen, and everything else can be found in one aisle at your grocery store.
Everything you need to make this recipe is here, but you'll find the exact amounts in the recipe card at the end of the post.
Ingredients you will need to make this Cherry Chip Cake
Eggs
Vegetable oil
Maraschino cherries, divided
Water
White cake mix
Whipped topping
If you want more, I'd suggest using this cherry flavoring. This is pretty concentrated so I'd recommend ½ to 1 teaspoon for this cake.
Get all of your cooking and baking supplies on Amazon.com!
If you are struggling to find some of these supplies, check out all of the item available to you with Amazon Prime Fresh! They have most household supplies and groceries fully in stock and you can get free delivery with your Amazon Prime membership! Sign up for Amazon Prime Fresh here!
Instructions
Making this cherry chip cake is a breeze. It just takes a little mixing, a little baking, and then topping the cake. There's nothing to it.
The recipe highlights are right here, but you'll find the exact instructions in the recipe card at the end of the post.
1: Combine eggs, oil, and maraschino cherry juice.
2: Stir in the cake batter and bake. Cool completely.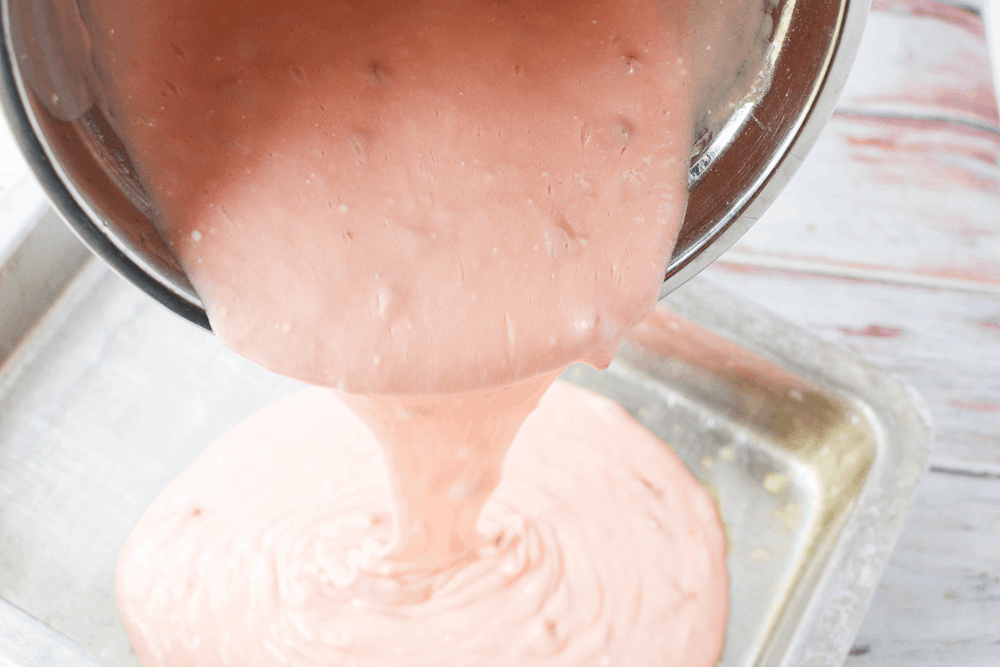 3: Mix whipped topping and more maraschino cherry juice and spread it evenly over the cake.
4: Frost the cake and top with dollops of whipped cream and maraschino cherries.
Substitutions and Variations
Use white, yellow, vanilla, or butter cake mix for this recipe.
Use your favorite variety of whipped topping.
Try adding chopped pecans or walnuts to the cake before baking.
Tips
Whisk the wet cake ingredients until frothy before adding the cake mix.
Be sure your baking pan is thoroughly coated with nonstick spray.
Cool your cake completely before frosting it.
Equipment
Measuring cup
Mixing bowls
9x13 baking dish
How to Store Cherry Chip Cake
Refrigerator: Store for up to 5 days in an air-tight container.
Freezer: Store for up to 3 months in an air-tight, freezer-safe container.
FAQ
What is cherry chip cake?
Cherry chip cake is a cake made with maraschino cherry juice and diced maraschino cherries. It was a popular cake mix that was eventually discontinued.
Why is it called cherry chip cake?
Cherry chip cake gets its name from the maraschino cherry bits, or chips, that are folded into the cake mix.
What are maraschino cherries?
Maraschino cherries are preserved, sweetened cherries - generally Royall Ann, Rainier, or Gold cherries.
Share this Cherry Chip Cake with your friends and family on social media!
If you love this Cherry Chip Cake recipe as much as we do, please leave me a 5-star review below and help me share this recipe on Facebook, Twitter and Pinterest!
If you do make the recipe, I hope you'll share that you tried it on Pinterest! I love it SO MUCH when readers share their feedback!
To print our Cherry Chip Cake recipe, click the recipe card below!
I know that many people still like to print out recipes and keep them in a recipe binder, or simply have the printed recipe sitting in front of them when it comes time to cook!
Sometimes it is just easier to go off a recipe when it is printed right in front of you. Who wants to swipe their screen on their phone or tablet when their hands are greasy? So I love offering this option as well!
Cherry Chip Cake
This easy Cherry Chip Cake is moist, tender, and loaded with maraschino cherries. This easy cake mix recipe will be a family favorite recipe!
Ingredients
3

eggs

½

cup

vegetable oil

1

jar

12 oz, maraschino cherries, divided

water

1

box

15.25 oz, white cake mix

1

small tub

8 oz, whipped topping plus ½ cup
Instructions
Open the jar of cherries and pour out ¼ cup of the juice. Set aside for the icing. Dice ¼ cup of cherries for the cake and set aside. Pour remaining cherry juice into a measuring cup. Reserve remaining cherries for topping.

Preheat oven to 350 and grease a 9x13 baking pan with nonstick cooking spray and set aside.

In a bowl, add eggs and oil. Add water to the measured cherry juice so you have a total of ¾ cup. Add mix to the eggs. Using a whisk, whisk until frothy and bubbly.

Stir in cake mix just until combined and fold in cherries. Pour into prepared pan and bake for 24-26 minutes or until a toothpick inserted in the center comes out clean. Let stand to cool completely.

Once the cake is cooled, pour the remaining ¼ cup cherry juice into the 8oz tub of cool whip. Mix well. Spread on top of cake in an even layer.

Place the remaining whipped topping into a pastry bag fitted with a large star tip. Pipe dollops onto the top of the cake and top with reserved cherries. Cover and refrigerate until ready to serve.
Recipe Video