This Oogie Boogie Worm Cream Recipe post contains affiliate links.
Okay, so this Oogie Boogie Worm Cream Recipe is a super simple Halloween dessert recipe that is pretty much not even a recipe...but more of an idea of a fun treat to make for Halloween this year! Of course, if you are a fan of The Nightmare Before Christmas, this fun frozen treat will be a year-round dessert!
Oogie Boogie Worm Cream Recipe
I think this this Oogie Boogie Worm Cream Recipe is just adorable and perfect for a quick dessert during the Halloween festivities. It is so easy to prepare and the kids can actually make it for themselves...or even better, they can make it for their parents and feel all grown up! Anytime you are able to get the kids involved in activities like cooking or preparing for meals, it helps bond the family and makes children extra excited!
Every year for as long as I can remember, in my family, we all get together and watch scary movies and bring lots of delicious food…mostly desserts! We take turns hosting the event and everyone brings a dish or two – it is essentially a Halloween themed potluck! Whether you are having a Halloween party or just having fun at home with your kids, this Nightmare Before Christmas Dessert Recipe is really easy to make and is sure to be a big hit on Halloween!
I also have other super fun Halloween dessert ideas on the blog, scroll all the way to the bottom for ideas!
How to Make Oogie Boogie Worm Cream
Oogie Boogie Worm Cream Recipe Ingredients
3 to 4 scoops lime sherbet
4 gummy worms (traditional or sour)
Oogie Boogie Worm Cream Recipe Instructions
Place ice cream scoop under hot water. Scoop lime sherbet into a bowl.
As you add scoops add worms this will help layer in the worms. Serve!
Yeah, that is it. That simple! And you have a super cute dessert! My two sisters are OBSESSED with the Nightmare Before Christmas, and over the years, I have bought them all kinds of stuff for their birthdays and Christmas. Here are a few fun items that you can find on Amazon!
Are you looking for other Halloween treats and goodies, besides this Nightmare Before Christmas Dessert Recipe? Do you just love all things Halloween? Check out some of my other Halloween recipes!
Halloween Breakfast Pumpkin Bagel Recipe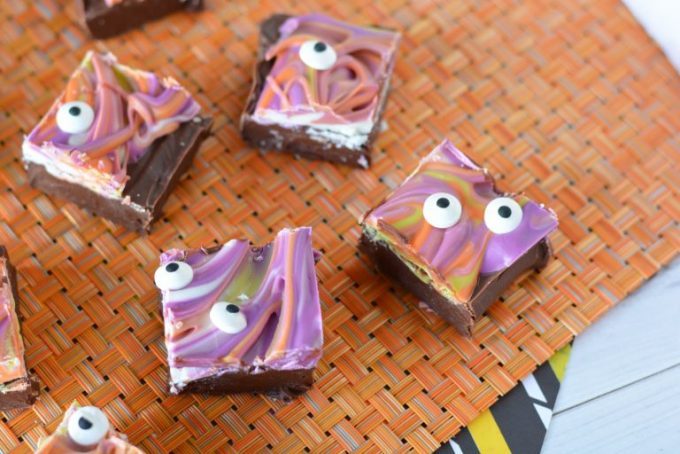 Halloween Pumpkin Cookies Recipe
Halloween Chocolate Wafer Mummy Cookies Recipe
Halloween Muddy Buddies Party Mix
Chocolate Chip Pumpkin Cookie Bars Recipe
Pumpkin Spice Cookie Bars Recipe
Browned Butter Sugar Cookies With Candy Corn Sprinkles Recipe