If you are vegan or just want to make a special treat for someone following a Vegan diet, check out this easy recipe for a Vegan Fruit Tart!
This post may contain affiliate links which means we receive a small commission at no cost to you when you make a purchase. As an Amazon Associate I earn from qualifying purchases. Please see my disclosure for more information.
Vegan Fruit Tart
For a variety of reasons, becoming a vegan has become a very popular lifestyle choice in recent years. While it can be quite difficult to enjoy old fashioned baked goods while living a vegan lifestyle, there is hope! Take a look at these scrumptious recipes below from the healthcare company WeHeal. WeHeal is founded by the pioneering physicians from the groundbreaking film Forks Over Knives. 
Our favorite is the fruit tart recipe for a Strawberry Galette! While it can be difficult to recreate vegan versions of cakes and cupcakes, vegan fruit tarts are quite simple to make and can be made with all sorts of vegan substitutes. 
How to make a Strawberry Galette a Vegan Fruit Tart
Farmer's Market strawberries, ready for summer! Fresh seasonal fruit desserts are our absolute favorite. Once strawberry season has arrived, it is game on in Miami!!
This plant based vegan tart recipe is simple, a little bit sweet and really satisfies your sweet tooth!
Not only is this vegan berry tart full of fresh fruit, but it is also oil free, and a dairy free fruit tart to boot! If you are looking for an eggless fruit tart recipe, we have you covered there too!  
This vegan fruit tarts recipe is rustic and sweet, but not too sweet because it does not contain any refined sugar. It would be lovely with a little cashew or coconut cream to make it a more decadent dessert.
Related Dessert Recipes
Looking for other recipes like this that are not vegan? Try these:
Ingredients you will need to make this Vegan Fruit Tart
Crust:
½ cup whole wheat flour and ½ cup and 4 T unbleached white or whole wheat pastry flour
3 T almond flour
1 T dry sweetener (date or coconut sugar)
¼ teaspoon baking soda
¼ teaspoon salt
¼ plus more (1 T up to ¼ cup) unsweetened plant milk
3 T unsweetened cashew yogurt
Filling:
3 cups sliced strawberries
1 T dry sweetener
3 large pitted dates, chopped (medjool or any kind)
fresh lemon juice and zest, about ½ a lemon
1 T arrowroot or organic corn starch
Instructions for how to make this Vegan Fruit Tart
Preheat the oven to 350.
Slice strawberries and toss in a bowl with sweetener, chopped dates, lemon and arrowroot or cornstarch and stir to coat. Allow to sit while you make the crust. In a large bowl mix in the dry ingredients.
Using a fork, mix in the yogurt until you have clumps. Stir in ¼ cup plant milk and using your hands, begin to form a ball. If it's too dry, add plant milk 1 T at a time until you have a soft dough. Knead a few times so the ingredients come together but don't overdo it!
Sprinkle a little flour on parchment paper on a baking sheet. Take your ball of dough and place it in the center of the paper. Using your hands, press and flatten the dough into a circle or oval, then roll it out with a rolling pin (or bottle!) until it is flat and even all around.
Spoon the fruit into the middle and spread evenly, leaving an inch of dough uncovered around the perimeter. Carefully fold up the outer circle, and pinch together as you go around so that the dough covers the fruit by about an inch or a little more.
Brush the fold of dough with plant milk and sprinkle with dry sweetener. Place the baking sheet on the middle rack of the oven and bake for 40 minutes.
Remove from the oven and allow to cool for 5-10 minutes before serving.
Strawberry chia compote
This strawberry chia compote is wonderful for both breakfasts and desserts! You can even serve it alongside our Vegan Fruit Tart for a lovely accompaniment.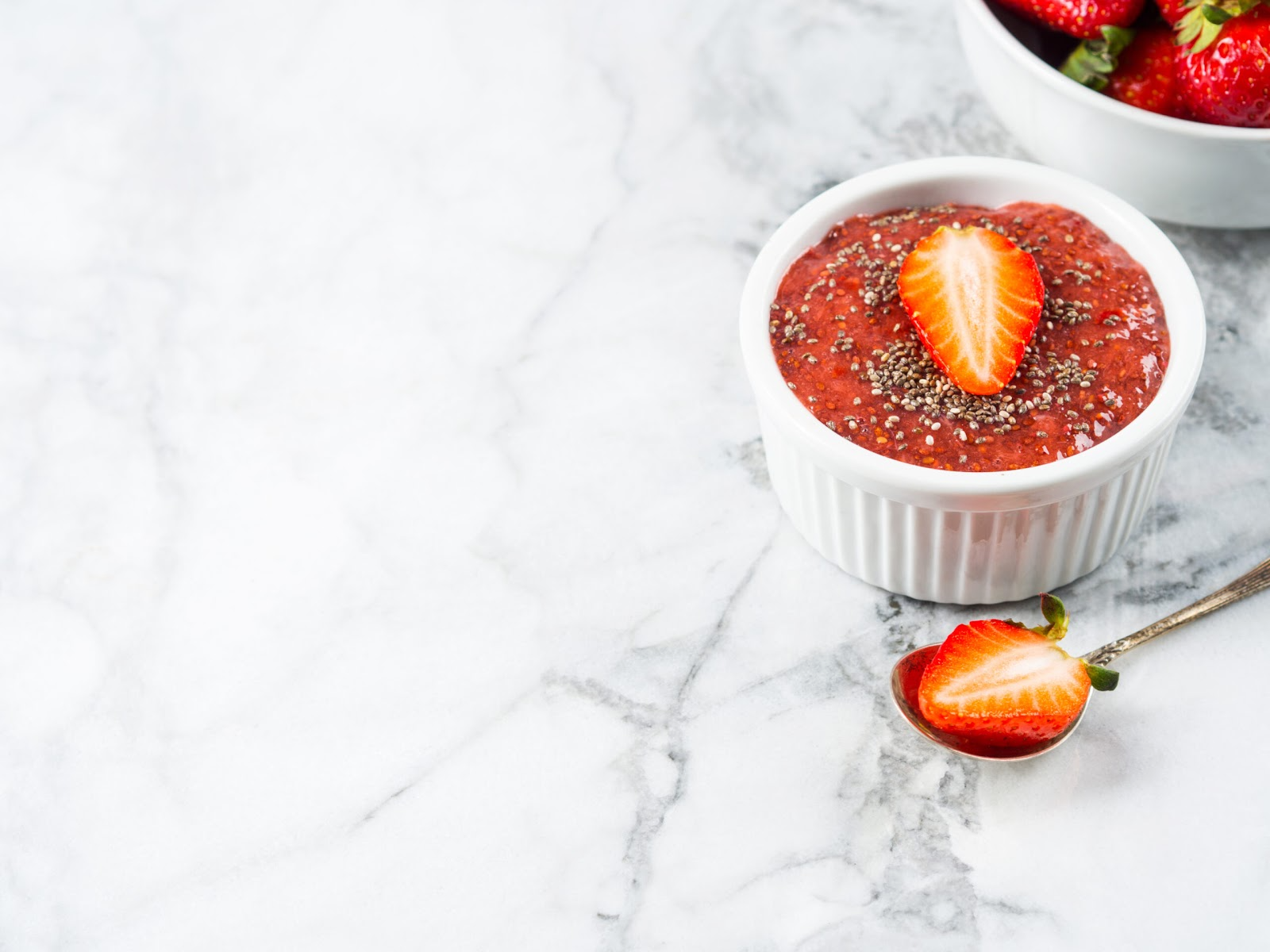 This just could not be any easier to make! You can make this when you want something sweet, that you can just reach for in the fridge that is healthy and not full of refined sugar.
We love it with oatmeal or overnight oats, on pancakes, brownies, banana pudding, or even breakfast waffles. You can use any berries or fruit that you would like!
Ingredients needed to make this strawberry chia compote
10 – 12 oz bag of frozen strawberries, defrosted
4-5 pitted medjool dates
2 T chia seeds
Instructions for making this strawberry chia compote
Pulse the dates and the strawberries until they have broken down, stir in the chia, and put in a sealed container in the fridge overnight.
We like to keep my dates partially intact, but you can process until smooth if you'd like. You can also just put everything in the blender or food processor. We like to stir the chia seeds in because I prefer the chunkier texture.
This Vegan Banana Pudding is nostalgia in a spoon!
Over at WeHeal, they really love their sweets, but they try to avoid refined sugar, so at home they often use dates as a sweetener. WeHeal loves medjool dates because they are sweet, soft, slightly chewy and provide fiber and nutrients.
WeHeal says:
"This recipe came together the other night when I was craving something sweet, and as I usually do, use items I already have to make something healthy. It came out SO good and it only contains 5 ingredients! Ingredients I always have in my kitchen. And it offers an added boost of protein from the tofu."
Ingredients needed to make vegan Banana Pudding
2 ripe bananas
10-12 pitted medjool dates
1 container extra firm silken tofu
1 teaspoon alcohol-free vanilla
1 T coconut or cashew cream, or plant milk (for low fat)
Variations:
If you do not want to use tofu, you can omit and add more banana and cream/plant milk. I also think a can of drained white beans or chickpeas would work well – don't wince! Beans are wonderful and healthy additions to desserts!
Another option is to add two baked and peeled Japanese sweet potatoes. They are one of my favorite dessert ingredients because they are sweet, rich, creamy and full of nutrients and fiber.
A more decadent and higher fat version (but still way lower than eggs or dairy!) would be a cup of soaked and drained raw cashews (soak in boiling water for 15 – 20 minutes OR soak in filtered water over night or at least 4 hours).
Instructions for making Vegan Banana Pudding
Put everything in a food processor or blender and blend until smooth. You can eat it right away or chill in the fridge for an hour or more. It will get really thick – and stay delicious!
Explore the WeHeal Platform at: www.weheal.health
Check out some of our favorite Easy Dinner Recipes!
These are my favorite dinners to serve with vegan fruit tart:
Share this recipe for Vegan Fruit Tart with your friends and family on social media!
If you love this Vegan Fruit Tart recipe as much as we do, please leave me a 5-star review below and help me share this recipe on Facebook, Twitter and Pinterest!
If you do make the recipe, I hope that you will share that you tried it on Pinterest! I love it SO MUCH when readers share their feedback!