This No Bake Mint Oreo Bars Recipe is just soooo good.
This No Bake Mint Oreo Bars Recipe is just so rich. Very rich. And minty.
You will need 30 cookies total, which will be one entire package of Oreos.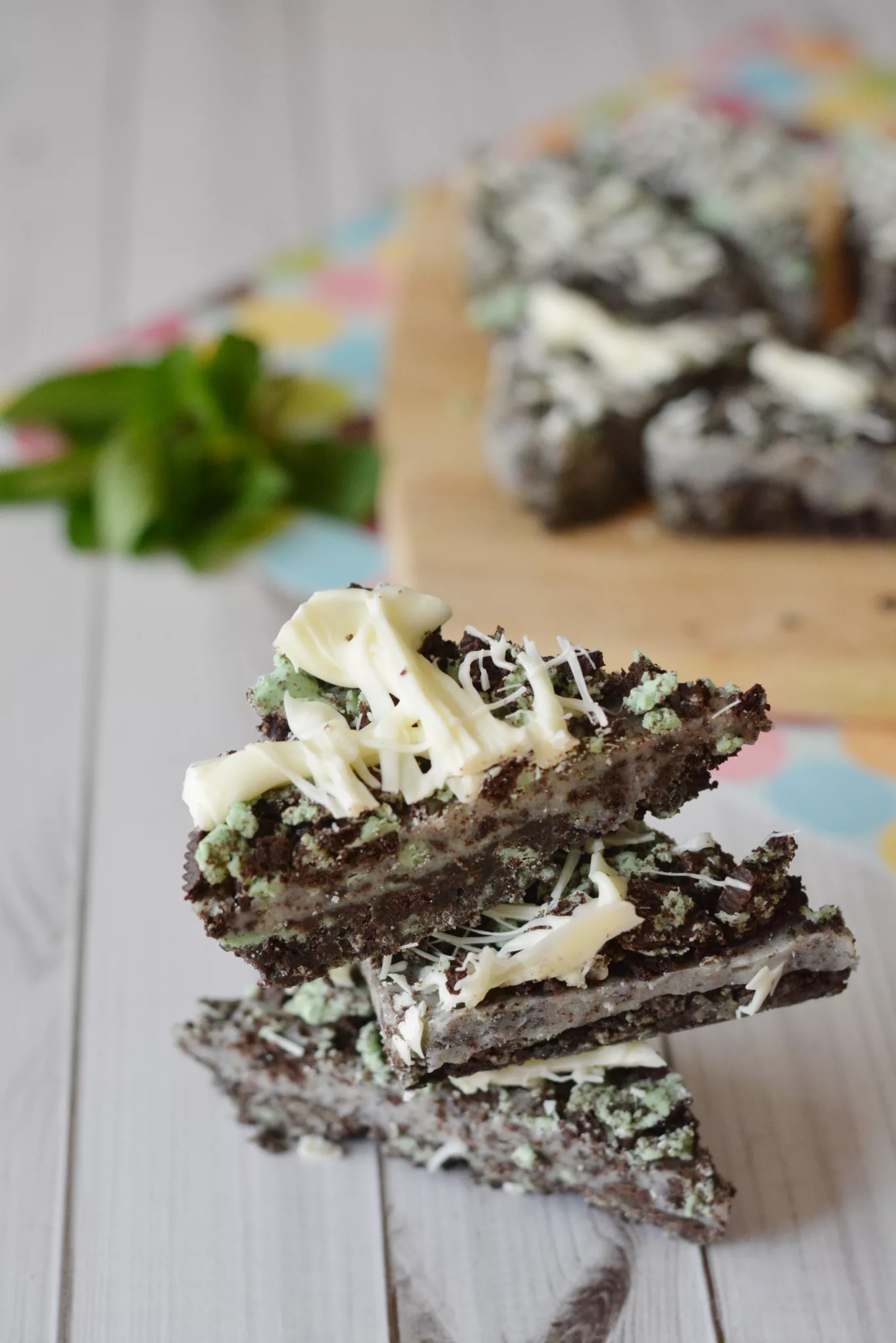 This post may contain affiliate links which means we receive a small commission at no cost to you when you make a purchase. As an Amazon Associate I earn from qualifying purchases. Please see my disclosure for more information.
No Bake Mint Oreo Bars Recipe
I use my food processor to finely crush my cookies, but you can also use a ziploc bag and rolling pin to crush them if you don't own a food processor.
You can get almost the same results, it will just take you a while and you'll have to use a little elbow grease!
I love chocolate and mint, so this is a top favorite for me!
I sometimes buy those peppermint and chocolate candies during the holidays, and this is a cookie version of that candy, but with mint instead of peppermint, which makes me sooo happy!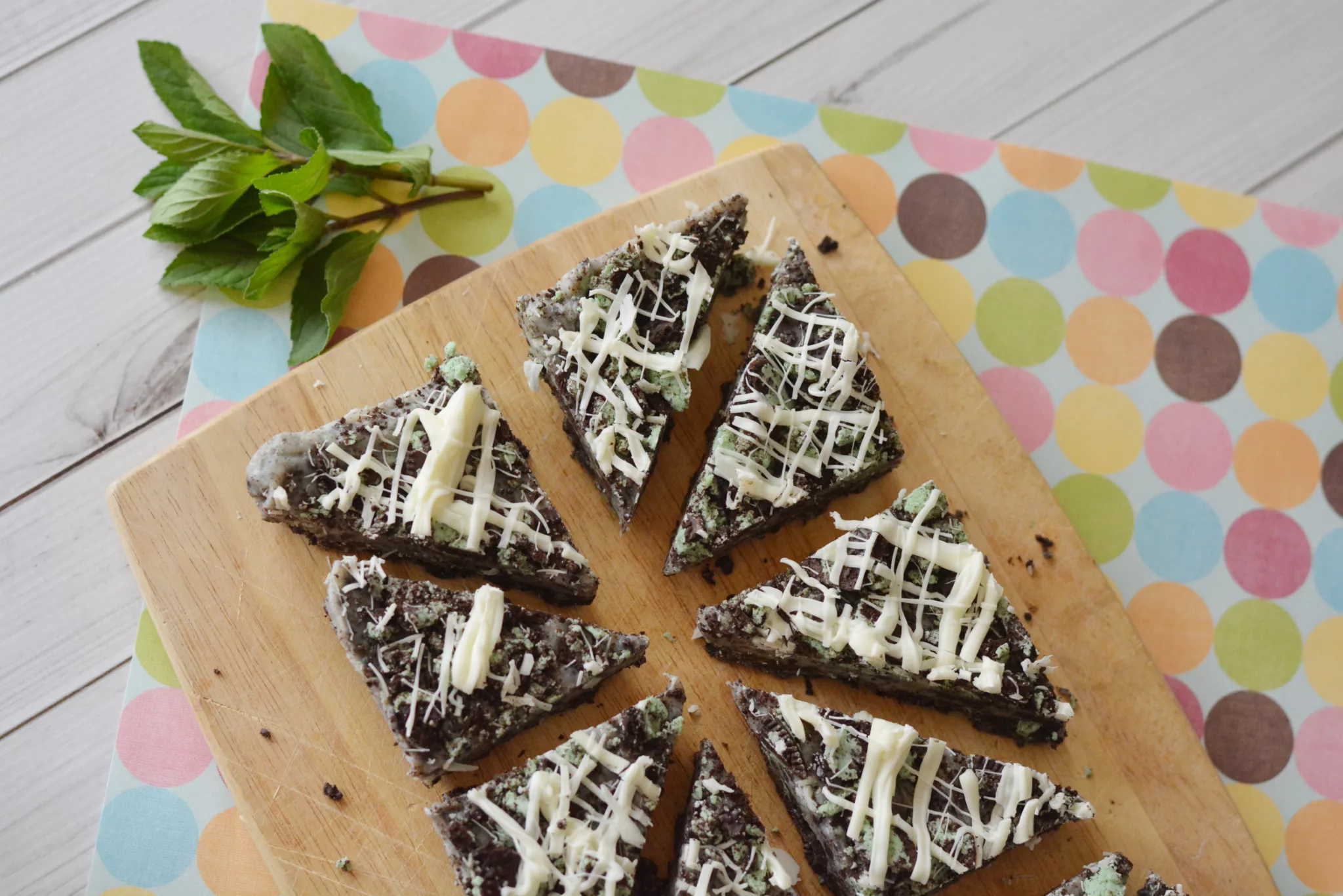 Why you will love these No Bake Mint Oreo Bars
Everyone loves a sweet treat that doesn't take a really long time to make, right?
This recipe is so simple and you do not even have to turn the oven on to make them!
Jump to Recipe
Check out our other Bars Recipes like our No Bake Mint Oreo Bars!
Looking for other recipes like these No Bake Mint Oreo Bars?
You should start with out super popular Calypso Crunch Cookies, and then see our other blondies, brownies and bars recipes: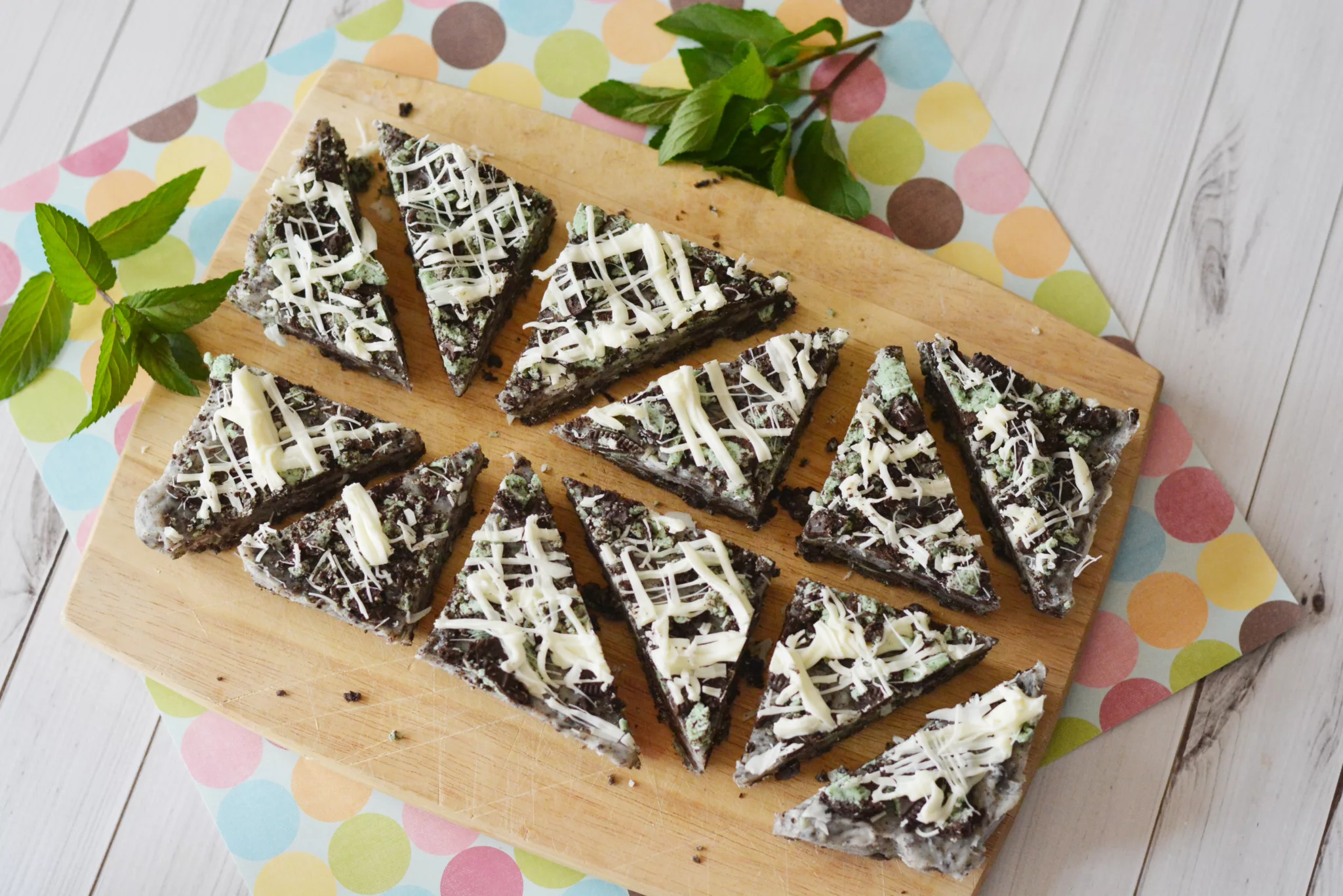 Ingredients that you will need to make our No Bake Mint Oreo Bars Recipe
For the Crust:
18 mint Oreo Cookies finely crushed
4 tablespoons of butter melted
For Filling:
6 ounces cream cheese softened
1-½ cup white chocolate chips melted & divided 6 mint Oreos, finely crushed
6 mint oreos coarsely chopped
Get all of your cooking and baking supplies on Amazon.com!
If you are struggling to find some of these supplies, check out all of the item available to you with Amazon Prime Fresh! They have most household supplies and groceries fully in stock and you can get free delivery with your Amazon Prime membership! Sign up for Amazon Prime Fresh here!
Instructions for how to make our No Bake Mint Oreo Bars Recipe
For the crust: Mix butter and Oreos together. Press into a square baking pan lined with parchment paper. Place in refrigerator.
For the filling: Combine cream cheese. Add cream cheese to a mixer and beat for 30 seconds. Add 1 cup melted chocolate and beat until combined. Fold in finely chopped cookies. Pour on top of crust and spread evenly. Sprinkle with coarse cookies and press slightly into the filling. Refrigerate.
Melt ½ cup white chocolate chips and drizzle over the bars. Return to the fridge to set up, about an hour. Remove from pan, and cut into triangles
Oh my goodness, don't they look amazing?! My favorite part of this is that they're NO BAKE. So easy!
Share this No Bake Mint Oreo Bars recipe with your friends and family on social media!
If you love this No Bake Mint Oreo Bars recipe as much as we do, please leave me a 5-star review below and help me share this recipe on Facebook, Twitter and Pinterest!
If you do make the recipe, I hope you'll share that you tried it on Pinterest! I love it SO MUCH when readers share their feedback!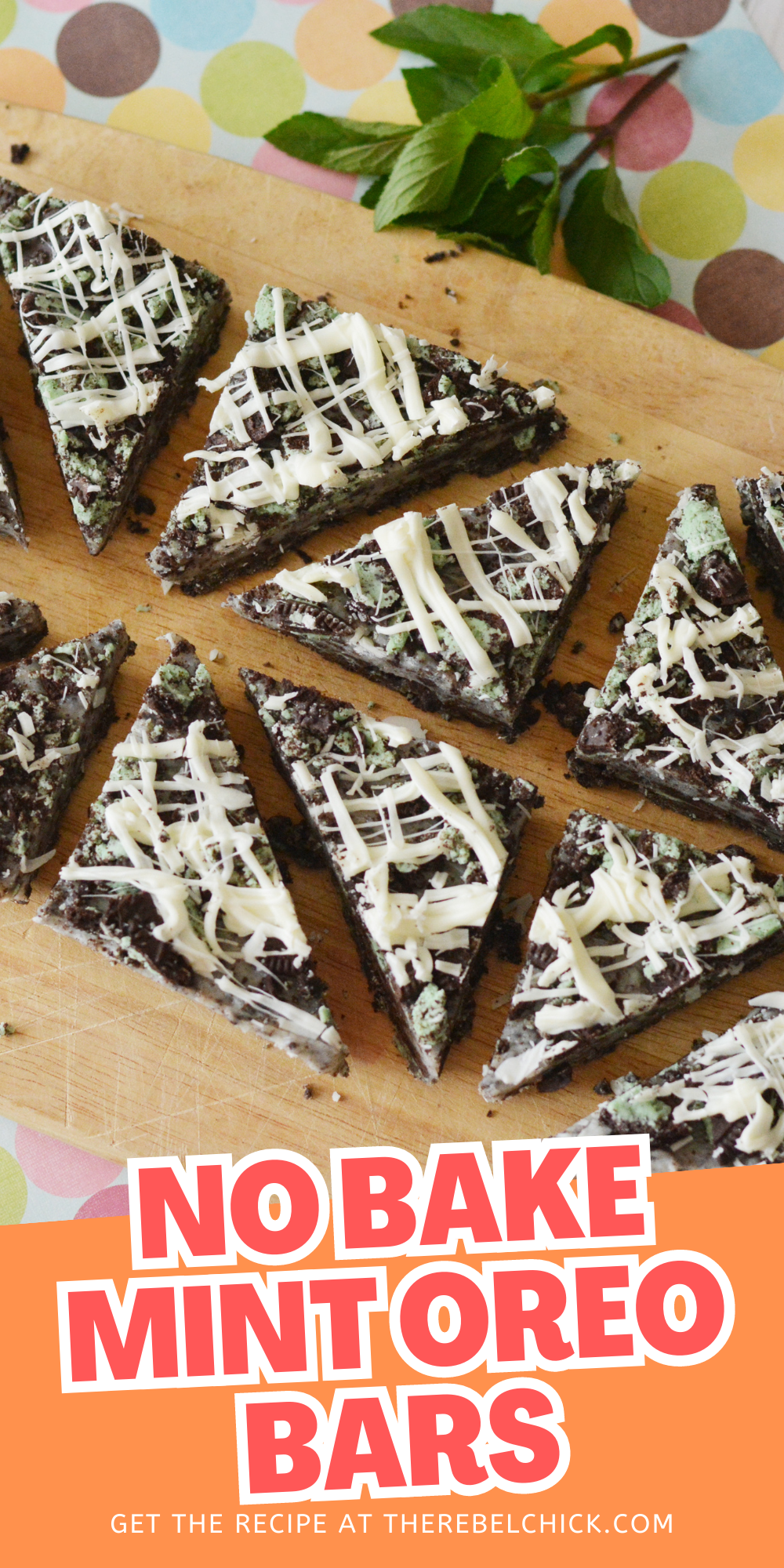 ARE YOU CRAVING MORE DELICIOUS RECIPES AND TRAVEL INSPIRATION? Sign up below to receive my newsletter filled with delicious recipes, fun crafts, and family adventures straight into your inbox:
Print this No Bake Mint Oreo Bars Recipe
I know that many people still like to print out recipes and keep them in a recipe binder, or simply have the printed recipe sitting in front of them when it comes time to cook! 
Sometimes it is just easier to go off a recipe when it is printed right in front of you. Who wants to swipe their screen on their phone or tablet when their hands are greasy? So I love offering this option as well!
No Bake Mint Oreo Bars Recipe
Ingredients
For the Crust:

18

mint oreos

finely crushed

4

tablespoons

of butter

melted

For Filling:

6

ounces

cream cheese

softened

1-½

cup

white chocolate chips

melted & divided 6 mint oreos, finely crushed

6

mint oreos

coarsely chopped
Instructions
For the crust: Mix butter and Oreos together. Press into a square baking pan lined with parchment paper. Place in refrigerator.

For the filling: Combine cream cheese. Add cream cheese to a mixer and beat for 30 seconds. Add 1 cup melted chocolate and beat until combined. Fold in finely chopped cookies. Pour on top of crust and spread evenly. Sprinkle with coarse cookies and press slightly into the filling. Refrigerate.Melt ½ cup white chocolate chips and drizzle over the bars. Return to the fridge to set up, about an hour. Remove from pan, and cut into triangles