This easy recipe for Cilantro Lime Chicken and Rice is one of those Summertime staples...but it is always summer in Miami, so I figured I could still share it with you all now.
Everyone loves chicken, right?
YUM!
This post may contain affiliate links which means we receive a small commission at no cost to you when you make a purchase. As an Amazon Associate I earn from qualifying purchases. Please see my disclosure and privacy policy for more information.
Cilantro Lime Chicken and Rice
I love grilling. I was pretty happy that I was able to maintain ownership of our awesome grill after the divorce.
I got the house, and the grill came with it, since my ex-husband was moving into an apartment. SCORE.
I know, it's silly. But it's the little things in life, people.
We have to celebrate even the smallest of victories.
You will love our Cilantro Lime Chicken and Rice year round!
Are you a fan of grilling? I feel so fortunate to be able to grill year-round in Miami!
I remember way, way back when a friend was in Washington DC during a huge snow storm and she posted a photo of her in her puffy down jacket and mittens grilling burgers in five feet of snow.
I laughed so hard...then sent her a private message of me in my shorts and tank top grilling burgers.
Sometimes I can be mean to my friends, but it's all in good fun!
Are you looking for other easy dinner recipes like our Cilantro Lime Chicken and Rice?
I can't wait for you to try this Cilantro Lime Chicken and Rice!
If you give this recipe a try, I'd love to know what you think!
Whether it's still warm enough for backyard barbecues in your city, or if you wait until the temperatures begin to rise next spring.
Check back in and give me your opinion!
Yum. Now I want to make this for dinner tonight!
How to make our Cilantro Lime Chicken and Rice
Ingredients you will need to make our Cilantro Lime Chicken and Rice
2 limes
3 tablespoons honey
3 tablespoons vegetable oil
2 garlic cloves minced
½ teaspoon salt
¼ teaspoon black pepper
¼ teaspoon Hungarian paprika
6-8 chicken drumsticks
4 tablespoon fresh cilantro divided and chopped
Cooked white or brown rice
Get all of your cooking and baking supplies on Amazon.com!
If you are struggling to find some of these supplies, check out all of the item available to you with Amazon Prime Fresh! They have most household supplies and groceries fully in stock and you can get free delivery with your Amazon Prime membership! Sign up for Amazon Prime Fresh here!
Instructions for how to make our Cilantro Lime Chicken and Rice
In a mixing bowl, combine juice of two limes, honey, oil, garlic, salt, pepper, paprika and 2 tablespoons cilantro.
Whisk well and pour over chicken. Let marinate, refrigerated for about 8 hours of overnight.
Preheat an outdoor grill and add drumsticks. Discard any additional marinade.
Cook for 15-20 minutes or until no longer pink and juice is clear.
Sprinkle with remaining cilantro before serving and plate with a nice helping of white rice!
Share this Cilantro Lime Chicken and Rice with your friends and family on social media!
If you love this Cilantro Lime Chicken and Rice recipe as much as we do, please leave me a 5-star review below and help me share this recipe on Facebook, Twitter and Pinterest!
If you do make the recipe, I hope you'll share that you tried it on Pinterest! I love it SO MUCH when readers share their feedback!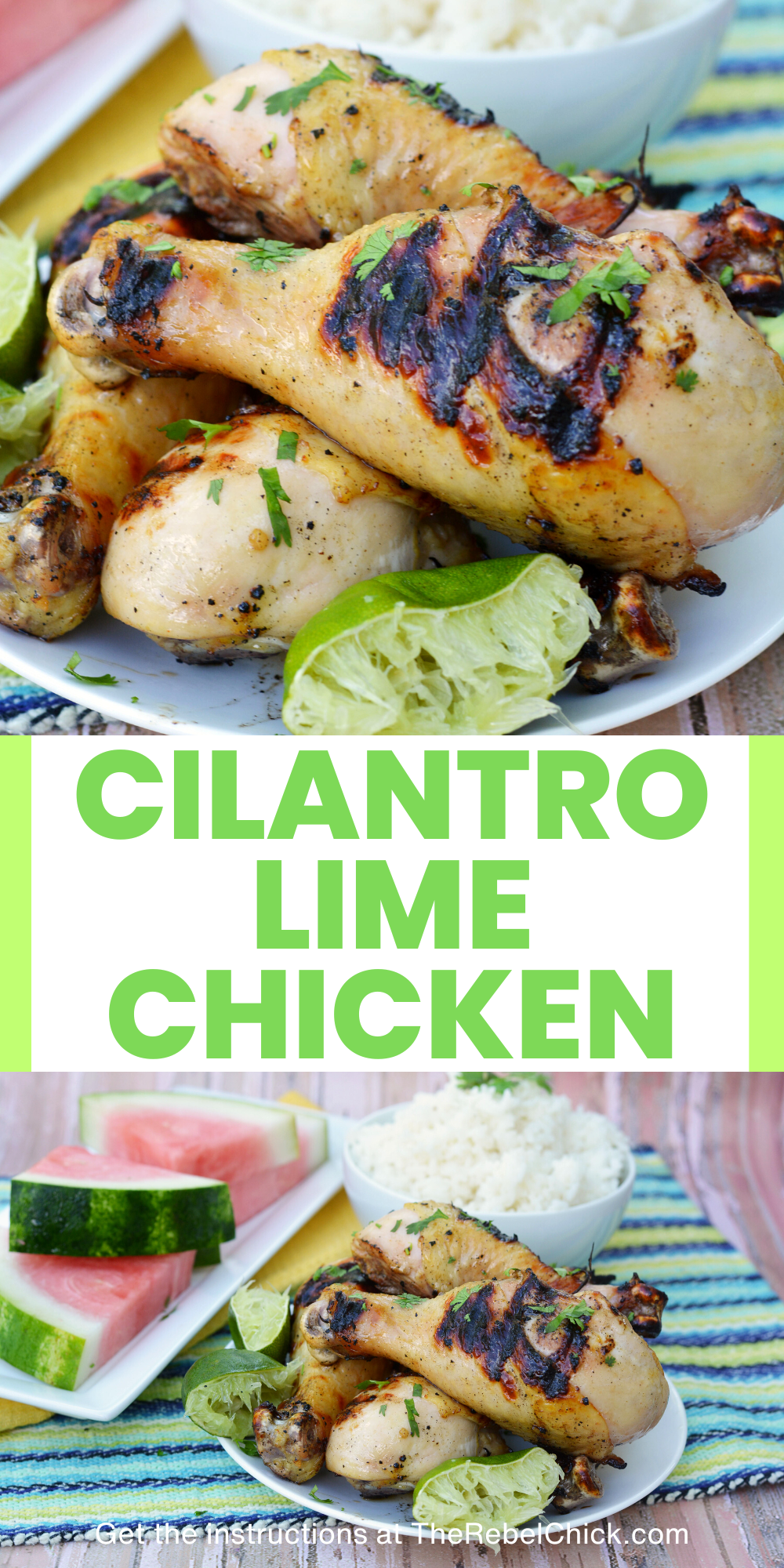 ARE YOU CRAVING MORE DELICIOUS RECIPES AND TRAVEL INSPIRATION? Sign up below to receive my newsletter filled with delicious recipes, fun crafts, and family adventures straight into your inbox:
To print this Cilantro Lime Chicken Recipe, simply click the recipe card below!
I know that many people still like to print out recipes and keep them in a recipe binder, or simply have the printed recipe sitting in front of them when it comes time to cook!
Sometimes it is just easier to go off a recipe when it is printed right in front of you. Who wants to swipe their screen on their phone or tablet when their hands are greasy? So I love offering this option as well!
Cilantro Lime Chicken Recipe
Ingredients
2

limes

3

tablespoons

honey

3

tablespoons

vegetable oil

2

garlic cloves

minced

½

teaspoon

salt

¼

teaspoon

black pepper

¼

teaspoon

Hungarian paprika

6-8

chicken drumsticks

4

tablespoon

fresh cilantro

divided and chopped
Instructions
In a mixing bowl, combine juice of two limes, honey, oil, garlic, salt, pepper, paprika and 2 tablespoons cilantro. Whisk well and pour over chicken. Let marinate, refrigerated for about 8 hours of overnight.

Preheat an outdoor grill and add drumsticks. Discard any additional marinade. Cook for 15-20 minutes or until no longer pink and juice is clear. Sprinkle with remaining cilantro before serving.

Serves 6-8