I love apple pie, but it can be a real pain to make a pie from scratch! This Apple Pie Dump Cake recipe delivers all of the tasty goodness of apple pie without the hassle!
When I was a kid, the church that my family attended had a ton of pot luck lunches after the Sunday morning service. One of the members used to make this delicious concoction called a dump cake that was so tasty, my mom started making it at home herself.
They are so easy to make that when I was sent a few jars of Grandma Hoerner's pie filling to review on my blog, the first thing I thought of was making this apple pie dump cake recipe!
While I love making baked goods from scratch, I am not against using jarred fruit fillings or even premade pie crusts. Grandma Hoerner's apple pie filling contains no artificial ingredients, so what's the harm?
There isn't any!
The only downside to using Grandma Hoerner's apple pie filling is that you're likely to run out before you are ready to make your pie...because it tastes so friggin' good that you are going to find yourself eating it by the spoonful - right out of the jar - while you are getting your cake batter ready!
I ate so many of the apples out of the jar while mixing my cake mix that I had to actually slice up some Granny Smith apples to add to the apple pie dump cake recipe when it came time to put it in the oven...it's really that good!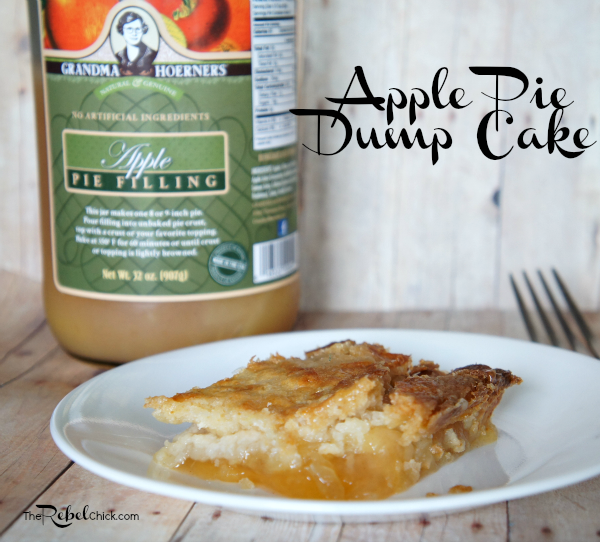 Simple Apple Pie Dump Cake Recipe
Ingredients
1 ½ cups all purpose flour
1 ½ teaspoons baking powder
¼ teaspoon salt
1 cup sugar
½ cup unsalted butter, softened and chopped into tiny pieces
1 can crushed pineapple with juice
1 jar Grandma Hoerner's Apple Pie Filling
Directions
Preheat your oven to 350 degrees. If you have pineapple chunks, or even fresh pineapple, just throw it in the food processor to chop it up. I only had pineapple chunks and that's what I did, and it turned out the same as a can of crushed pineapple!
Using a whisk, mix together your dry ingredients: flour, baking powder, salt and sugar.
Pour the Grandma Horner's Apple Pie Filling into a 9x13 baking dish. Pour the pineapple chunks and juice on top of the pie filling, spread evenly over the entire surface. "Dump" the flour mixture over top and sprinkle with the chopped pieces of butter.
The combination of the sugar in the cake mix and the butter on top are what make the cake more of a pie crust topping.
Bake at 350 degrees for about 35-40 minutes. Allow your cake to cool completely before cutting into servings, or it will totally fall apart on you!
I chilled the apple pie dump cake recipe before cutting it - chilled pie always looks better in photos and this pie/cake needed all the help it could get for this post - and Angeline and I ended up eating it cold.
It was DELICIOUS! Angeline ate almost the entire pan (over the course of a few days) and said that it was the best thing I've ever made.
Grandma Hoerner's Foods
Duane and Regina McCoy founded Grandma Hoerner's Foods in 1986 and today, their line includes preserves, pie fillings, salsas, chutneys, BBQ and spices.
Find more information about their products and Grandma Hoerner's story on their website. www.GrandmaHoerners.com
You can order Grandma Hoerner's products on their website or check here for stores carrying their products!
I received a sampling of Grandma Hoerner's products in exchange for my fair and honest review. All opinions are my own!