This is a Sponsored post written by me on behalf of American Frozen Foods Institute and the Frozen Food Roundtable for SocialSpark. All opinions are 100% mine.
Busy parents and busy working folks are always looking for ways to save money, save time and still eat well. It's an age-old conundrum: how do we enjoy a nice meal without spending a lot of time and money making it? How can we eat a great lunch without losing valuable working time? How do we feed the kids a satisfying meal on a busy weeknight when we have back to back sports meets, dance classes, piles of homework...and a headache to boot? Well, that's where mama's best friend comes into play: frozen food.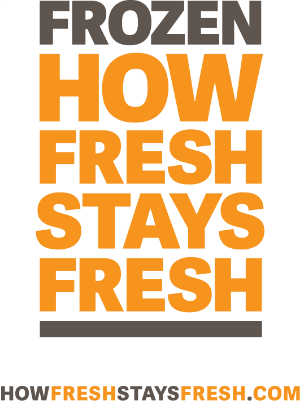 We heavily rely on frozen foods because they are ready when we are! That is one of the many benefits of frozen foods, having pre-made frozen meals on hand allow busy families like ours to spend less time in the kitchen and more time together enjoying our meals. It doesn't even have to be a complete frozen meal - you can customize your favorite dishes with frozen foods to save time making your favorite recipes too!
For instance, you can toss your favorite Birds Eye Steamfresh Vegetables in with chicken and rice or sprinkle some breadcrumbs and bacon pieces on Stouffer's Mac & Cheese after cooking - it's all about creating a dish that your family will love without a maximum amount of work.
The thing about frozen food that many aren't aware of is that it is REAL food - many brands concentrate on creating delicious meals that are full of fresh, quality ingredients, like Green Giant (boxed ad bagged products) - they are cooked and then frozen to lock in the nutrients and flavor. I don't think there is really a fresh vs frozen benefit - frozen food is just a frozen fresh food. Once it's cooked or thawed - it's the same thing, just much more convenient. Frozen foods are perfect for people who put a lot of effort and care into what they eat because every single ingredient is listed right on the packaging - there are no surprises and no guesswork involved!
I love that I can find easy meal options to stock the freezer and not have to worry about their calories! With options like Smart Ones meals and Healthy Choice frozen Greek yogurt, I can enjoy delicious, satisfying meals and stay on track with eating healthy. I seriously need to lose the summer vacation weight...Frozen foods makes counting calories really easy, especially with single serving meal options from Smart Ones, Kellogg's and ConAgra Foods. The serving sizes are clear and every package has complete nutritional information that you can enter into any food diary or diet tracker.
Frozen is how fresh stays fresh; by locking in the flavor and nutrients of the foods we love, brands like ConAgra, Schwan's, Heinz, and Pinnacle hit nature's pause button so when you heat up that meal, it tastes just as if it had been freshly prepared for you that same day.
One of the things I love most about frozen food meal options like this Smart Ones Three Cheese Ziti Marinara is that it's EASY! When I am home, my blogging schedule is pretty hectic, because I try to only work while Angeline is in school. That means 7 am to 2 pm - I always eat lunch at my desk, and if I can throw a yummy meal like this in the microwave and have it ready within minutes, with no prep or dishes to wash afterwards (except for a fork), it makes my life so much easier. I am left satisfied and I am not left reaching for junk food later in the day because I was too busy to eat lunch!
I used to bring meals like this with me to the office when I worked a regular office job too. You can save so much money by bringing lunches from home, but who has time to put together lunchboxes for yourself when you're done making lunches for the kids? You can void the fast food drive through by stocking up on a few different varieties of frozen meals and enjoy a delicious hot lunch at work without ever leaving the building. Instead of spending time going through the drive through, take a short walk or relax for the rest of your lunch hour!