If your kids work up a dino-sized appetite, we've got the perfect recipe for you! In celebration of the recent DVD release of PAW Patrol: Dino Rescue, we're excited to share this delicious Dino Dirt Cups custom recipe! Simply post the button below to your blog/socials so that your followers and their kids can make snack time a roaring success! Nickelodeon's PAW Patrol: Dino Rescue is available today on DVD!
Make Your Own Delicious PAW Patrol Dino Dirt Cups!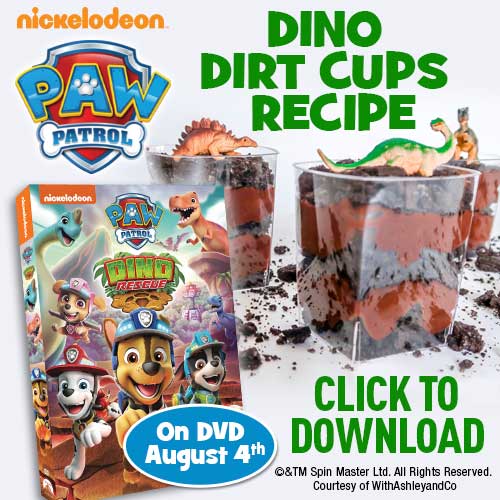 Get ready for roars and rescues with the PAW Patrol in the brand-new DVD PAW Patrol: Dino Rescue. Featuring episodes from the hit Nickelodeon series PAW Patrol (produced by Spin Master Entertainment), the new DVD release lets fans join the pups as they travel to the Dino Wilds with all-new rescue gear and heavy-duty vehicles for action-packed adventures, where they'll meet new prehistoric pals including new pup and dinosaur expert Rex, work together to stop a dinosaur egg thief and more.
The PAW Patrol: Dino Rescue DVD will be available from Paramount Home Entertainment and Nickelodeon Home Entertainment on August 4, 2020, for the suggested retail price of $10.99. (This is my Amazon Affiliate link, I will learn a small commission should you purchase through my link.)
PAW Patrol: Dino Rescue episodes:
Pups and the Lost Dino Eggs
Pups Save a Pterodactyl
Pups and the Big Rumble
Pups Save a Big Bone
Pups Bark with Dinosaurs
Pups Save a Robo-saurus
PAW Patrol: Dino Rescue synopsis:
ROAR into a prehistoric land with the PAW Patrol in these six dino-mite tales, including two double-length missions. Join the pups as they roll into Dino Wilds to keep their new friends safe from an erupting volcano and a scheming dino egg thief. Then, the team gears up for a robotic dinosaur adventure.
PAW Patrol: Dino Rescue fast facts:
Street Date: August 4, 2020 / Catalog: 59211641000 (US) / Running Time: 1 hour, 35 minutes / Audio: Dolby Digital English 5.1 / US M.S.R.P.: $10.99