This post brought to you by TownePlace Suites by Marriott®. All opinions are 100% mine.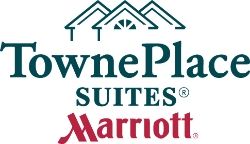 Have you ever been to Grapevine, Texas? No? Well, neither had I until I received an invitation to check out the new TownePlace Suites by Marriott® in Grapevine. TownePlace Suites® has recently partnered with The Container Store to bring their amazing elfa® closet systems to weary travelers, so I brought Angeline along with me for a little pre-birthday weekend getaway and off we went to Texas to check it out for ourselves!
Let's chat about the TownePlace Suites by Marriott®, shall we? The location was fantastic, with the hotel situated just a few miles from the airport, a large mall with a movie theater and aquarium, as well as just minutes away from Historic Downtown Grapevine, where we spent our day on Saturday.
We were booked in a two Queen Bed Studio Suite, which was really nice! Angeline loved that we had a full kitchen and dining room table, along with a sitting area. The room was spacious and nicely decorated, and I could really see being comfortable in one of these rooms for an extended stay.
We were only there for a two-day weekend, but it was nice to have lots of room to stretch out and relax.
Speaking of beds: did I mention that the beds were super comfortable? One of the most important things, as far as hotel quality goes, is a nice, soft mattress and comfy, squishy pillows. The TownePlace Suites® had their bases covered, and we both slept like babies!
While this trip was carefree and unstructured, most of my travels are work-related and I have to actually DO WORK while traveling. Have you ever tried to sit down and concentrate on work while in a cramped hotel room without a desk or table? It's not easy! Traveling is so much easier when you're able to get a little work done at the end of the day.
When I was younger, I never gave a lot of thought to the amenities available at the hotels we booked for our travels. As I've grown older, I've realized that I enjoy my travels a lot more when I have a nice, comfortable and organized hotel room. In my younger days, I checked into a hotel, ran out into the city to explore, enjoyed the night life and crawled into bed in the wee hours of the morning...only to do it all again the following day. My traveling style is much different these days; working from home and being able to take my work along with me while I travel means that my trips are longer and I now put a lot of thought into where I lay my head at the end of a fun day. Things like a comfortable lounging area for unwinding after a long day, a kitchen to store healthy snacks and drinks, and a nice work space make a huge difference in the quality of my travels.
TownePlace Suites® caters to travelers like myself, who often have extended stays away from home. Did you know that a trip is usually considered an extended stay when it is 5 nights or more? Most of the extended stays at TownePlace Suites® is 4 nights, which is about the average that I stay in a hotel while traveling for work. With a longer stay, it is vital to have a space that feels like home, gives you space to stretch out, get comfy and get some work done too!
With a free continental breakfast in the lobby, a strong wifi signal that enables you to work during your stay, as well as a great Bistro downstairs and a lovely pool area for lounging, this hotel was perfect for our little family getaway but would have also been the perfect place to stay on a work trip!
Oh, and The Container Store® elfa® closet system? It was perfect for keeping our belongings organized! There was so much space!
I normally only see a few hangers in a hotel closet, but the elfa® closet system not only had plenty of hangers, but actual shelves and a basket that acted like a drawer. Seriously? It was nicer than my closets at home...I've already started measuring our closets to find out how much it would cost to install the elfa® closet system in our house!
TownePlace Suites® Amenities Include:
Spacious studios one and two bedroom hotel suites with free WiFi
Full kitchens as well as a free daily breakfast (they even had scrambled eggs and potatoes)
A modern fitness center
A zero-entry outdoor swimming pool with a lounge area
17,000 square feet of venue space for events
TowneMap® to connect to the neighborhood
On-site laundry facilities
Home OfficeTM Suites (ergonomic in-room work space)
Win a $100 Gift Card from TownePlace Suites®
TownePlace Suites® has a simple mission: to give their guests the tools they need to be happy, put together and productive on longer stays. TownePlace Suites® believes that haping the space to organize and the tools to get things done makes for a happy traveler - and Angeline and I agree!
TownePlace Suites® is giving away a $100 gift card to put towards your next stay. Must be 21+, U.S. residents only. Ends December 14, 2014. Read the official rules for full details.
To enter, comment below by answering the following question: What would you use the most in the elfa® closet to stay organized while traveling?
Don't forget to like the TownePlace Suites® Facebook to stay up to date on new locations and promotions!