Sometimes you just want comfort food…something warm and filling, loaded with carbs and fat…this cheesy, easy shepard's pie recipe is perfect for those nights when you want a substantial meal!
Traditionally, shepard's pie is made with lamb. As Americans don't eat a ton of lamb – not in Miami, anyway – I grew up with my mom making shepard's pie with ground beef. I've always made shepard's pie with ground beef as well, but when I reached into the freezer last week to pull out the ground beef, it turned out to be ground venison.
I figured why not?

Easy Shepherd's Pie Recipe
1 1/2 lbs ground round beef
1/2 onion, chopped
4 garlic cloves
1 1/2 cup chopped mushrooms
2 cups chopped carrots, corn, peas
5 large russet potatoes
4 tablespoons olive oil
1/2 teaspoon salt
1/2 teaspoon pepper
1/4 teaspoon cayenne pepper
1/2 cup shredded cheddar cheese
Directions
Preheat over to 400 degrees.
Peel and quarter potatoes, boil for about 20 minutes until tender. 
While your potatoes are cooking, add onion, mushrooms and carrots to a frying pan with the olive oil an saute until the onions are translucent.
Add the ground beef and garlic and saute until cooked through. Add the salt, black pepper and cayenne pepper and stir to mix.
Prepare mashed potatoes according to your liking. I use 1/2 a stick of unsalted butter, 1/4 cup sour cream and a dash of salt and pepper.
Pour your beef mixture into a baking dish and top with corn and peas.
Add a layer of shredded cheddar cheese add heaping spoons fulls of mashed potatoes on top.
Make sure that the mashed potatoes are distributed evenly, as  you won't be able to spread them around very much without disturbing the veggies underneath.
Sprinkle the top with a little additional shredded cheddar cheese and cook in 400 degree oven for about 30 minutes.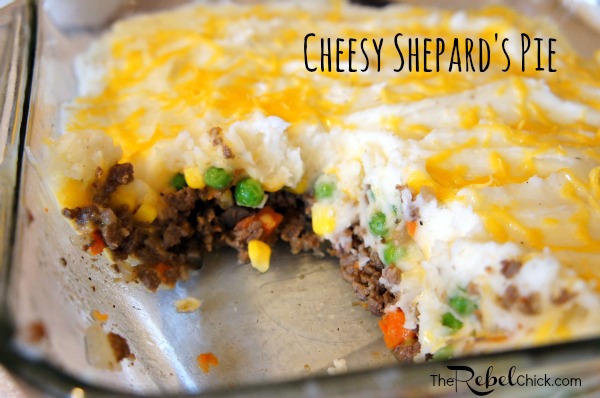 Now, I actually used ground venison when I made this cheesy easy shepard's pie recipe for dinner for the family the other night. Angeline remarked on how great it tasted and I told her that I had used the venison – she actually loves deer meat, so she wasn't upset at all!
When I asked Chris what he thought, he said that it was good…when I told him that I used venison, he said, "Oh that's why it tasted weird." So either he didn't really like it and was being nice, or just knowing that it wasn't beef changed his opinion after the fact! Ha!