This easy Berry Cake is moist, tender, and filled with mixed berries and chopped pecans. Then, it's topped with a delicious crumb mixture and baked until golden brown.
I love to make this berry recipe for at-home brunch parties with my friends, for potlucks, or just to share it with my friends. It's so delicious and so simple there's never a bad time to serve it!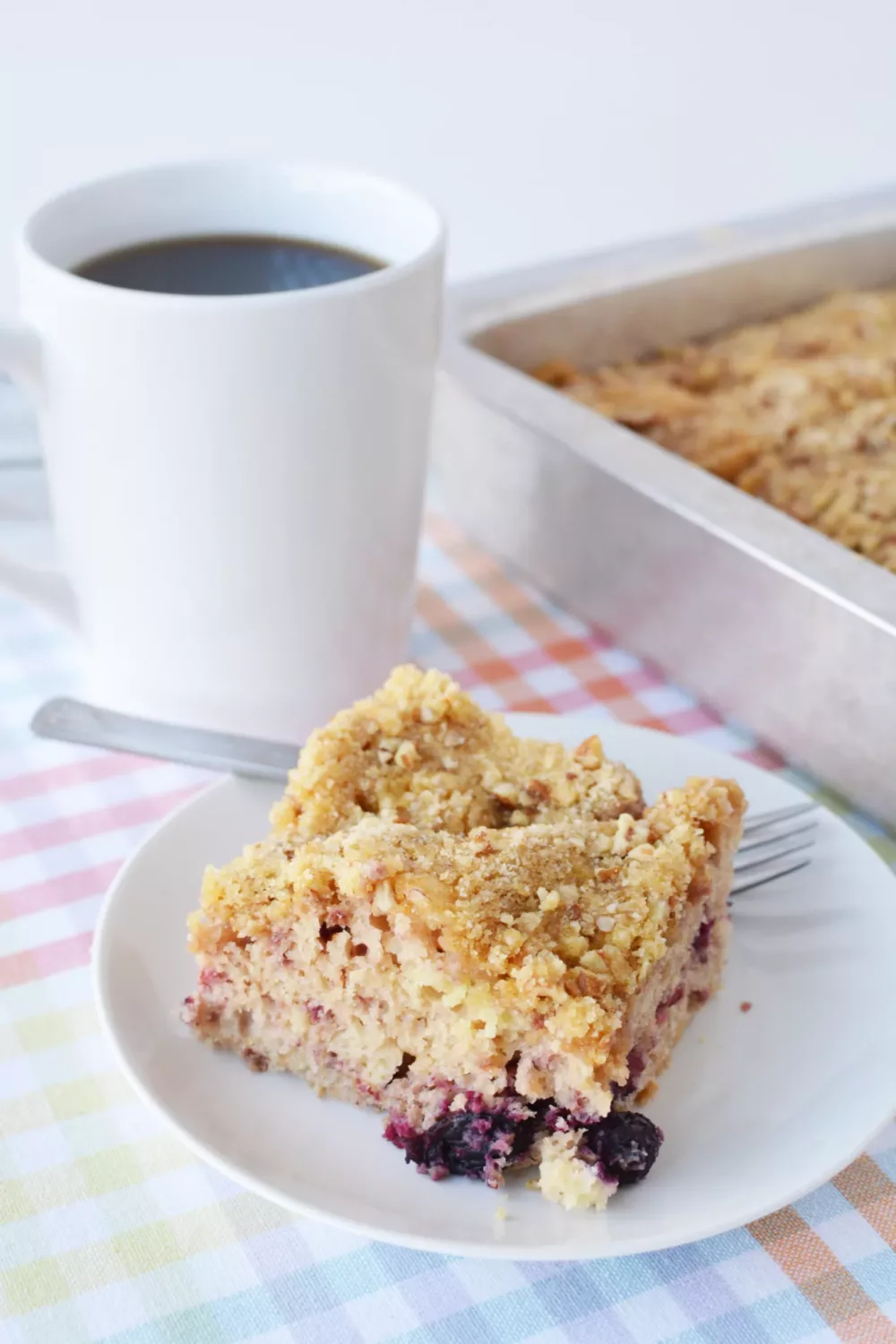 This post may contain affiliate links which means we receive a small commission at no cost to you when you make a purchase. As an Amazon Associate I earn from qualifying purchases. Please see my disclosure for more information.
Moist, Tender Berry Cake
This berry cake is a favorite in our house because it comes together so quickly, and it tastes so delicious. I'll be honest, I love baking but only when it's easy.
I'm not a fan of measuring by weight and all the other shenanigans that go into so many baked recipes. This one uses boxed cake mix and just a few ingredients so I can whip it up whenever I feel the urge.
Why You'll Love This Recipe
It only uses a handful of simple ingredients.
It's a semi-homemade recipe that's ready in no time.
It's rich, sweet, and full of berries and pecans.
It's extra moist thanks to the sour cream used in the recipe.
Where can I find the recipe card?
If you'd rather skip all of my cooking tips, important information for this recipe, and similar recipe ideas – and get straight to the recipe card, just scroll right on down to the bottom, where I have a printable recipe card just for you!
I know that a lot of people are old fashioned - like me! - and like to have a printed out recipe card.
Are recipe books still a thing in your household? Check out these cool recipe books (blank so that you can fill them up with your own recipes!) on Amazon!
Are you looking for more desserts like our Berry Cake?
We love dessert and love coming up with creative new ways to satisfy our sweet tooth, like with this delicious Red Velvet Cake Roll Recipe!
Ingredients
You'll only need a few simple, basic baking ingredients to make this recipe. You'll find everything you need in one quick trip to the grocery store. Of course, you just might have several of these ingredients in your kitchen right now.
You'll find all of these ingredients here, but the exact quantities are in the recipe card at the end of the post.
Boxed yellow cake mix
Cold butter
Eggs
Sour cream
Frozen mixed berries - thawed
GET ALL OF YOUR COOKING AND BAKING SUPPLIES ON AMAZON.COM!
If you are struggling to find some of these supplies, check out all of the item available to you with Amazon Prime Fresh! They have most household supplies and groceries fully in stock and you can get free delivery with your Amazon Prime membership! Sign up for Amazon Prime Fresh here!
How to Make Berry Cake
This berry cake recipe is ridiculously easy. This is the kind of recipe that even people who hate to cook will make. It's that good and that easy.
The highlights are right here, but check out the recipe card at the end of the post for the exact instructions.
1: Mix half the cake mix, brown sugar, and butter until you get fine crumbs and stir in the nuts. Set aside.
2: Combine the remaining cake mix, flour, eggs, and sour cream.
Fold in the berries.
3: Spread the cake in a prepared baking pan, top with the crumb mixture, and bake until a toothpick inserted into the center comes out clean. Enjoy!
Equipment
Measuring cups and spoons
Mixing bowls
Pastry blender
Baking pan
Substitutions and Variations
Use white, vanilla, or butter cake mix in place of yellow cake mix.
Use your favorite frozen berries for this recipe.
You can use chopped walnuts in place of pecans if you prefer.
If you don't have sour cream, you can use full-fat Greek yogurt in the same amount.
Storage
Room Temperature: Store for up to 2 days in a cool, dry place in an air-tight container.
Freezer: Store for up to 3 months in an air-tight, freezer-safe container. Defrost in the refrigerator overnight.
What to Serve with Berry Cake
Serve this cake with a glass of milk or a cup of coffee or tea. It's also delicious when paired with:
Fresh fruit
Ice cream
Whipped cream
Tips for Making the Best Berry Cake
Cut up your butter into chunks, then leave it in the refrigerator until ready to incorporate it into the mixture.
Drain the frozen berries but don't press them.
Be sure you cover all parts of the baking pan's interior so your cake doesn't stick.
Share This Berry Cake Recipe on Social Media
If you love this berry cake recipe, then please leave me a 5-star review and share it on Facebook, Twitter, and Pinterest.
Your shares are what keep eyes on this site and the recipes that I love sharing with you!
ARE YOU CRAVING MORE DELICIOUS RECIPES AND TRAVEL INSPIRATION? Sign up below to receive my newsletter filled with delicious recipes, fun crafts, and family adventures straight into your inbox:
To print this Berry Cake, click the recipe card below!
I know that many people still like to print out recipes and keep them in a recipe binder, or simply have the printed recipe sitting in front of them when it comes time to cook! 
Sometimes it is just easier to go off a recipe when it is printed right in front of you. Who wants to swipe their screen on their phone or tablet when their hands are greasy? So I love offering this option as well!
Berry Cake
This easy Berry Cake is moist, tender, and filled with mixed berries and chopped pecans. Then, it's topped with a delicious crumb mixture and baked until golden brown.
Instructions
Thaw fruit and drain, do not press, just drain the juices. Set aside.

Preheat oven to 350 and grease a 9x13 baking pan with nonstick cooking spray. Set aside.

In a small bowl, combine ½ cup cake mix, brown sugar and butter. Use a pastry blender to blend butter into the mix until it's fine crumbs. Stir in nuts. Set aside.

In a separate bowl, add remaining cake mix and flour and mix well. Add eggs, and sour cream and mix well. Fold in berries. Spread into prepared pan and top with crumb mixture. Bake for 30-35 minutes or until a toothpick inserted in the center comes out clean.

Cool until warm and slice to serve.

Makes 24 slices.