This is an Easy Valentine Cookie Bars Recipe, and the end result is really pretty and so tasty!
My neighbor even has the prettiest Valentine's day wreath on her front door…it's making me want to get a festive wreath for Easter! I was so sick during most of January that I fell really behind on sharing our new Valentine's Day recipes with you guys, but I have a super fun one for you today!
This An Easy Valentine Cookie Bars Recipe for Valentine's Day post may contain affiliate links which means we receive a small commission at no cost to you when you make a purchase. As an Amazon Associate I earn from qualifying purchases.
We're all in a Valentine's Day frenzy lately, aren't we? Couples are planning romantic getaways and romantic candle lit dinners in fancy restaurants, overworked and tired parents are arranging babysitters so that they can go out that evening, kids are getting ready for the classroom Valentine's Day parties with homemade mailboxes for their cards, picking out the perfect Valentine's day cards for the classmates – it's such a fun holiday and there are so many different ways to celebrate it!
I love sharing all of the fun Valentine's Day recipes because they're so festive, what with everything being so red and pink!
However, let's touch on a real issue with Valentine's Day….it's such a confusing holiday for many, it sometimes leaves single people feeling lonely…that's why I suggest spending Valentine's Day with your friends if you're single!
Since my divorce in 2015, I've spent Valentine's Day with Angeline or one of my girlfriends.
I've actually accidentally had a lunch date on Valentine's Day for two years in a row, as we didn't even realize that it was Valentine's Day. Talk about really funny timing! One was even a first date with someone I'd met the day before!
It's such a funny story, I actually wrote a blog post about how Single Women Celebrate Valentine's Day for my Singles Chronicles series.
WHERE CAN I FIND THE RECIPE CARD FOR THIS Easy Valentine Cookie Bars Recipe?
If you'd rather skip all of my cooking tips, important information for this recipe, and similar recipe ideas – and get straight to the An Easy Valentine Cookie Bars Recipe, just scroll right on down to the bottom, where I have a printable recipe card just for you! I know that a lot of people are old fashioned – like me! – and like to have a printed out recipe card.
Are recipe books still a thing in your household? Check out these cool recipe books (blank so that you can fill them up with your own recipes!) on Amazon!
Are you looking for more Valentine's Day Recipes?
We have lots of super fun Valentine's Day Recipes on the blog! Ranging from breakfast foods to decadent desserts, we have something for everyone!
This year, I am having dinner with a good girlfriend of mine, as we are the only single ones left in our friend group. Actually, she's my only single friend left, PERIOD. Even my daughter has a boyfriend at this point!
My girlfriend and I are going to have dinner together so that we aren't both left sitting home alone – we're going to be each other's Valentine! To be honest, I think that we'll probably have more fun together than if we had "real" dates with men. Ha ha! Bring on the Prosecco and pasta!
This Valentine Cookie Bars Recipe is so good! These cookie bars are pretty rich, so you should cut them smaller than you normally would cookie bars. I think that 24 bars is the perfect amount. This cookie bar recipe is pretty easy to make because you're using a sugar cookie mix instead of making the entire thing from scratch.
It helps save time and energy because using the sugar cookie mix eliminates the need for all of that measuring. I am all about using any shortcut possible to save time, and I bet you are too!
Of course, you're free to make the dough from scratch using your favorite sugar cookie recipe. If you're using your own sugar cookie recipe for this Valentine Cookie Bars Recipe, just skip to the part of the instructions where you begin adding in the candies and chocolate chips.
However, I haven't tried it that way myself, so I can't guarantee that the results will be the same.
How to make this Easy Valentine Cookie Bars Recipe
Ingredients:
GET YOUR HOLIDAY BAKING SUPPLIES AT AMAZON!
If you are struggling to find some of these specialty supplies due to the COVID 19 lock down, check out all of the pantry item available to you on Amazon! They have most household supplies fully in stock in their warehouses! You can even get free delivery on orders of $35 or more with your Amazon Prime membership!
Directions:
Begin by preheating your oven to 350 and by greasing a 9×13 baking pan with nonstick cooking spray and setting it aside.
In a large mixing bowl, add your cookie mix, the butter, the egg and the vanilla. Mix these ingredients well until a dough forms.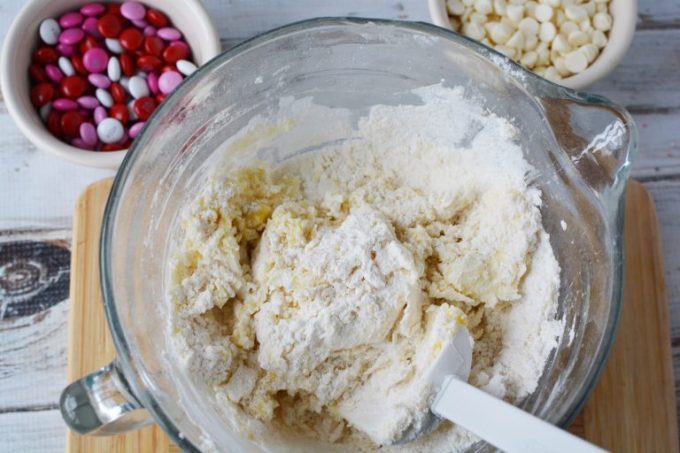 Next, stir in 1/2 cup of the candies and the white chocolate chips. Make sure to stir it gently so that the candies don't break apart. The finished product is so much more appealing when they candies are all still intact!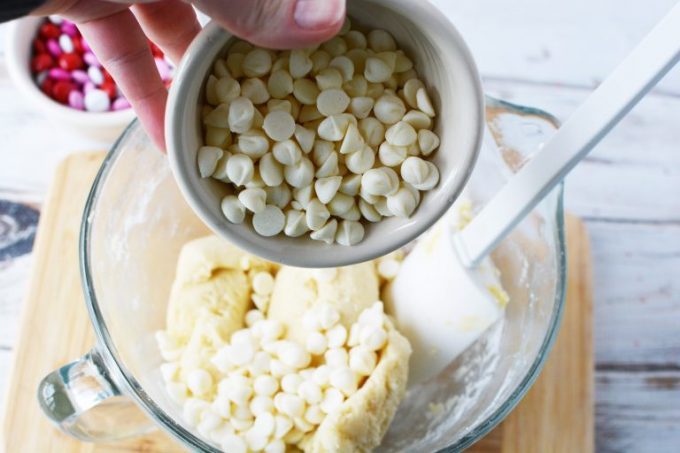 Mix it well until the candies and white chocolate chips are evenly distributed. Press the dough into the bottom of your prepared pan. Sprinkle the remaining candies on top and gently press them into the dough. You can even make a little design or pattern if you like, just keep in mind that you'll be cutting the finished cookie into bars, so keep portions in mind.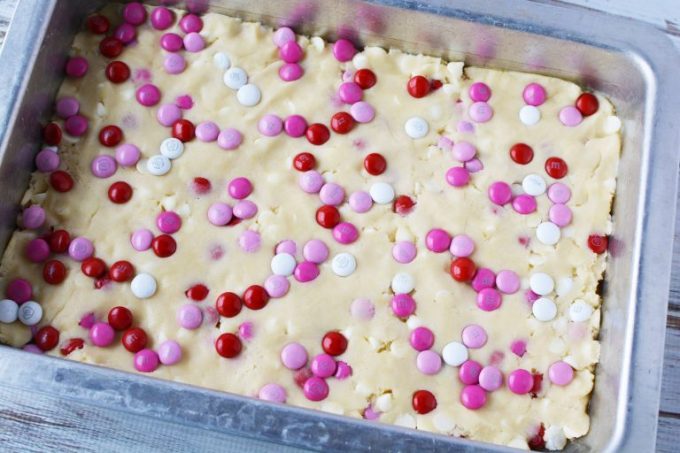 Bake your cookie dough for 20-24 minutes or until lightly golden brown. Let it cool completely before cutting it into 24 bars, otherwise you may have a hard time getting nice, clean edges when you cut it. Warm cookies tend to fall apart.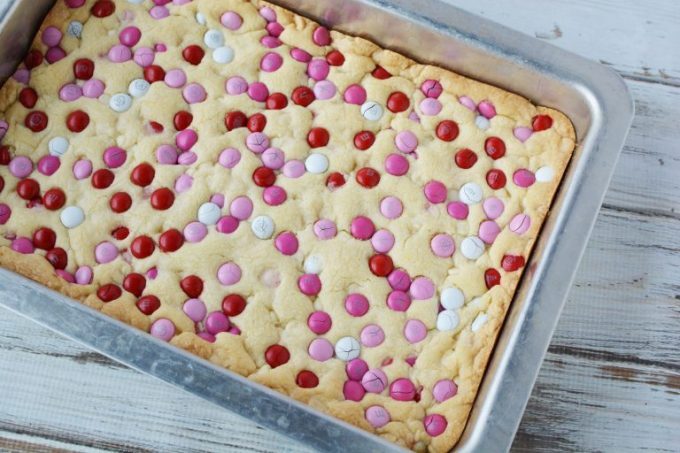 This Easy Valentine Cookie Bars Recipe makes 24 bars. Of course, you CAN cut it into bigger bars, but it's so rich that bite sized portions are the best way to go!
Looking for baking supplies to make this recipe? Check out Amazon!
To print this Easy Valentine Cookie Bars Recipe, simply click the recipe card below! I know that sometimes it is easier to go off a recipe when it is printed right in front of you. Who wants to swipe their screen on their phone or tablet when their hands are greasy? So I love offering this option as well!
An Easy Valentine Cookie Bars Recipe
Valentines Cookie Bars Recipe
Ingredients
1

pouch

17.5 oz, sugar cookie mix

1/2

cup

softened butter

1

egg

1

teaspoon

vanilla

1

cup

Valentine M&M candies

1

cup

white chocolate chips
Instructions
Preheat oven to 350 and grease a 9x13 pan with nonstick cooking spray. Set aside.

In a mixing bowl, add cookie mix, butter, egg and vanilla. Mix well until dough forms. Stir in 1/2 cup candies and white chocolate chips. Mix well. Press into bottom of prepared pan. Sprinkle remaining candies on top and gently press into dough.

Bake for 20-24 minutes or until lightly golden brown. Cool completely before cutting into 24 bars.
SHARE THIS An Easy Valentine Cookie Bars Recipe WITH YOUR FRIENDS ON SOCIAL MEDIA!
If you enjoyed this An Easy Valentine Cookie Bars Recipe, please take a moment to share it on social media for me! I would love the exposure to new readers!
If you're looking for more Valentine's Day recipes, check these out! I have a ton of Valentine's Day content on the blog. If you're a single gal (or guy), you might want to take a look at this blog post about How Single Women Celebrate Valentine's Day.
Some of my Other Valentine's Day Recipes
Valentine's Day Cupcakes with Homemade Marshmallow Frosting Recipe
Valentine's Day Junior Mints Shortbread Cookies Recipe
Valentine's Day Skillet Cookie Recipe
Valentine's Day Cupcake Heart Recipe