While camping sounds fun, it's never easy. Our guide to How to Stay Safe While Camping Alone will help you be prepared for anything that could go wrong when camping out in nature! Here is a highlight of some pro tips for today's safe camping.
Camping has its thrills, just like going to the beach. You may decide to camp out of town to stay away from digital gadgets or get fresh air. Besides, people go camping for various reasons.
Some people just love a peaceful environment where the only noise they can hear is the soothing sounds of nature.
Our top camp safety tips when camping alone
Research the Area You Intend to Visit
Doing a background check on the area you intend to visit unravels useful hints about what you need to carry along for a thrilling experience. Understanding your camping site also helps shape your expectations.
Whatever you will need when camping in a desert is entirely different from what you will need in a forest setting. Again, it's essential to know the wild animals or pests you might expect on the expedition.
If it is an area infested with mosquitoes, you need to brace yourself with a treated net or repellant.
Hire a Rescuer
While some areas may be infested with small insects like mosquitoes, other regions may be prone to more killer animals like bears or elephants. You can, therefore, look up a few local rescuers in the camping area on the internet; so that they can give you a glimpse of what to expect.
Guides are more conversant with particular campsites, safe routes, and, if there's a threat, they have emergency responders on speed dial.
Animal Safety
As much as you keep an eye out for big animals, keep in mind that the smaller animals will cause the most disturbance. Insects such as mosquitoes, fleas, and horseflies can cause itching and soreness. There are many ways to be safe from both the small and big wild animals like bears.
You can take these precautions:
Avoid touching wild animals.
Keep a safe distance. Don't get too close to wild animals; they can cause serious harm.
Avoid feeding wild animals because it can make them very aggressive.
Don't attract wild animals with food by keeping the campsite clean—store food away and in sealed containers.
Use insect repellent for ticks and bug bites. Preferably one with DEET because they are friendly on the skin.
Mosquito nets also come in handy. It's a good option, especially for anyone who's allergic to repellents.
Practice Fire Safety
Campfires are very common in camping expeditions. While they may be fun, they can be extremely dangerous. If you are going to lit a campfire, be sure to practice fire safety first. Make sure that you have thought out your gas bottle storage to avoid any mishaps! Check out for hanging branches before you light a campfire. Besides, the campfire should be at least 25 feet away from the walls of the tent. Other things that you can do include:
Keep a bucket of water or fire extinguisher next to the campfire
Always keep the campfire small and contained
Make sure you extinguish the campfire before leaving
If your clothes catch fire, go down and roll on the ground
Keep an eye on pets and children around the campfire
Keep flammable liquids away from the campfire
Get Clean Drinking Water and Food
It would be best to stay hydrated while camping. If you intend to go camping, ensure you have access to clean drinking water. Moreover, you can choose to carry enough clean drinking water with you or find a way to purify it.
Camping Water
While some parks offer drinking water via pipes, you can never rely on the park's water. The water may be contaminated or not available. For instance, if you intend to camp in the forest or desert, ensure you carry enough water for the camping period. Besides, you can even decide to boil or use purification tablets to purify the water available within the campsite.
Plan for Food
As you plan for your camping, ensure you have enough food to last for the entire camping period. Additionally, it is easy to get food poisoning; thus, investing in the appropriate storage is necessary.
Airtight containers are essential in preventing crawling insects from infecting the food. Moreover, consider packing enough ice to store foods that require refrigeration. Other safety measures include:
Clean your hands with water or a sanitizer before meals
Separate raw foods from cooked meals
Cook meals at the right temperature
Have Safe Transport:
When planning a safe camping trip, it's important to think about all aspects of the journey. One of the most important is transportation. You need to make sure that you and your gear make it to your destination safely and without incident.
One of the most important things to consider when transporting camping gear is weight. You don't want to overload your vehicle and risk a breakdown on the side of the road. When packing, try to distribute the weight evenly between front and back seats, as well as left and right sides.
Be sure not to forget about your roof rack, newly installed wheels or trailer hitch if you're using one. Visit this website in order to find out more about installing new and reliable tires for your camping trip.
Pack a First Aid Kit
If you are going to camp in some remote locations, as is often the case, ensure you have a first aid kit. Even better, you should get first aid training; this will be very useful if anything goes wrong.
First aid on-the-go! The handy, compact Keep Going First Aid Kithas 130 pieces of essential first aid supplies, from burn relief to bandages, so your child will be ready for anything!
TSA approved, the lightweight kit is packaged in an organized, stylish water & stain-resistant case for school days, after school sports and activities.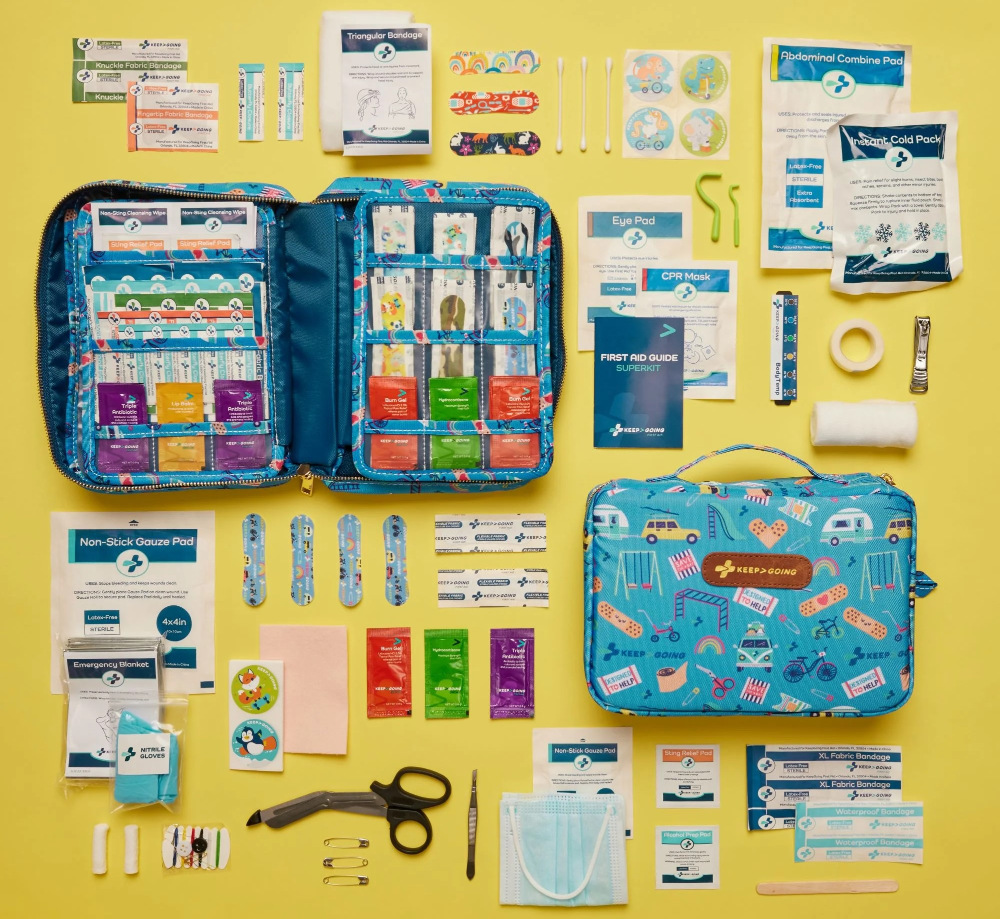 Be Prepared for Any Weather
If you have experience in camping, you must know that early preparation is the best thing to do when it comes to weather. Enquiring from the right agencies about the weather conditions of the area helps pack the right essentials.
Nothing destroys a good camping expedition like a rainstorm. Some locations may have different weather conditions at night and during the day. You may want to be warm at night and cool during the day when it's too sunny.
Protect Yourself from Carbon Monoxide Poisoning
While camping, avoid using particular lanterns and heaters that produce carbon monoxide by-products. These heat sources can be dangerous when used in a closed area without proper ventilation.
Instead, you can carry extra sleeping bags or add another layer of a mattress or inflatable layer between the tent and the ground; this can keep you warmer. The catch here is to avoid heaters that could cause carbon monoxide poisoning.
Generally, before you decide to go camping, it's advisable to let your friends and close family know about your whereabouts. You can even share with them the routes you take when camping.
To guarantee optimal safety, survey the camping area before the D-day. Highlight safe spaces with network coverage where you can take phone calls in case of any dangers.