Do you find yourself wondering what it is like to visit the Half Moon Cay Bahamas Port of Call with Carnival Cruise Lines Half Moon Cay Bahamas Port of Call with Carnival Cruise Lines in the midst of planning your first cruise vacation?
With staterooms starting at just $659 a person, the Carnival Liberty cruise out of Port of Miami offers everything that you need for your next cruise vacation, including a stop at the wonderful Half Moon Cay, Bahamas Port of Call!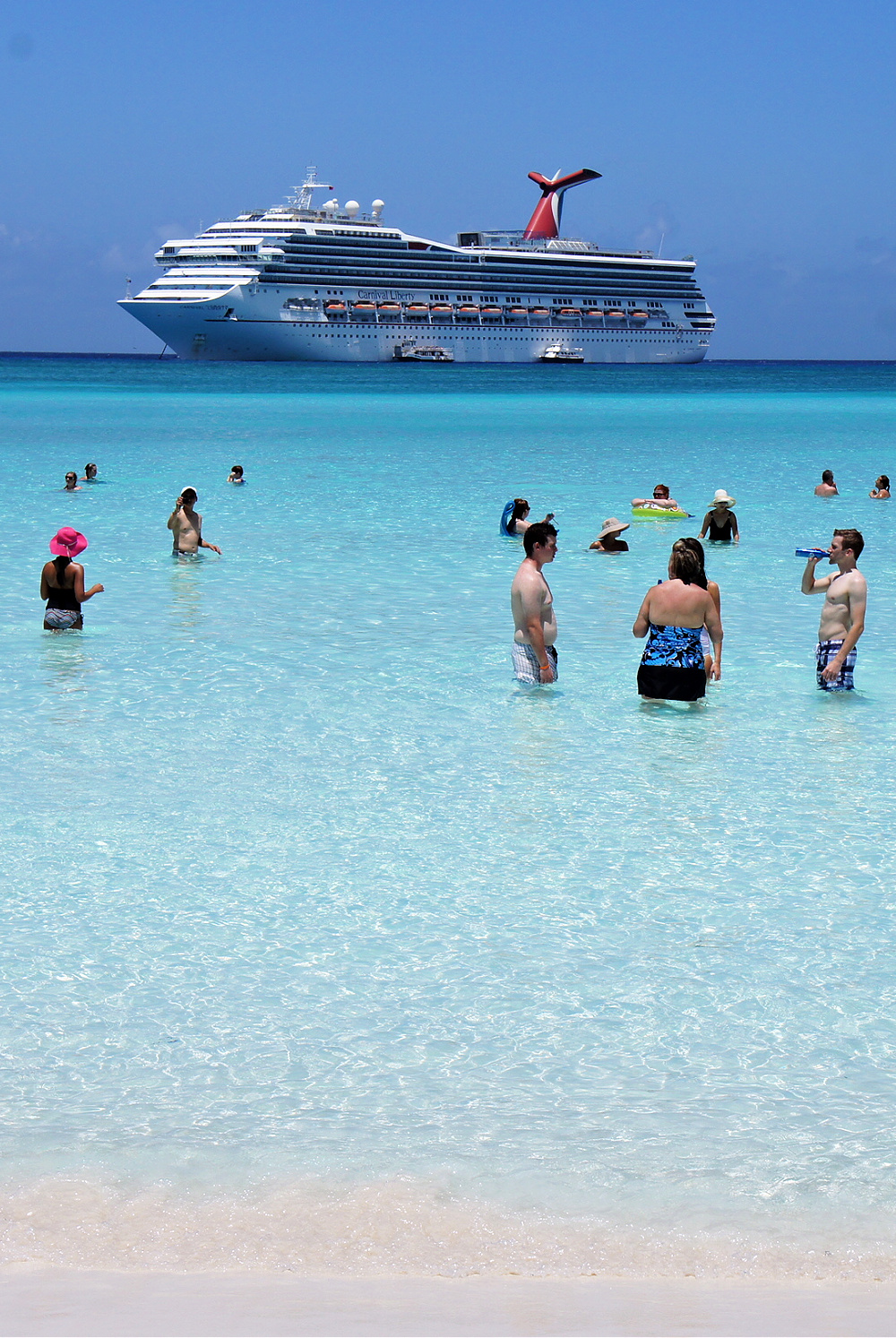 This Half Moon Cay Bahamas Port of Call with Carnival Cruise Lines post may contain affiliate links which means we receive a small commission at no cost to you when you make a purchase. As an Amazon Associate I earn from qualifying purchases.
Half Moon Cay Bahamas Port of Call with Carnival Cruise Lines
Little San Salvador Island, also called Half Moon Cay, is a tiny private island in the Bahamas. Accessible by cruise ship, it is known for the long, crescent-shaped Half Moon Beach - thus being called HALF MOON CAY!
Luxury cabanas dot the beachfront, which gives way to trail-lined country rich in birdlife. Half Moon Lagoon Aqua Park has water slides and playgrounds. Stingray Cove, a lagoon enclosure, is home to tame stingrays.
Chris and I began saving in April of 2012 for the 7 day cruise on the Carnival Liberty to celebrate Angeline's 16th birthday, and I am so happy that this is what we decided on!
Our 7 day Caribbean cruise on the Carnival Liberty cruise ship had four ports of call and two days at sea: Half Moon Cay, St Thomas, San Juan and Grand Turk.
Of course I will be sharing each port of call separately because they were all so amazing that they deserve their own stories - with photos too, of course!
Our first stop: Carnival Cruise Lines Half Moon Cay The Bahamas
There are so many things to do in the Half Moon Cay port of call with Carnival Cruise Lines!
While you can choose from excursions like a glass bottom boat tour, Half Moon Cay Snorkel by Boat, Horseback Riding by Land & Sea, a Stingray adventure, Parasailing, you can also just get off the Carnival Liberty cruise ship and spend the day on the beautiful beaches of Half Moon Cay.
There are bars and restaurants on Half Moon Cay, and because Carnival is the only cruise line that ports in Half Moon Cay, you can pay for everything with your room key and just charge it to your account.
This is actually the only place where you don't need to bring photo identification, so just grab your room key, the Carnival beach towel provided in your stateroom and your sunscreen!
Oh, and don't forget your camera, because the scenery is absolutely breathtaking.
I brought my Sony DSLR and put my iPhone in my waterproof case so that I could take photos on the beach and in the water without worrying about ruining my phone and I was so happy that I brought them both!
Even though you are on your own, so to speak, when just lounging on the beach, there are still a lot of fun Carnival activities that take place on the island.
They had a hairy chest contest (too bad I couldn't talk Chris into entering…) and my favorite was the sand castle building competition! We did not stick around for the judging but I was rooting for this buy and his alligator!
If water sports are your thing, they had lots of water activities right there on the beach at Half Moon Cay Bahamas Port of Call with Carnival Cruise Lines.
They also had floats, cabanas and snorkeling equipment for rent while you were on the beach. We didn't bring anything but our towels and sunscreen and spent most of our time playing in the water.
I still can't believe how crystal clear it was! At one point, we saw an entire school of fish swim right in between us, and not long after that, I saw a barracuda swim right in front of me.
I have an irrational fear of barracuda, ever since finding myself swimming in a school of them while snorkeling in the Keys as a kid. It totally minded its own business and left me alone, but I was done with the water after that!
I could spend an entire day just lounging on the white sandy beaches of Half Moon Cay.
Whenever I visit islands with beautiful beaches, I become so jealous…our beaches in Miami are okay, but they can't even compare to the sugary-fine sands of the Bahamas, and the crystal clear waters of the Caribbean Sea.
It really is enough to leave you breathless!
There are also nature trails and a water park on Half Moon Cay, and you'll spot lots of island wildlife on your nature walk!
I recommend taking a nature walk and then going to the beach to jump in the water and cool off.
When cruise pros dig a little deeper into The Bahamas' 700+ islands, they find hidden gems like Half Moon Cay.​
This one's a private island, and — smile! — you're absolutely welcome here. Grab a Carnival cruise to Half Moon Cay and from your first toe in the sand you'll understand why it's anything but a typical destination. All the features and excitement aboard your Carnival cruise pause for a bit, opening up your vacation with a unique island experience.​
Cozy up and lounge with your personal someone-special in a clam-shell, a shady hideaway for two. Plus, if you're looking for more private stretch-out space there are cabanas and villas to rent.
And who can resist the siren's call of an expert massage by the beach? You know, relaxing is encouraged at Half Moon Cay... but against this pristine backdrop there's still so much to do!
Play in turquoise seas, ride horseback on powdery white sand, or gently paddle a kayak through acres of protected lagoon, encountering silky-smooth stingrays and so much more.
This island is a little off the typical cruise path but isn't a complete mystery — Half Moon Cay was just named Best Private Island by Porthole Cruise Magazine... for the 20th straight year!​
We had a lovely time on Half Moon Cay in the Bahamas. You can find out more about the island and the excursions available on Carnival.com.