Not too long ago, 3,000 lucky fans were treated to an evening of unexpected surprises thanks to world renowned DJ Steve Aoki, who hosted an unforgettable performance that included an appearance by legendary pop superstars Duran Duran.
The defining moment of the night was a Steve Aoki produced remixed performance of the band's classic hit, Hungry Like The Wolf, aptly named, "Hungry Like The Wolf: Steve Aoki vs. Duran Duran - The New York Werewolf Mix" that brought the house down.
Content and/or other value provided by our partner, Trident.
The remix was the joint vision of electronic dance music master DJ Steve Aoki, and Duran Duran, who collaborated for weeks on the reinvention of the song. I wish that I had been there to see it!
I have a passion for music - specifically rock music. When members of different bands get together to collaborate, we tend to call them super groups. Over the years, I've watched many super groups form in the rock and roll genre and I definitely have my favorites!
The first one, and don't laugh at me too much because I am totally dating myself here...
The Damn Yankees. I can't help it. I was born in the 70's, and I grew up listening to 80's music, so when in 1989, Tommy Shaw of Styx and Jack Blades of Night Ranger got together with Ted Nugent and formed Damn Yankees, my little glam-rock heart almost had a heart attack. Unfortunately, they didn't last long due to the rise of Grunge in the early 90's but they were a fantastic band while they lasted.
And then there's Velvet Revolver. Scott Weiland of Stone Temple Pilots? Check. Slash, Matt Sorum AND Duff McKagan of Guns N Roses? Check. Dave Kushner of Wasted Youth? Check. Oh My Gosh. I was on pins and needles for months leading up to the release of Velvet Revolver's first album, Contraband. It was awesome. Magical. It was real rock n roll in a sea of emo pop. But they didn't last...they broke up when Weiland went back to Stone Temple Pilots.
My very favorite super group was Velvet Revolver but I also really loved the collaboration between Travis and Mark on +44 after Blink-182 split up. Of course, they split up as well after only one album, but that made me very happy because they went back to Blink-182, which is my favorite (living) band.
That's the thing about super groups. They never last because these rock n roll legends always really belong somewhere else.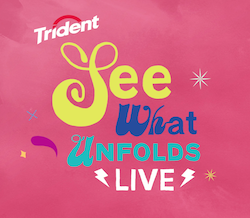 Content and/or other value provided by our partner, Trident.
For more information and to see if the Trident See What Unfolds Live road show will be coming to your city, visit the Trident Gum page on Facebook! Who knows what kind of incredible experiences you will be able to see! I wish I had been there for the Steve Aoki and Duran Duran collaboration, that's for sure!
Trident's See What Unfolds Live is all about spontaneous fun and unexpected collaborations!
What is your favorite collaboration?
Leave me a comment telling me because one lucky reader will win a year's worth of Trident gum (12 packs).
Giveaway is open to US residents 18 and over and ends on September 16th. I received a promotional item to thank me for sharing this information but all opinions are my own.