I have to share a funny story with you guys. My husband is going to be peeved, but it's simply too funny not to share...
Last Thursday, I left for my trip to visit my husband in Barbados. For the few months leading up to this trip, I've been buying new lingerie and sexy stuff from EdenFantasys for this trip - it's our ten year anniversary, after all, and I wanted it to be extra special. I've posted about the company before - they have a wide variety of products, ranging from the sweet and innocent aromatherapy candle to the not-so-innocent fetish toys. They have an amazing selection of lingerie and it's reasonably priced, so I went on a shopping spree for my trip!
As I was packing, I thought, why not add a little spice to the weekend with something new and fun? I decided at the last minute to throw a pair of pink furry handcuffs in my suitcase.
You know who didn't think that they were fun? The TSA at Miami International Airport. Yeah, those guys that go through your bags and confiscate things like toiletries that are too big, lighters, knives, etc...
One minute I was minding my own business, barefoot on that dirty airport floor, wondering if I was going to have to go through the naked-machine or get patted down by some slob in a sweaty polyester uniform...and the next minute, I see my furry handcuffs held up in the air for all to see, in the middle of a very busy security line, as the TSA guy is asking his supervisor...
"Hey, is it okay for this lady to have these sex handcuffs in her luggage?"
Ugh.
It's not like I had a gun-shaped vibrator in there. I mean, look at them. They're obviously not meant to harm anyone - they're pink and furry, for heaven's sake!
Of course the supervisor shook his head and rolled his eyes, and replied that they were okay. The TSA agent had a smart-ass grin all over his face when he put them back in my bag and slid it over to me.
I supposed he expected me to turn red and get embarrassed but the joke was on him.
I had much kinkier stuff in there. He just didn't recognize the rest of it because apparently, he's never seen women's lingerie.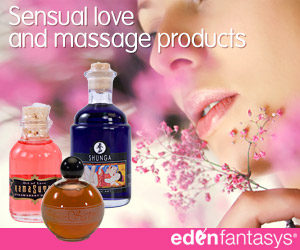 *I received a gift card in order to facilitate this post. All opinions are my own.