This post contains affiliate links.
I have been accused of being "too serious" many times in my life. What can I say, I am a Taurus: I am practical and down to earth and I don't have a lot of time for nonsense. That being said, I do have a lighter side that I allow to shine through every once in a while (usually when I am forced to and don't have a way out)...But really, being silly is so much fun!
Like when I am presented with the opportunity to pal around with silly characters meant for children on a cruise ship. So ahead, judge! I stood in line like everyone else, it was totally fair.
I went to Los Angeles last month to attend a press trip and as usual, I packed a suitcase full of my favorite Karina Dresses. I did that for two reasons: I needed to make getting ready for events as easy as possible because our schedules were jam-packed with activities with ZERO downtime and I knew I would be in a ton of photos and needed to be confident that I would look great no matter what we were doing.
One of our events was doing a voice over for a Disney movie that is coming out next year. It was not optional, so I HAD to do it. I was so nervous and this is something that I would normally say no to and sit on the sidelines while everyone else had fun.
So I did it and it was SO MUCH FUN! I had a blast being silly and while I may have sweated a bit, I am thrilled that I had the opportunity to do such a fun thing in a real Disney studio! I was wearing the Nora in this photo, isn't it adorable?
While I may not be a naturally silly person, I did feel confident walking out of that voice over studio...and immediately began sharing my photos on Instagram. I may not have done the best job growling into the mike (I was told that I sounded like a kitty cat, seriously...), but I looked great in my new Nora by Karina Dresses.
That's all that matters, right? Ha!
The Nora is one of my favorite styles by Karina Dresses because it has a defined waist and a full skirt, so it really flatters my inverted triangle frame. It's not too short and not too long and I have found that it's pretty perfect for every occasion!
Like all Karina Dresses, the Nora dress was specifically made to flatter women with a specific body shape. The Nora dress is great for women with triangle, invert triangle, oval, rectangle, and hourglass shapes. It has a detailed waistband (don't worry, it's not elastic or anything, so it doesn't pinch) and full skirt, so it creates the look of a cinched waist and falls loosely over the hips, camouflaging any hippy issues you might have!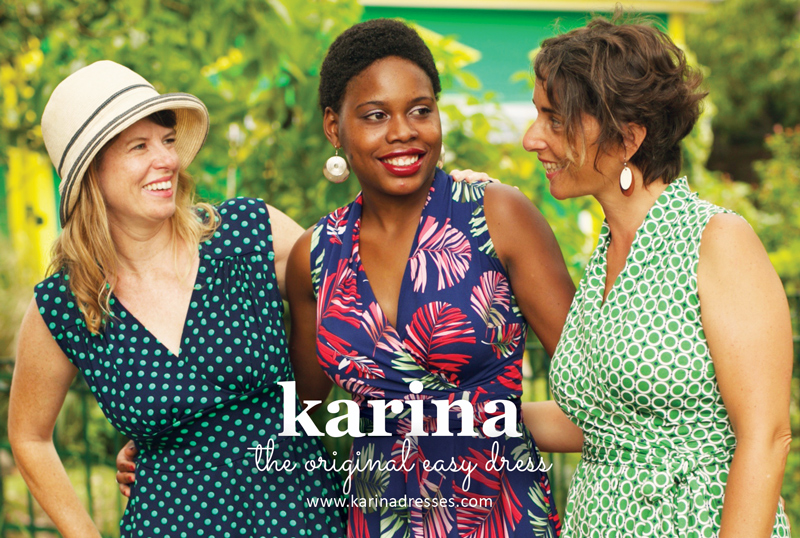 The Karina Dresses Best Fit Guide:
Triangle ~ fuller hips, smaller top
Inverted Triangle ~ broader shoulders or fuller bust with smaller hips
Rectangle ~ hips, bust and waist are similar size
Oval ~ waist and bust are same size with smaller hips
Hourglass ~ curvaceous , full hips and bust
Each style of Karina Dresses were made for certain body types and you can find the perfect dress for your body in the Karina Dresses Best Fit guide.
You can check out Karina Dresses for yourself at KarinaDresses.com. I recommend check out the Best Fit guide before looking at dresses, as each dress is tailor made for certain body types. Also keep in mind that they tend to run on the large side unless it's the pointe fabric. For instance, I am wearing an XS in this photo – every dress I've received for a review so far has been an XS and I normally wear a medium.
Karina Dresses has a newsletter you will want to get in your inbox. Each weekly newsletter has a winner of a new dress selected from the email subscribers. You have to open the email to see if it is you! In addition to giveaways, The Karina Dresses newsletter also has flash sales with the hottest prints at almost 50% off! To make this newsletter even more desirable to join, if you sign up and confirm your subscription (or are already a subscriber and enter this giveaway) you will be entered into the sweepstakes for $1000 in Karina Dresses! Are you ready to join the Karina Nation? Subscribe here!
If you are a blogger and you would like to do a review of a Karina Dress, they choose their reviewers from their affiliates!
You can sign up to be an affiliate here: http://bit.ly/KDAffiliate
You can check out Karina Dresses on social media too!
Follow Karina Dresses on Instagram / Pinterest / Twitter / Facebook