This post contains affiliate links.
I'm kind of known for my love of dresses. While working around the house, I am usually in sweatpants and a tank top or jeans and a tee shirt, but when I go out, it's almost always a dress I reach for. Dresses are just do dang easy! I've been in the Karina Dresses ambassador program for a few months now, and I am psyched to share my newest review dress with you! This is the Audrey by Karina Dresses, in the Red Pin Dot Print.
It's been chilly the last few days in Miami (we got a tiny little cold front of 65 degrees while they actually got SNOW in Northern Florida!), so I am wearing my boots more often. I love that the Audrey dress is just long enough that I can still wear my boots and it doesn't look like I have no legs! Just a tiny bit of knee pokes out, but I can handle cold on just that much skin.
The Audrey by Karina Dresses is actually my favorite style, as you can see it really flatters by frame, and it's super easy to accessorize! For a day time look, I can wear it with flats or sandals, and throw on heels (or high heeled boots) at night with a sweater.
The Audrey by Karina Dresses sells for $158 and is great for triangles, inverted triangles, ovals, rectangles, and hourglass shaped chicks!
It features a v-front, v-back, a full swirl skirt and it is knee-length. It's available in size X/S, which is about a 0-4, to X/L, which fits sizes 16-20. I am 5' 3" and weight about 130 right now (I know, I've gained weight due to baking too many sweets for Christmas!) and this is an X/S on me. It fits snuggly.
The Audrey dress really does come in all sizes to flatter every body! You can visit the Best Fit Guide on Karina Dresses website to find the most flattering fit for your body shape.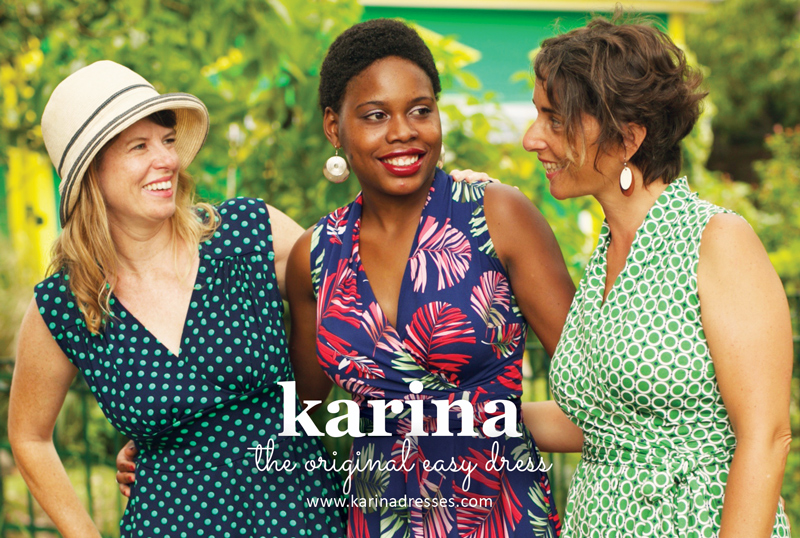 Like all Karina Dresses, the Audrey dress is machine washable and you simply let it hang to dry. Don't throw it in the dryer – and because Karina Dresses NEVER WRINKLE, there's no ironing needed! Yay!
The Audrey dress retails for $158, and in my opinion, it's worth every cent! One of my favorite parts of wearing Karina Dresses is that they are all made in Brooklyn – with love, of course. I don't mind paying a little more for a dress that is handmade, it's a fantastic way to support other women in the business world and hello - MADE IN AMERICA? Need I say more?
Karina Dresses has a newsletter you will want to get in your inbox. Each weekly newsletter has a winner of a new dress selected from the email subscribers. You have to open the email to see if it is you! In addition to giveaways, The Karina Dresses newsletter also has flash sales with the hottest prints at almost 50% off! To make this newsletter even more desirable to join, if you sign up and confirm your subscription (or are already a subscriber and enter this giveaway) you will be entered into the sweepstakes for $1000 in Karina Dresses! Are you ready to join the Karina Nation? Subscribe here!
If you are a blogger and you would like to do a review of a Karina Dress, they choose their reviewers from their affiliates! You can sign up to be an affiliate here: http://bit.ly/KDAffiliate
You can check out Karina Dresses on social media too!
Follow Karina Dresses on Instagram / Pinterest / Twitter / Facebook