This is a Sponsored post written by me on behalf of Scotts Miracle-Gro for SocialSpark. All opinions are 100% mine.
Now that the snow is beginning to melt in other parts of the country, it's starting to heat up in Florida. We Floridians must begin to get our yards and gardens ready for Spring and Summer!
Living in Miami, I know firsthand how the heat and sun can dry out and damage plants...our only recourse is to water our yards and gardens every day - which is a violation of our water restrictions - or to mulch!
Being a Florida gal myself, I am partial to Scotts Florida Select Natural Eucalyptus Mulch, which is made from 100% Florida-grown Eucalyptus. I really love that Eucalyptus Mulch is grown in Florida, for Florida and is a great, sustainable alternative to Cypress mulch!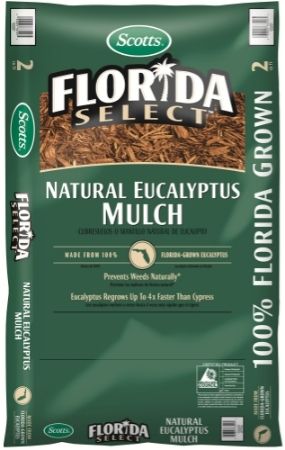 What makes Scotts Florida Select Mulch such a great alternative for your yard?
Scotts Florida Select Mulch is made from plantation-grown Eucalyptus and is sustainably-harvested. It's considered a renewable resource because it can regrow up to four times as fast as Cypress!
It's natural! Made from 100% plantation-grown Eucalyptus trees, Eucalyptus Mulch is guaranteed to be free of any construction, demolition, pallet, or other waste materials. That means that you don't have to worry about any contamination!
It's effective! When using a three-inch layer of Eucalyptus Mulch, it naturally helps to prevent weeds by blocking their access to sunlight so it inhibits growth. This helps you to conserve the moisture in your soil and to help moderate soil temperature.
It's local! Because it's 100% Florida-grown, Scotts Florida Select Mulch helps support our local economy.
We all know that sustainable gardening is becoming important to more and more people, so why not add a great Cypress alternative to your list of gardening supplies the next time you head to the home improvement store?
I can't wait to finally start working on our new garden; we'll need a hoe, flowers, soil and mulch and maybe some of these cool window boxes!
If you aren't in Florida, Scotts Nature Scapes mulch is a great option for all of your landscaping needs! It comes in 3 different colors: Classic Black, Sierra Red, and Deep Forest Brown and they're natural forest products - no waste wood and come in a variety of textures.
Whatever Scotts Mulch you use, it's sure to help maintain moisture, prevent weeds, and create a gorgeous landscape all year long!