This post contains affiliate links.
Last weekend, Chris and I jumped in the car and headed down to Key West to visit with our friend from out of town and enjoy a much-needed getaway from our hectic lives in Miami. Being the savvy traveler that I am, I just threw my bathing suit and a few of my favorite Karina Dresses into my overnight back and I was good to go!
The latest dress I've received in exchange for sharing a review with you guys is the Nora Ruby Dots dress by Karina Dresses. It's so pretty and was perfect for my weekend travels!
Like all Karina Dresses, the Nora Ruby Dots dress was specifically made to flatter women with a specific body shape. The Nora dress is great for women with triangle, invert triangle, oval, rectangle, and hourglass shapes. It has a detailed waistband (don't worry, it's not elastic or anything, so it doesn't pinch) and full skirt, so it creates the look of a cinched waist and falls loosely over the hips, camouflaging any hippy issues you might have!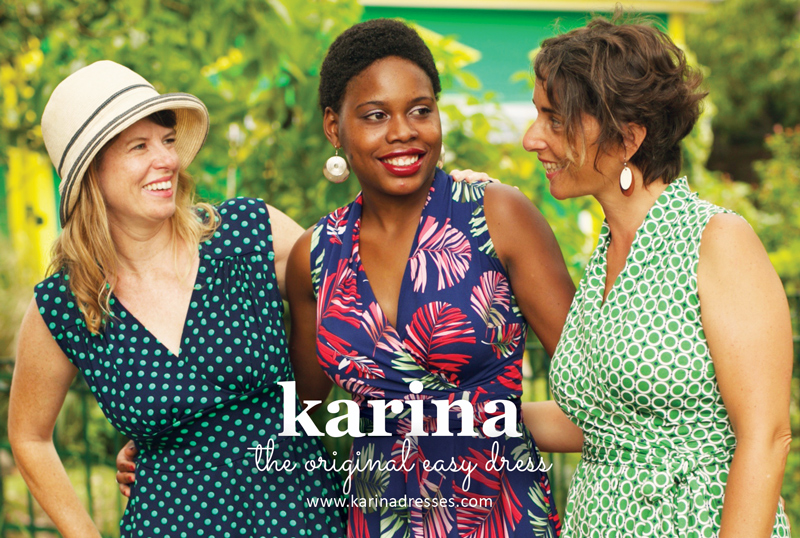 The Karina Dresses Best Fit Guide:
Triangle ~ fuller hips, smaller top
Inverted Triangle ~ broader shoulders or fuller bust with smaller hips
Rectangle ~ hips, bust and waist are similar size
Oval ~ waist and bust are same size with smaller hips
Hourglass ~ curvaceous , full hips and bust
The Nora dress by Karina Dresses has small shoulder cap sleeves, a gathered pleated back bodice, v-cross front bodice, waistband and full swing skirt to the knee, and my very favorite part....it has side pockets! It is available in almost every size possible: X/S fits sizes 0-4 / S/M fits sizes 6-10 / M/L fits sizes 12-16 / X/L fits sizes 16-20.
I love Karina Dresses so much because they are so easy to care for, and are absolutely perfect for traveling gals like myself! They are all machine washable, and you just hang them to air dry - they never need ironing or dry cleaning, and they DO NOT WRINKLE!
Seriously! I just throw them in my drawer, I don't even bother to hang them up in the closet! When I travel, I always throw a few of my Karina Dresses in my bag because they always look fantastic as soon as I throw them on.
The Nora dress by Karina Dresses ranges in price from $99 to $158, depending on the pattern. There are brand new Spring designs in the online store, and I can't wait to get them all!
The Nora is now available in the following colors for Spring: Abstract Floral / Earth / Watercolor / Floral Splash / Tropical Blossom / Holiday Paisley / Black and White Plaid / Retro Dots / Black and White Aztec / Mustard Marbles
The classic Nora designs are: Ruby Dots / Navy and White Polka Dots / White Pin Dots
Karina Dresses has a newsletter you will want to get in your inbox. Each weekly newsletter has a winner of a new dress selected from the email subscribers. You have to open the email to see if it is you! In addition to giveaways, The Karina Dresses newsletter also has flash sales with the hottest prints at almost 50% off! To make this newsletter even more desirable to join, if you sign up and confirm your subscription (or are already a subscriber and enter this giveaway) you will be entered into the sweepstakes for $1000 in Karina Dresses! Are you ready to join the Karina Nation? Subscribe here!
If you are a blogger and you would like to do a review of a Karina Dress, they choose their reviewers from their affiliates! You can sign up to be an affiliate here: http://bit.ly/KDAffiliate
You can check out Karina Dresses on social media too!
Follow Karina Dresses on Instagram / Pinterest / Twitter / Facebook