This post contains affiliate links.
I think it's safe to say that every woman has a little black dress in her closet. You know, the simple but classic wardrobe staple that we grab when we need to look fabulous but can't figure out what to wear? A little black dress needs to be classic, timeless, stylish and still comfortable. I used to have one, and I wore it to everything, from funerals to cocktail parties...until it accidentally wound up in the washer and dryer. What came out was barely recognizable! For my review dress as a Karina Dresses Ambassador this month, I chose the Karina Dresses Adrienne in black - and it is so perfect!
I called my mom and she agreed to go with me to one of our favorite lunch spots for a little photo shoot. The Adrienne is just too cute to model in my backyard!
The Adrienne by Karina Dresses is great for triangles, inverted triangles, ovals, rectangles, and hourglass shaped chicks!
It features a v-front, v-back, ¾ sleeves and it is knee-length. This particular dress is more of a pointe fabric, which doesn't stretch a lot and has a more structured feel to it. I think it looks a little fancier in this material, which is perfect for a little black dress!
It's available in size X/S, which is about a 0-4, to X/L, which fits sizes 16-20. I am 5′ 3″ and weight about 130 right now (I know, I've gained weight due to baking too many sweets for Christmas!) and this is an X/S on me. It fits snuggly.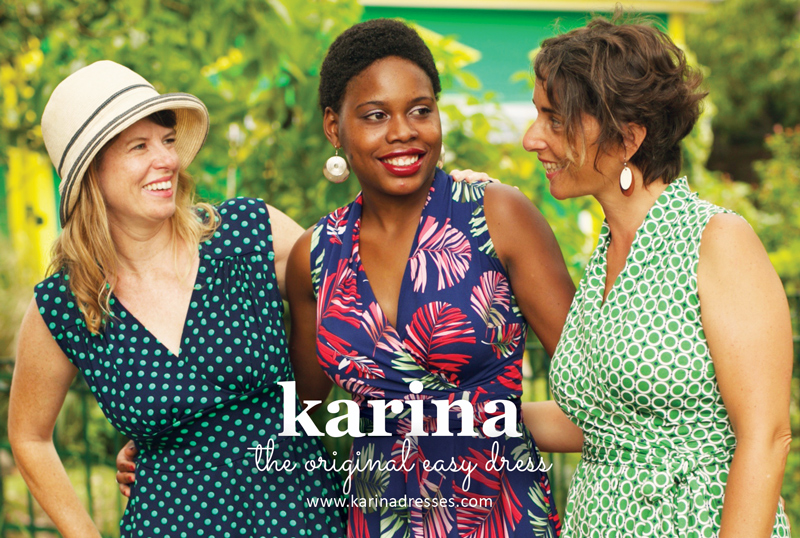 You can visit the Best Fit Guide on Karina Dresses website to find the most flattering fit for your body shape. I love how the website breaks it down for us ladies, showing us exactly what looks good on each body - it really takes the guesswork out of shopping for clothes online!
Like all Karina Dresses, the Adrienne dress is machine washable and you simply let it hang to dry. I love that about Karina Dresses, it makes them so easy to care for, and because you aren't throwing them in the dryer, they hold up SO well over time!
They're also pretty perfect for travel because they don't wrinkle!
The Adrienne dress retails for $88, and in my opinion, it's worth every cent! It is available in Chestnut Tones, Firecracker (which I've reviewed here), Black, Charcoal, Red and Gray Pop Art, Gold Marble and Bronze Leopard too!
One of my favorite parts of wearing Karina Dresses is that they are all made in Brooklyn – with love, of course. I don't mind paying a little more for a dress that is handmade, it's a fantastic way to support other women in the business world and hello – MADE IN AMERICA? Need I say more?
Karina Dresses has a newsletter you will want to get in your inbox. Each weekly newsletter has a winner of a new dress selected from the email subscribers. You have to open the email to see if it is you! In addition to giveaways, The Karina Dresses newsletter also has flash sales with the hottest prints at almost 50% off! To make this newsletter even more desirable to join, if you sign up and confirm your subscription (or are already a subscriber and enter this giveaway) you will be entered into the sweepstakes for $1000 in Karina Dresses! Are you ready to join the Karina Nation? Subscribe here!
If you are a blogger and you would like to do a review of a Karina Dress, they choose their reviewers from their affiliates! You can sign up to be an affiliate here: http://bit.ly/KDAffiliate
You can check out Karina Dresses on social media too!
Follow Karina Dresses on Instagram / Pinterest / Twitter / Facebook
Each of these bloggers is highlighting a dress from Karina Dresses! Hop around to each one and earn extra entries towards the $1000 Karina Dress Sweepstakes!