This post contains affiliate links.
It's not every day that a clothing brand creates a dress just for you. While that hasn't happened for me yet, it did happen recently for my friend Jennifer at Makobi Scribe! Karina Dresses created the Jenny just for Jennifer, and seeing how we share the same name and love of Karina Dresses, I knew that I had to review it this month when I went to Cozumel!
The Jenny dress by Karina Dresses is sleeveless with a sweetheart v-neckline that is slightly crossed in the front for nice coverage of your chest while still showing a little bit of skin, and it swings at the bottom to create a nice definition in the waist.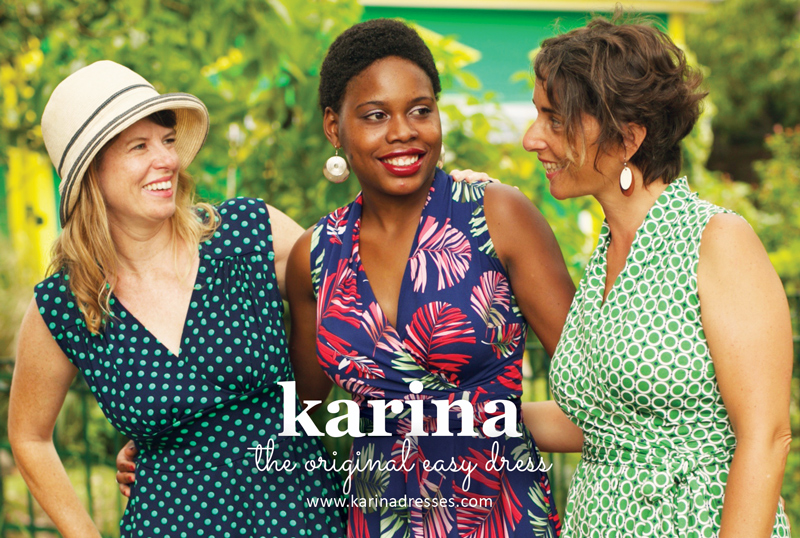 It's knee length, even on me, the little shorty that I am! One of my issues with ordering my Karina Dress each month is finding one that won't be too long for my tastes, and the Jenny is perfect - it hits me right at the knee, which is exactly how I like my dresses to fall.
It is available in almost every size possible: X/S fits sizes 0-4 / S/M fits sizes 6-10 / M/L fits sizes 12-16 / X/L fits sizes 16-20.
The Jenny dress by Karina Dresses ranges in price from $99 to $158, depending on the pattern. This is a brand new style, so there may be additional patterns coming in the future, but right now the Jenny is offered in the following patterns: Black with Neutral Dots, Black with White Pin Dots, Holiday Paisley, Scarlet Poppy and Floral Splash.
Like all Karina Dresses, the Jenny is machine washable, and you just hang it to air dry – it never needs ironing or dry cleaning, and will always be wrinkle-free because of the blend of rayon/polyester. This no-ironing, never-wrinkle feature is what makes Karina Dresses my go-to clothing whenever I travel.
I always throw a few Karina Dresses in my suitcase when I am packing, because no matter where I am headed, I can always make a dress by Karina Dresses work for the occasion! While on my recent cruise to Cozumel, my Jenny by Karina Dresses was the perfect dress to wear on my shore excursion with one of my favorite travel companions, Stefani from MommyMusings.com!
While all Karina Dresses are specifically made to flatter women with a specific body shape, the Jenny by Karina Dresses is actually created for every body shape except for Apple. This makes it the perfect dress for almost anyone!
The Karina Dresses Best Fit Guide:
Triangle ~ fuller hips, smaller top
Inverted Triangle ~ broader shoulders or fuller bust with smaller hips
Rectangle ~ hips, bust and waist are similar size
Oval ~ waist and bust are same size with smaller hips
Hourglass ~ curvaceous , full hips and bust
Karina Dresses as so versatile, they're really the perfect dress. You can dress them up with heels and accessories, throw on a cardigan or blazer to make them extra office-appropriate, or just pair them with sandals for a casual and comfortable, but still put-together daytime look.
Karina Dresses has a newsletter you will want to get in your inbox. Each weekly newsletter has a winner of a new dress selected from the email subscribers. You have to open the email to see if it is you! In addition to giveaways, The Karina Dresses newsletter also has flash sales with the hottest prints at almost 50% off! To make this newsletter even more desirable to join, if you sign up and confirm your subscription (or are already a subscriber and enter this giveaway) you will be entered into the sweepstakes for $1000 in Karina Dresses! Are you ready to join the Karina Nation? Subscribe here!
If you are a blogger and you would like to do a review of a Karina Dress, they choose their reviewers from their affiliates! You can sign up to be an affiliate here: http://bit.ly/KDAffiliate
You can check out Karina Dresses on social media too!
Follow Karina Dresses on Instagram / Pinterest / Twitter / Facebook