This post brought to you by IKEA Foundation. All opinions are 100% mine.
IKEA Foundation has a plan. A plan to change the world for kids in the poorest communities in the world, to improve lives, to provide opportunities and to offer hope for the future through the
IKEA Foundation Child Labor initiative
.
On World Day Against Child Labor (June 12th),
IKEA Foundation Partners
announced Phase 2 of an amazing plan that will protect 790,000 kids living in cotton communities in India, children that would otherwise be destined for a life of brutal child labor. During Phase 1 of this plan more than 600,000 children were reached. IKEA Foundation is helping to keep kids out of the cotton fields and in classrooms, where they have the opportunity to learn, to play, to laugh, to thrive as children.
In India, there are more than 13 million children from ages 5 to 14 that actually work in factories, fields and on farms. Most families in India are working for a sum of less than two U.S. dollars a day. Without intervention and a plan of sustainability, child labor will continue to be a problem. IKEA Foundation focuses on four fundamental areas of a child's life: a place to call home; a healthy start in life; a quality education; and sustainable family income. This strategic approach provides results that change a community one family at a time.
IKEA Foundation's CEO, Per Heggenes says:
"We know there is no quick-fix solution to ending child labor, but long–term approaches can yield impressive results. The IKEA Foundation, with our partners, has been tackling this issue in India for nearly a decade. This new phase reinforces our long-term commitment and our desire to help millions more children out of child labor and back into the classrooms."
IKEA Foundation has already had many successes! Since their inception, they've helped more than 10,000 migrant children move back into their home communities, they've improved school enrollment rates in participating villages with nearly 2,000 trained teachers.
Aid has been provided to 1,866 Anganwadi health and education workers so that they can get training in teaching practices so that each village in the program a skilled community worker. Isn't that an amazing start?
Child labor in India is a serious issue. Children need a chance to develop, time to learn and tools that will provide opportunities for a brighter future. IKEA Foundation has a plan that will change communities and keep children from child labor, but the IKEA Foundation needs our help!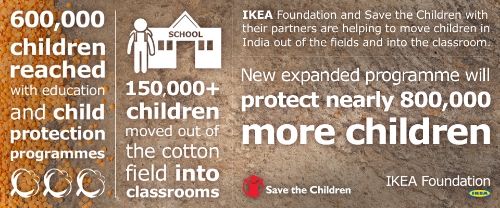 I would love for you, my readers, to help spread awareness by sharing this inforgraphic on social media as much as possible!