This post brought to you by Bahama Breeze. All opinions are 100% mine.
What are you doing this summer? Are you ready to kick off the summer fun in a big way? This summer, thrown on your flip flops and head over to the Bahama Breeze Summer Beach Bash,where everyone is invited to join the fun!
The Summer Beach Bash at Bahama Breeze will run from June 23rd through August 3rd and promises to bring you the spirit of the islands – but don't worry, there's no passport necessary! From live music inspired by the tropics, the Ultimate Pineapple signature cocktail and a very special Instagram Selfie Contest, there's no better way to celebrate the spirit of summer than heading over to Bahama Breeze!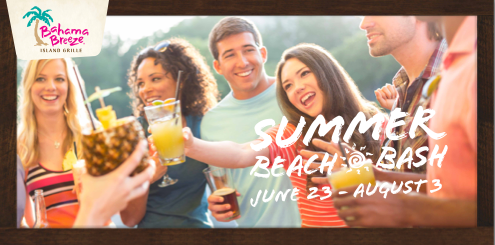 The Summer Beach Bash at Bahama Breeze is especially hot on Saturday nights, which is when Chris and I will be heading out to check out the fun! On Saturdays, Bahama Breeze cranks the live music and even brings out a special made to order mojito bar!
You guys know how much I love mojitos, right? They're my signature cocktail! At Bahama Breeze's Summer Beach Bash, the mojito bar has a tropical theme and you can choose your fruit and rum, then watch as their experienced bartenders mix up the best cocktail of the islands! I can't wait to attend the Bahama Breeze Summer Beach Bash and share my experiences in real time with you all on social media. You can be sure that I will enter the #MyBBSelfie Instagram contest while I am there!
The #MyBBSelfie Instagram Contest is a fun way to capture the fun while you are living it up at the Bahama Breeze Summer Beach Bash – just share your selfie with the hashtag #MyBBSelfie on Instagram and you will be entered to win a $25 Bahama Breeze gift card and fun swag! Visit your local Bahama Breeze now through August 3rd to experience the Summer Beach Bash for yourself!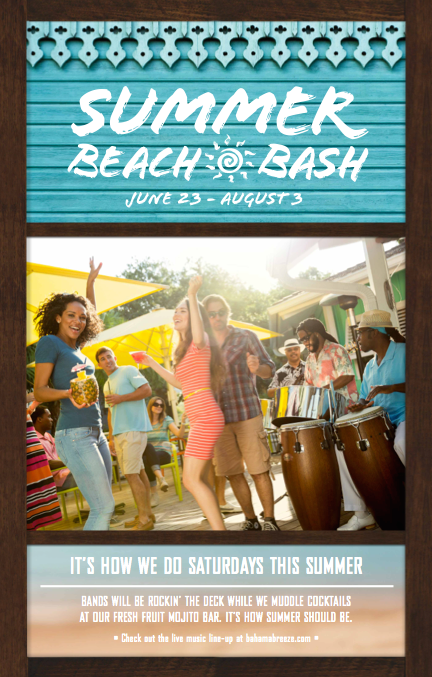 Seriously, Bahama Breeze is the summer destination for good times and you don't want to miss out! Between the tropical décor, the live music and of course, the delicious food, it's impossible to walk out of Bahama Breeze without feeling like you've taken a little trip to the tropics!
Check out my review of the Summer Beach Bash at Bahama Breeze, where I share my very own $50 Bahama Breeze gift card giveaway!