This post contains affiliate links.
So I'm kind of falling in love with Karina Dresses. When I receive my new dress each month as part of the Karina Dresses blogging review program, I find myself browsing the website looking for the next month's dress...because I seriously can't get enough of them!
I thought I'd embrace the trend of wearing darker colors for the fall, so I chose a red Audrey dress for this month's review. I love it!
I'm wearing the Karina Dresses Audrey dress for this month's review, and while it's similar to the dress I shared with you guys last month, it's a little dressier and totally makes me want to break out in song!
Lady in Red....
You see why, right? This dress is sexy while still being sophisticated, and fancy without being too fancy.
I love that it has a V neck and a V back; that's something that you don't see every day, right? The knee length makes it appropriate for any occasion, and you can dress it up with heels for a night out, or dress it down with strappy sandals when you want to be a little dressed up for that Saturday morning brunch with the girls!
The material is so soft, and is really flattering for my frame. The Audrey dress is great for triangle, invert triangles, oval, rectangle and hourglass gals because the high waist accentuates the smallest part of your body, and the full skirt hides any hip issues you might have...believe me, this Cuban girl knows all about hip issues!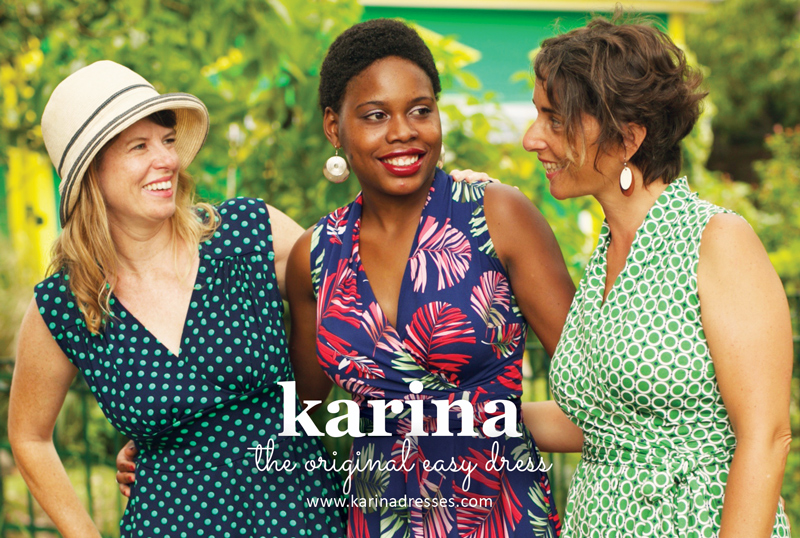 Karina Dresses are a unique brand in that they design their dresses specifically to flatter certain body types! Like the Audrey dress, each dress in the line is made to make you look your best! There's even a handy body shape guide that helps you find your best fit on the Karina Dresses website!
Audrey Dress Specifics:
v-front, v-back, full swirl skirt, length to knee
X/S fits sizes 0-4
S/M fits sizes 6-8
M/L fits sizes 10-14
X/L fits sizes 16-20
Now, I think that Karina Dresses sizing is a little generous. I am 5'2 ¾" and weigh 126 pounds right now, and I fit into a size XS - and I know I am not really a 0-4 size. My first dress shipments were size S/M, because I normally wear a 6, and they fit me but were a bit loose. If you like your clothes to hug your body and are at the low end of the sizing guide, I suggest considering going a size smaller.
Like all Karina Dresses, the Audrey dress is machine washable and you simply let it hang to dry. Don't throw it in the dryer - and because Karina Dresses NEVER WRINKLE, there's no ironing needed! Yay!
The Audrey dress retails for $99, and in my opinion, it's worth every cent! One of my favorite parts of wearing Karina Dresses is that they are all made in Brooklyn - with love, of course.
You can sign up for the Karina Dresses newsletter to be notified of special sales - like their sale last week, which was buy one get one free!
If you are a blogger and you would like to do a review of a Karina Dress, they choose their reviewers from their affiliates! You can sign up to be an affiliate here: http://bit.ly/KDAffiliate
You can check out Karina Dresses on social media too!
Follow Karina Dresses on Instagram / Pinterest / Twitter / Facebook