This post brought to you by Purina. The content and opinions expressed below are that of The Rebel Chick.
Having four cats ensures that I always get a workout from lugging cat litter around. From putting it into the cart, the car, then carrying it to the litter box in my laundry room and again to my office, it's enough to tire me out! I can hardly imagine having to cart heavy cat litter on a bus or up and down apartment building stairs. Not to mention the scooping and emptying of the litter box - it's definitely not my favorite part of having cats in the family. Stripes, Gizmo, Tarzan, and Hazel are appreciative of fresh, clean litter and boxes, but my arms aren't always as happy after I'm done tending to it! I'm very happy that Tidy Cats, by Purina - the very same that invented the first cat litter - created Tidy Cats Lightweight Litter, which has all the strength (but half the weight) of its predecessor.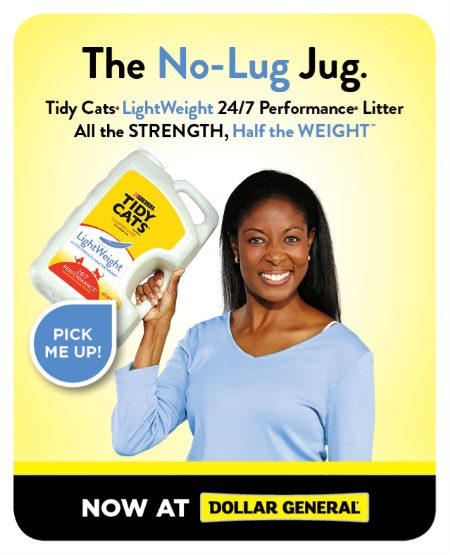 Tidy Cats Lightweight Litter tackles even the toughest odors, and let's face it: cat waste is about as odorous as it gets. The stench of cat poop, the pungent smell of ammonia - the last thing I want is for my home to smell like cats, so I really appreciate the continuous odor control that Tidy Cats Lightweight Litter provides. Scooping is super easy with light and tight clumps because this formula is powerfully absorbent. This definitely saves me on time and it's just all-around easier to scoop!
With four cats, it could easily take me a chunk of time cleaning the litter boxes, but because of the absorbency and tight clumps, I can scoop and get on with my day. As soon as I begin to clean the litter box, the cats come running - it's obvious that they prefer a clean, fresh litter box. Think about it, do you like walking into a dirty bathroom?
I think that a big part of why people allow their cat's litter box to overflow is that it's a pain to clean it.
Most cats don't like a full litter box, and will resort to doing their business elsewhere - like the bathtub, the bathroom sink, the laundry hamper...pretty much everywhere that you wouldn't want your cat to do their business!
It's especially important to keep your litter box clean when you have multiple cats. With one cat, you might be able to get away with not cleaning the litter box for a few days, but with four cats, we have to clean it on a daily basis.
Tidy Cats Lightweight Litter by Purina makes scooping the litter box easier, so now you have no excuses!
Tidy Cats Lightweight Litter by Purina is now available at Dollar General in a resealable, recyclable 8.5 lb jug. I know that doesn't seem like a lot, but it's the same amount of product - but half the weight - of 20 lbs of the leading scooping litter. It makes it so much easier to carry, you don't even need two hands!
I like that the jug is resealable for when I'm adding to the litter boxes rather than completely changing the litter.
From now through 12/1, you can pick up Tidy Cats Lightweight Litter for $11.50 at Dollar General. This is a fantastic price - especially when you figure in the time it saves as well as the ease of carrying it around! You can learn more about Purina® pet foods, treats and litter available at Dollar General here.