This is a sponsored post written by me on behalf of Cooper Tire. All opinions are 100% mine.
Fall is here. Am I the only one who feels like they spend most of their day running from place to place? It's a good thing I enjoy my my vehicle because I've been spending an increasing amount of time in it lately! Although I'm sure that's true for many parents as we head back to fall routines and extra curriculars. Then holiday travel is right around the corner from here, which makes regular car maitnence more important than ever.
From making sure the basics are taken care of like fluid levels and regular oil changes, it's also important to take care of our tires. In addition to better fuel economy and a better driving experience, getting new tires regularly helps maintain proper traction in order to avoid potential disasters from fall roads covered with slippery leaves, rain or early snowfall.
If you're in the market for new tires, make sure you check out the Cooper Tire Fall Rebate Event now through October 31st. Not only are Cooper Tires giving great offers on tires, but consumers are eligible to receive a prepaid Visa card worth up to $70 when purchasing a new set of four qualifying Cooper Tires through participating dealers. The Rebate Event is a great time to check out Cooper's best-in-class products: the Discoverer SRX, the Discoverer STT Pro and the CS5 Touring.
The Cooper Discoverer SRX
The Discoverer SRX is a dedicated SUV and CUV tire that is available in numerous sizes. Recently available in 30 additional sizes, fitting a wide range of SUVs and CUVs, making it the perfect tire for summer road trips. The desing features Cooper's innovative Wear Square, the company's exclusive visual tread life indicator.The Wear Square is located at six points of reference around the inside and outside of the tread. Throughout the tire's lifetime, the square changes shape beginning with a full square and ending with an exclamation mark when tire tread is low.
The Discoverer SRX offers a premium 65,000-mile Tread Wear Protection Warranty and a 45-Day Road Test guarantee ensure a confident choice and smooth ride for SUV and CUV drivers, if you aren't satisfied with your Discoverer SRX tire purchase you may return them to your original dealer within 45 days of purchase for a FREE OF CHARGE Cooper brand replacement only, including mounting and balancing.
The Cooper Discoverer STT Pro
The Discoverer STT is Cooper's latest high performance dedicated off-roading. The design allows drivers to take advantage of off-road capabilities without sacrificing high on-road performance.
The Cooper CS5 Touring
The CS5 Touring provides real-life performance, in real-life conditions for everyday drivers. Like the Discoverer SRK, the CS5 features Cooper's innovative Wear Square, and the premium 65,000-mile Tread Wear Protection Warranty and a 45-Day Road Test guarantee.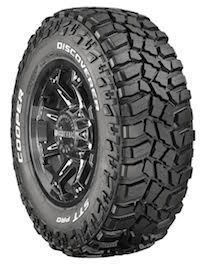 Use the Dealer Locator to find a participating location for the Cooper Tire Fall Rebate Event.