This is a sponsored post written by me on behalf of Buca di Beppo. All opinions are 100% mine.
The Holidays are a magical time of year, but they can also be stressful. Finding the perfect gifts, cleaning for guests, and planning the Holiday menu, it's enough to wear you out! Give yourself a break - in at least one aspect - and let Buca di Beppo cater your party. Whether you're in charge of this year's office party or the family get together, Buca di Beppo's takes the hassle out of Holiday party planning.
Buca di Beppo first opened its doors in the basement of a Minneapolis apartment building, in 1993. Today Buca di Beppo is a collection of neighborhood restaurants with over 86 locations nationwide. Bring the lively atmosphere of friendship and authentic Italian foods to your home or office with Buca di Beppo's catering.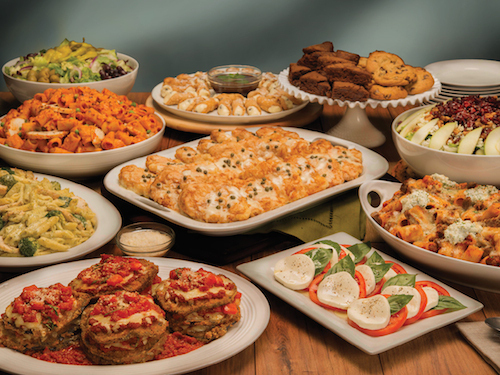 With Buca di Beppo's catering, guests of your party can enjoy the spirit of Italian culture with family-style dishes - meant to be passed around and shared -.Order Party Pans To Go These can be picked up or even delivered. Available in half or full sizes, the pans can accommodate any size group or budget. Buca di Beppo makes party planning easy with a diverse menu that's sure to please everyone! There are pre-set celebratory packages and even Holiday feasts featuring turkey or ham. Additionally, opt to build your own menu from a wide variety of pasta, baked pasta, entrees, side dishes, and desserts.
Remember to add garlic bread and drinks to your order! Some of the available items include: Fettuccine Alfredo, Spaghetti Marinara, or Spicy Chicken Rigatoni. There are a variety of salads to choose from like antipasto, Caesar, and apple gorgonzola. Desserts such as cookies, brownies, cannolis, and of course Tiramisu round out the meal. Each meal comes ready with plates, utensils, and napkins making for no-stress, quick clean up!
My mouth is watering at all the amazing Italian dishes to choose from and I know each would be a huge hit at my next party. Buca di Beppo's would be the perfect addition to our family festivities. The family style dishes reinforce what the Holidays mean to me - sharing! Visit the Buca di Beppo site for the full menu offerings. Sign up for their eClub and get free pasta for your birthday!