This post contains affiliate links.
Over the past year or so, I have received quite a few styles of Karina Dresses as part of my Karina Dresses Frockstar ambassador program. I love working with this brand because it's so easy to find a dress that will flatter your frame when they are specifically MADE for your frame! I mean, really, how much easier could they make it? It's like choosing an outfit that has been specially tailored to you!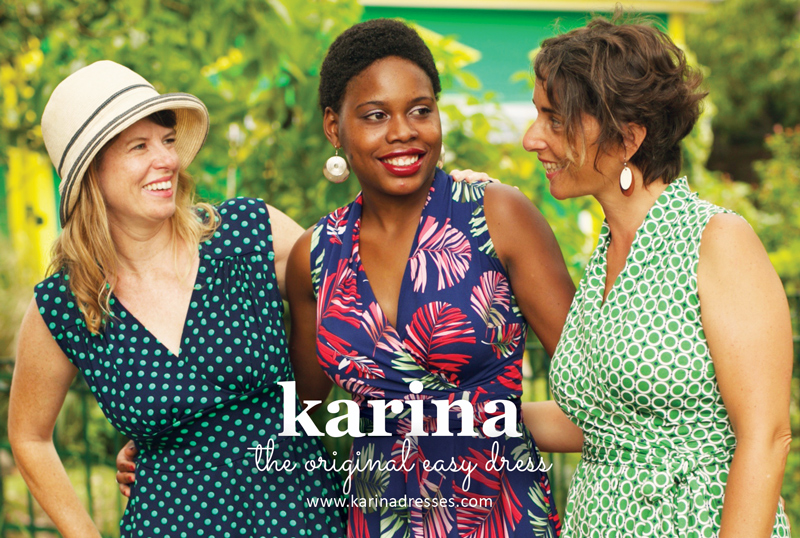 I have been experimenting with different styles over the last few months, as I have gained quite a bit of weight during my summer travels...why does that always happen?! It's nice to know that I can still throw on style by Karina Dresses and I will still look good - they have a little bit of give to them, so even though I've gained ten pounds since the beginning of the year, they still fit! Perhaps not as loosely, but hey - as long as they're not cutting off circulation and I can breathe, I am fine.
I am really loving the Ruby by Karina Dresses right now, and have ordered it in a few different patterns, as it makes for a fantastic travel dress!
I even started branching out and trying more vibrant, bold patterns - something that goes against the very core of my existence.
I am not a fan of patterns. But I am trying! The top dress that I have pictured was just a bit much for me, so when my dear friend fell in love with it on a recent trip, I gave it to her. Hey, I am all about spreading the love!
I went shopping a few months ago before setting out on a Caribbean cruise and wouldn't you know it, I actually couldn't find anything that I liked as much as the Ruby by Karina Dresses that I wore on my shopping trip.
I have to tell you, I love to shop - and this is not something that happens very often!
I love the cinched, defined waist that is created by that faux wrap, and the full skirt that really hides all of my problem areas. If the Ruby had pockets, it would be my new favorite dress for sure! Right now it's a toss up between the Ruby and the Penelope by Karina Dresses!
Each style of Karina Dresses were made for certain body types and you can find the perfect dress for your body in the Karina Dresses Best Fit guide.
The Karina Dresses Best Fit Guide:
Triangle ~ fuller hips, smaller top
Inverted Triangle ~ broader shoulders or fuller bust with smaller hips
Rectangle ~ hips, bust and waist are similar size
Oval ~ waist and bust are same size with smaller hips
Hourglass ~ curvaceous , full hips and bust
You can check out Karina Dresses for yourself at KarinaDresses.com. I recommend check out the Best Fit guide before looking at dresses, as each dress is tailor made for certain body types. Also keep in mind that they tend to run on the large side unless it's the pointe fabric. For instance, I am wearing an XS Ruby by Karina Dresses in these photos – every dress I've received for a review so far has been an XS and I normally wear a medium.
Karina Dresses has a newsletter you will want to get in your inbox. Each weekly newsletter has a winner of a new dress selected from the email subscribers. You have to open the email to see if it is you! In addition to giveaways, The Karina Dresses newsletter also has flash sales with the hottest prints at almost 50% off! To make this newsletter even more desirable to join, if you sign up and confirm your subscription (or are already a subscriber and enter this giveaway) you will be entered into the sweepstakes for $1000 in Karina Dresses! Are you ready to join the Karina Nation? Subscribe here!
If you are a blogger and you would like to do a review of a Karina Dress, they choose their reviewers from their affiliates!
You can sign up to be an affiliate here: http://bit.ly/KDAffiliate
You can check out Karina Dresses on social media too!
Follow Karina Dresses on Instagram / Pinterest / Twitter / Facebook