Thanks to the astounding attractions of Dubai, it is a favorite for family vacations. The epic beaches, the vast desert, and world record holding architectures all together make Dubai a must visit. If you are planning for a family vacation and looking for reasons to select Dubai, here's a whole list of them.
Best Places to visit in Dubai for Perfect Family Vacation
Burj Khalifa
Whether it is for family, friends or couples, one destination that is always on the top of the must- see attractions list is the mighty Burj Khalifa. Take your family to the 144th floor observation desk and let them see the world in a completely different way.
Miracle Garden
A garden that holds over 45 million flower types decorated in various shapes and sizes is a perfect way to spend a day with family. One has to see it to believe the sprawling area of 72000 square meters adorned with beautiful flowers. It is the world's largest flower garden and a delight to visit with the whole family together.
Dubai mall
Dubai mall is a place that can be of interest for all age groups right from the eldest to the youngest. It is your place to be for a fun filled exciting day. With over 1200 shops, 200 restaurants and various entertainment options, you are sure never to get bored of the Dubai mall.
Wild Wadi Waterpark
A place we guarantee your kids would not want to come back from is Wild Wadi Waterpark. One of the best water parks in the world, this one has adrenaline fueled rides, water splashing wave pools, and numerous rides that your whole family can enjoy. While in Dubai, the Wild Wadi Water park is a must visit for your entire family.
Take a Limousine ride
Dubai is all about experiences and while in the majestic city, why to refrain from a royalty ride of a Limousine? Don't worry you don't need to own it to ride on it. You can easily opt for a family holiday package inclusive of limousine ride around the city and many more great deals.
Dubai Underwater Zoo and Aquarium
Nothing excites kids than a great zoo and if that is an underwater zoo then we don't have to guess their level of excitement. Whether it is the marvel of the 10 million water tank or the aquarium tunnel with rare species of marine lives, the Dubai Underwater Zoo and Aquarium can easily be one of the most memorable experiences for your family.
The Global Village
The Global Village is certainly one of the best places to visit in Dubai with family. Built as a part of the sprawling Dubailand, the Global Village takes you to an exciting journey of over 70 country pavilions depicting the best of their cuisine, entertainment and souvenirs. A perfect place to spend an enjoyable evening with family, the Global Village should definitely be on your must-visit list of Dubai places.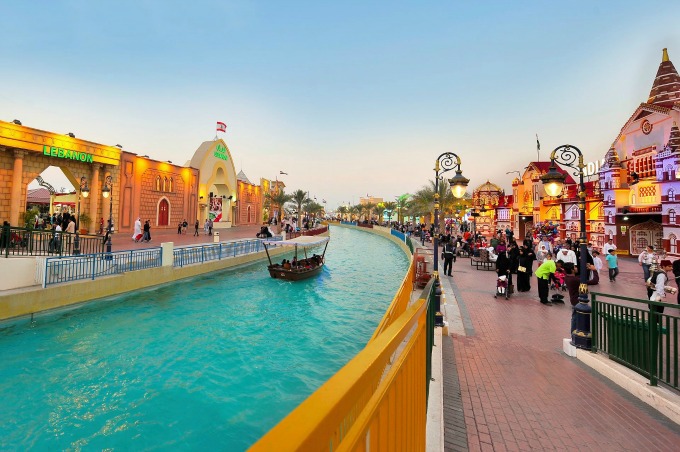 Dhow Cruise
After a hectic day of shopping, roaming and enjoying the dazzling Dubai, the two hour Dhow cruise can be the best way to end a perfect day in Dubai. The cruise takes you through the Dubai creek and allows you to admire the majestic Dubai skyline in a completely different way. As an add-on to a relaxing cruise, you enjoy a delectable buffet of international cuisine along with other entertainment options.
The Dubai Museum
There can't be a better way of knowing the admirable history of Dubai than to visit the Dubai Museum. Maintained beautifully, it houses the best of Dubai's historical findings ad artifacts that gives you a peek in to the pre-oil era and the Bedouin times when Dubai was nothing but a fishing village.
A family day out in the Safa Park
A perfect day out for families, Safa Park is all about greenery, fresh air and quality together time for one and all. A family park with a boating lake, Safa Park has over 200 species of birds and is a popular playground and picnic spot for families.
Ibn Battuta Mall
A person who has been to the Dubai Mall might feel there's nothing much left to see in other malls, but Ibn Battuta mall is actually a very different experience for a mall. It is the largest themed mall in the world and boasts of over 270 shops and over 50 restaurants. The discriminating factor of the mall lies in the fact that it is divided in to 6 courts and each of the 6 courts is inspired by different countries visited by the famous explorer Ibn Battuta. These 6 courts are Egypt, India, China, Andalusia, Tunisia and Persia court.
Ski Dubai
One of the most famous and world renowned attractions of Dubai is the Ski Dubai. The world's largest indoor ice rink with real penguins, tubes, rides, slides and the world's first indoor black diamond run. Whether it is the toboggan runs, the icy body slides or simply the fun in making snowmen, Ski Dubai is one place your family would never want to come out from.
Dubai is one of the few cities in the world that is very child friendly, cosmopolitan and extremely safe. And with minimal procedures, you can easily get a Dubai visa for your family trip. Whatever you may fancy eating, enjoying or visiting; Dubai has an answer to it. The only thing parents would want is to see their kids enjoy on a vacation and Dubai has innumerable options for the same. So don't delay to take them on a memorable vacation with Imonholidays that will be cherished for many years to come.
Author Bio
Neha Signh is a postgraduate in Mass Communications, who loves everything about life. Traveling is extremely close to her heart and writing came to her naturally. An avid trekker & explorer, who often takes off some time from her busy life for mountaineering. She loves meeting new people & gets attached to their culture very easily. Her ambition is to explore as many places as she can in her life. She strongly believes in Gandhian principle – "simple living high thinking".