I grew up in the last generation without the internet. I didn't hear the word "cellular phone" until I was in my late teens. AOL was a real thing back in my day, and I remember the "DotCom Bubble" in the late 90s and early 2000s...let's just say that I grew up in a different age, and it definitely wasn't the age of technology. While some may say that the older generations have a hard time accepting and embracing technology, that certainly hasn't been the case for me! I was the first person in my entire family to have a computer, and the second or third to have a cellular phone. I ran with the technological advancements and never ever looked back. New computers? Yes. New tablets? Yes. New smart phones? Yep, I was the first in my family to use a smart phone too, way back in 2006 when I first heard about a smart phone through a now non-existent provider, and then the 8125. Oh how times have changed! I recently started playing around with a Samsung Galaxy S7 Edge and WHOA have smart phones come a long way since that little brick with a keyboard that I had back in 2006. Just as an example, take the Samsung Health App that's already built into the Galaxy - all Samsung phones, for that matter. It's an all-in-one app that tracks many aspects of your health!
The Samsung Health App is built right into your Samsung phone and does't even need to be downloaded! Thank you, Samsung, for giving me one less thing to worry about! I love that it's already there, waiting for me! Samsung Health tracks your activity, nutrition and sleep, and delivers insights based on your progress. You can use it set your health goals, track your activity, get insights based on your lifestyle, stay motivated, and of course, all of your health information secure within the app.
If you're already using other fitness and health-related apps, they may be compatible, as Samsung Health tracks your biometric data and syncs with many partner apps such as MyFitnessPal, Garmin, and MapMyRun to gather more information about your health. You can find out about all of the compatible apps at Samsung Health.
I just returned from a fitness voyage in the Greek Islands, and I am starting to work on my fitness in a very real way. I recently gained a few pounds, which I am hoping to get rid of pretty quickly using a combination of Yoga, light cardio and following a relatively low carbohydrate diet.
Why did I gain that weight? Well...two back to back trips, then evacuating for a hurricane, then traveling to two different counties within three weeks, combined with tons of different foods, activities, etc...sometimes we aren't eating right and the pounds sneak up on us! I was really pleased to learn about this app as I was on my way home from this trip, as I knew that I needed to lose weight, but also, for the first time in a while, I was taking fitness seriously, and I knew that the Samsung Health App would help me achieve my goals and keep me motivated along the way!
Of course, there's always something in the way of getting fit and healthy, right? Or sometimes, maybe we just think there is...I began getting sick during the last part of my trip in Greece, and came home thinking I had strep throat or worse!
That's where Samsung Health's Ask an Expert came in handy for me, and it can for you too!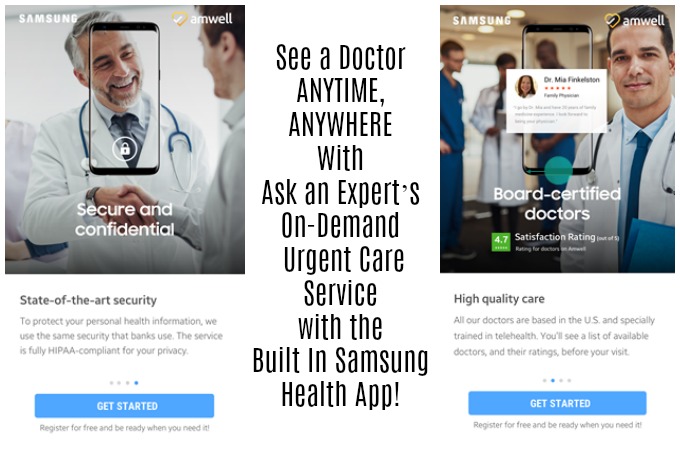 What is Ask an Expert? I know, the idea may seem a little far-fetched, but just keep in mind how far technology has come! With the Samsung Health app, you can see a doctor online ON YOUR PHONE. Yep! You can see a board-certified doctor in just minutes with no appointment necessary. They're available 24/7 and these online doctor consultations are covered by many of the nation's top health plans. You can even get a prescription, if needed, sent directly to your local pharmacy!
Ask an Expert currently offers urgent care services only. In October, they will be launching specialty services such as nutrition and therapy services, by appointment.
Common Conditions we treat with Urgent Care
Sinus infection
Cold/upper respiratory infection
Bronchitis
Sore throat
UTI (Urinary Tract Infection)
Yeast Infection
Cough
Eczema
Pink Eye/Conjunctivitis
Stomach Infection (Gastroenteritis)
Hypertension/high blood pressure
Flu
I was able to use Ask an Expert to speak to a doctor about not feeling well, and he ruled out Strep Throat and an ear infection (I always assume that I have an ear infection because I was getting them every month for a period of time last year), as I didn't really have any of those symptoms.
What if you aren't sick? You can still get advice from a doctor just like you would from your regular old general practitioner, like getting expert medical advice on how to prevent your family from getting sick this flu season.
You can even share biometric data with your doctor.
Samsung Health measures these health data points:
Pulse (bpm) - The pulse is the measure of the heart rate, which is the number of times the heart beats per minute. The pulse rate may go up or down depending on various factors, including exercise, illness, injury, and emotion. A normal resting pulse rate for healthy adults is between 60 and 100 beats per minute.
SpO2 - The pulse-ox measures the percentage of oxygen in the blood. The percent of oxygen in the blood can go down if a person is not breathing well, such as during an asthma attack or when they have pneumonia. It also might be low if a person has a disease such as congestive heart failure.
Blood Pressure - Blood pressure is the force of the blood pushing against the artery walls. Blood pressure can vary depending on exercise, illness, injury, and emotion. However, consistently high blood pressure is called hypertension and is related to a higher risk of heart attack or stroke.
Weight (self-reported) - Weight is an important measure to understand the general health of adults or children. Any unintended rapid weight loss or weight gain is a sign of a potential illness.
Glucose (self-reported) - Glucose is the amount of sugar in the blood. Normally the body can regulate sugar in the blood appropriately, however, in times of illness, blood sugar can become dangerously high or low. Also, patients who have conditions like diabetes need their blood sugar closely monitored to ensure that they are at normal levels.
People who sign up for Ask an Expert can earn Samsung rewards points, subject to the terms and conditions you can find here: Samsung Health.
Right now you can save $10 OFF of a doctor visit with the promo code SAMSUNG18. Visits are is regularly $59, making it $49 with use of the code! This promo code expires 3/31/18, so you have that offer waiting for quite a while! Write it down or bookmark this blog post for future reference and don't forget to tell your friends!
Disclaimer: Compensation for this post was provided to me by Samsung via MomTrends. The opinions expressed herein are those of the author and are not indicative of the opinions of Samsung or MomTrends. Ask an Expert (Online Doctor Visits) is a service offered through Samsung Health that helps you easily connect to medical and wellness experts from your phone. Samsung Health requires a compatible Android phone and a Samsung account. The Online Doctor Visits service is available in the U.S., except in Arkansas. The service is not for people suffering from medical emergencies or serious life-threatening conditions. If you have a serious medical concern, please call 911 or proceed to the nearest emergency department.