This post brought to you by ALPO® Brand Dog Food. All opinions are 100% mine.
My longtime readers probably know by now that I am a total dog lover. Our three dogs, Foxy, Bailey and Toby, are spoiled rotten! One of the ways we spoil them is by feeding them dog food that they love, like ALPO® Chop House wet dog food with their regular dry dog food. While they would prefer to be fed only wet dog food, both of our little dogs, Bailey and Toby, are Shelties, and an exclusive diet of wet food isn't so great for their teeth. That's why the ALPO's variety dog food are so perfect for us; we can mix them in with their dry dog food occasionally so that they're still getting a delicious meal that they love, but we don't have to worry about over doing it!
When our dogs see the ALPO® Chop House cans, they get so excited! I tried to snap some photos of them jumping around and wagging their tails, but as you can imagine, that's hard to catch on camera!
Foxy howls her furry little face off every time she sees me grab a can of ALPO®, can you tell how excited she is?
ALPO® Chop House wet dog food is something that both dogs and their owners can get excited about: great taste, nutrition and variety too!
Every can of ALPO® Chop House wet dog food is 100% balanced, complete with quality ingredients like healthy protein sources, wholesome grains and accents of vegetables. All of these ingredients make a complete and balanced diet for each life stage. So we don't have to worry about the age difference between the dogs; Foxy is nine, Bailey is four and Toby is three. It's nice to only have one kind of food to feed all three dogs, instead of sorting through different foods for different ages. With the dogs going crazy every morning and afternoon at mealtime, it's nice to not have one extra thing to worry about when I am trying to feed them!
ALPO® dog food helps support a happy, healthy life, a shiny coat, strong bones and teeth. You know what they say, right?
A healthy dog is a happy dog!
That means that our dogs are more playful with each other because they feel good!
It's so funny to watch Bailey and Toby wrestle around and play with each other, they act like puppies together!
ALPO® Chop House comes in small cuts or finely ground that is great for mixing with dry food. We really like this because it allows us to treat the dogs with wet food but there's no leftovers, so we don't have to store any cans in the fridge. ALPO® Chop House 5.5 oz. is a compact can that is also a great mealtime option for smaller dogs!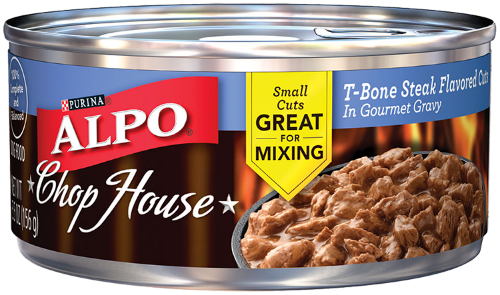 When I am feeling lazy and don't want to mix their food, I feed Bailey and Toby their own can instead of mixing it with dry food. It's the perfect amount for them! Foxy's obviously needs more - which is fine because hey also come in 13 ounce cans, which is the perfect size for her (she weighs over 100 lbs).
ALPO® Chop House 5.5 oz offers flavors that your dogs will love! They have T-Bone Steak Flavored Cuts, Tender Cuts With Lamb, Filet Mignon Flavor, and Rotisserie Chicken Flavored Cuts. I purchased a variety pack so that the dogs could try a few different flavors, and they all seem to like them the same. I don't think my dogs are too picky when it comes to ALPO®, they love them all!
Get Social with ALPO®!
Like ALPO's Facebook Page and follow ALPO® on Instagram.